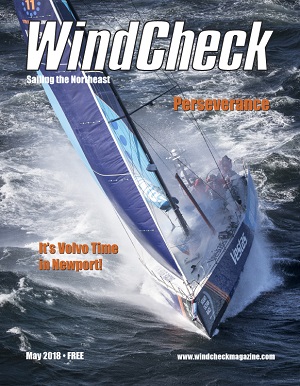 Well, that was brutal. After a teasing thaw in February, enough to even get in a first round of golf, March and April have not been much fun for us in the Northeast. And while this is typical, it's definitely upset some schedules as we prepare for the season. Hopefully, some of you got south to Sperry Charleston Race Week or further south to race in Miami or the Caribbean for a break! Now the sun is working and it's going to be full on to get ready. May is going to be very busy regardless of the weather.
This whining is definitely put into perspective by the loss of John Fisher in the Southern Ocean on the brutal Leg 7 of the Volvo Ocean Race 2017-18. Our heart goes out to his family and friends. And "our" team in the race, Team Vestas 11th Hour Racing, has personified perseverance. After the tragedy on the approach to Hong Kong in Leg 5, they rallied to make Leg 7 from New Zealand to Brazil, only to be dismasted some two hundred miles south of the Falkland Islands. More amazing resilience now has them ready to make the start for the leg "home" to Newport this month. Considering the logistical, financial and just plain seamanship challenges that they have overcome, this is an amazing feat. Sure, they are professionals. But there are not many sports that require so many skill sets to overcome these obstacles. We should be very proud of them.
That said, we should not miss the opportunity to show our support of all the teams as they arrive in New England this month. Newport, now hosting its second Stopover, should be an amazing scene. Inside, we provide an update on the race and a "How To Volvo" guide so you can plan your visit to Fort Adams in advance.
In this issue, you will also find a lot of editorial focused on making your boating more fun this summer. We are grateful to welcome the legendary David Dellenbaugh as he contributes a monthly Speed & Smarts column, and Peter Coleman has shared a list to start to build your summer racing program. Further on racing, we examine the burst in big boat sailing for youth sailors. We highlight our exhibitors in the CT Spring Boat Show in Essex, CT, May 4-5, in case you miss it. May has a large Checking In section as, despite the weather, April yielded a lot of industry and other news. The calendar section is equally large for your season planning purposes (so you don't miss anymore events!) We preview two Para Sailing events, review a great book about a remarkable young sailor, and the regular outstanding columnists definitely did not "mail it in" this month! Coop, our Captain ofthe Port, and The Boating Barrister all outdid themselves to kick off the summer!
Enjoy and see you in Newport!
Ben