Race Village Opens May 8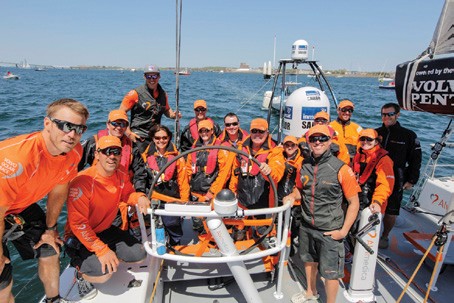 The world's most exciting ocean race is on its way to Newport, Rhode Island. This is the only North American Stopover for the Volvo Ocean Race 2017-18, and the 7-boat fleet is expected to arrive around May 10 and 11, 2018.
Orange you glad we're here?  These smiling sailors did the Newport in-Port Race with Team Alvimedica in 2015.   ©Amory Ross/Volvo Ocean Race
As in 2015, Fort Adams State Park will be the site of the Race Village, and the Port Co-Hosts for the 13-day public celebration include Sail Newport, the State of Rhode Island, Rhode Island Department of Environmental Management, Discover Newport, and the Rhode Island Commerce Corporation. More than 130,000 fans visited the Newport Race Village in 2015, and this year's Stopover is on track to be bigger and better.
Gettin' Around
Admission to the Race Village is free, and there's free parking at Fort Adams from May 8-11. There's a $10 fee from May 12-17, and $20 May 18-20, with proceeds to benefit Sail Newport's public access sailing programs. You can also purchase a parking pass for May 12-20 ($45 for Sail Newport members; $65 non-members). Courtesy of Viti Volvo in Tiverton, RI, anyone driving a Volvo into the park can park for free during the entire Stopover. (All overnight parking in Fort Adams is prohibited.) To purchase a parking pass and for information about in-town parking, visit volvooceanracenewport.com/parking-information.
There will be two options for getting to the Race Village by ferry. The Newport Harbor Shuttle will provide continuous service between Perrotti Park and Fort Adams, and the Newport/Jamestown Ferry will make frequent runs between Conanicut Island and Aquidneck Island. Check volvooceanracenewport.com/ferry-information for details.
The Newport Stopover seeks to demonstrate leadership in the Volvo Ocean Race as the most environmentally responsible port, and Sail Newport is partnering with local non-profit Bike Newport to promote pedal-powered transportation to the event. You'll find more "Park n' Bike" info at volvooceanracenewport.com/bicycling-information.
Please note: Map is subject to change without notice.
What's Goin' On?
Sail Newport's Try Sailing opportunities aboard a J/22 will be available daily from Wednesday, May 10 through Friday, May 18. Highlights are listed below. For the complete schedule, check volvooceanracenewport.com/events-schedule.
Tuesday, May 8
Race Village Opening Ceremony  4:00 pm -7:00 pm
Friday, May 11
Heineken Dock Party  4:30 pm  – 7:00 pm
Saturday, May 12
One Ocean Exploration Zone Opening 11:00 am
Wednesday, May 16
M32 Catamaran Guest Sailing  (morning)
VO65 Practice Race   (afternoon)
Thursday, May 17
VO65 Pro-Am Race 3:00 pm – 4:00 pm
Friday, May 18
Château D'Esclans Dock Party   4:30 pm – 7:00 pm
Saturday, May 19
VO65 In-Port Race Dock Out Show 11:30 am – 12:15 pm
VO65 In-Port Race  2:00 pm – 3:30 pm
VO65 In-Port Race Prize Giving  60 minutes after racing
Dock Party  4:30 pm – 7:00 pm
Sunday, May 20
Leg 9 Restart Dock Out Show  11:30 am – 12:15 pm
Leg 9 Restart (Newport – Cardiff, Wales)  2:00 pm
Best places to watch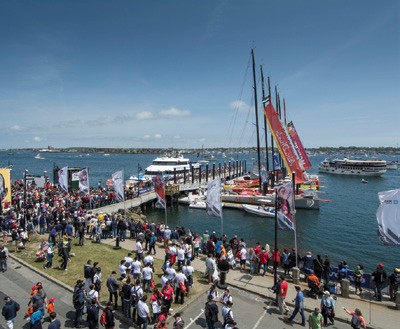 The shoreline at Fort Adams offers great viewing for the Pro-Am Race, In-Port Race and Leg Start, as well as high energy "warm-up acts" including M32 catamarans, Moths, WASZPs, UFOs, kites, etc., and Spectator Boat information will be available soon at volvooceanracenewport.com/spectator-boat.
The VOR fleet will be docked at Alofsin Pier. © Marc Bow/Volvo Ocean Race
Premium Hospitality is available at the Ocean Race Club, which has prime seating just yards from the racecourse. The Ocean Race Club experience includes a premium tent with seating and dining areas, gourmet lunch, and full bar. During each racing period, guests will hear official commentary and receive race-day briefings from sailing experts. Tickets are available at volvooceanracenewport.worldsecuresystems.com/oceanraceclubtickets.
Visit the One Ocean Exploration Zone
The ocean connects us all by providing multiple services to our living environment – food, weather patterns, the oxygen we breathe, and vast recreational activities. The One Ocean Exploration Zone presented by 11th Hour Racing is an educational destination offering hands-on opportunities to discover ocean science and the environment. For hours and a list of exhibitors, visit volvooceanracenewport.com/one-ocean-exploration-zone.
Volunteer at the Volvo!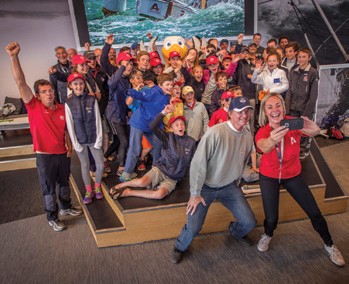 The Newport Race Village will need a tremendous volunteer team, and there are an amazing variety of opportunities for folks of all ages. If you are interested in helping to make this a great stopover for the teams and for visitors (and receiving some great swag), check out volvooceanracenewport.com/volunteer.
Volvo Ocean Race Youth Academy sailors strike a pose with sailing legend Ken Read.  © Ainhoa Sanchez/ Volvo Ocean Race
Newport Ocean Summit
Volvo Pavilion at Fort Adams is the venue for the Newport Ocean Summit on Friday, May 18. Ocean Summits at previous Stopovers of the Volvo Ocean Race 2017-18 have seen the release of groundbreaking data on the amount of microplastic pollution in European waters and produced a series of announcements to address the impacts of plastics on ocean health. Seating is limited, so apply soon at sustainability@volvooceanrace.com.
French sailor Marie Riou of Dongfeng Race Team urges every sailor to sign the Clean Seas Pledge.   © Jen Edney/Volvo Ocean Race