Next generation of offshore sailors preparing for Newport Bermuda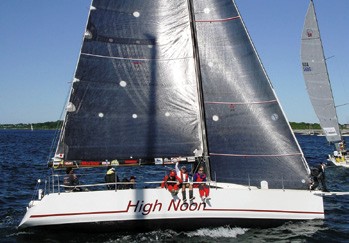 A new non-profit organization with a mission to provide opportunities for high school and college sailors in competitive offshore sailing, the Young American Sailing Academy, Inc. (YASA) has announced two entries for the 51st Newport Bermuda Race, which starts Friday, June 15, 2018. Twenty-two young sailors on two boats will improve their offshore skills in the iconic, 635-mile offshore race.
The Young American Junior Big Boat Sailing Team made yacht racing history in the 2016 Newport Bermuda Race.   © John Rousmaniere
Partnering with the USMMA Sailing Foundation, the team will be sailing the 63-foot mini-maxi Gambler (ex Lucky, ex Loki), crewed by the more experienced YASA sailors ages 17-23. The second boat, Edward D. Whitmore's Swan 45 Ticket to Ride (ex Lir), will be crewed by sailors ages 15-18. Most of these sailors have been actively sailing the team's J/105 Young American for the past three years in such distance races as the Block Island Race, Vineyard Race, Ida Lewis Distance Race, and Around Long Island Regatta.
Based in Rye, NY, YASA is the natural progression of the successful Young American Junior Big Boat Sailing Team, a program that's set the standard for non-dinghy junior sailing for the past six years. Sailing the Tripp 41 High Noon in the 50th Newport Bermuda Race in 2016, the young team took home seven awards, including first to finish St. David's and Gibbs Hill Lighthouse Divisions, first in class, third overall ORR, winner of the inaugural Stephens Brothers Youth Trophy, and winner of the Onion Patch Series. That highly successful campaign was made possible with the support of the USMMA Sailing Foundation and Heidi & Steve Benjamin, and many of the same High Noon crew will be aboard Gambler, including professional sailor and team coach Guillermo Altadill.
A recent donation to the USMMA Sailing Foundation, Gambler will provide a larger and more advanced racing platform. "We are thrilled to be providing Gambler to this accomplished team of young offshore sailors," said Ralf Steitz, President of the Foundation. "Putting high performance boats and equipment in the hands of young sailors is the way to advance the next generation of U.S. sailors in the sport of offshore ocean racing."
Ticket to Ride is a new boat for Whitmore, and he is generously partnering with YASA in its goals of developing capable offshore sailors. "I'm excited to be racing to Bermuda with the YASA Team," he said. "They may be young, but they already have big boat experience and I feel confident we will have a great race."
Offshore racing empowers young men and women by developing critical skills in leadership, teamwork, project management, decision-making, and critical thinking, and by providing fast boats, excellent coaches and high level mentoring, YASA gives them the tools for success at the highest level of the sport.
"Sailing High Noon in the 2016 Newport Bermuda was a fantastic milestone for us in delivering on our mission to help create a new generation of offshore sailors," said YASA President Peter Becker. "On behalf of YASA, we would like to thank the USMMA Foundation, Ralf Steitz, Ed Whitmore, Rob Alexander and Joe Cooper, who are all enthusiastically supporting the effort and making it possible for the team to take this next step forward." For more information, visit YASailing.org.