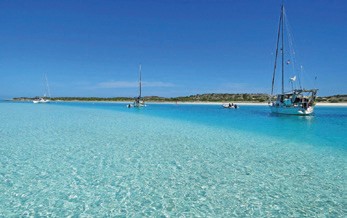 The Moorings, a yacht charter company based in Clearwater, FL, has partnered with Tropic Ocean Airways, the leading seaplane operator in the eastern United States, to offer a one-of-a-kind travel experience in the Bahamas.
© themoorings.com
The "Fly & Sail" service allows yacht charterer to reserve a private flight directly to their desired Bahamas destination out of Tropic Ocean Airways' lounge at the Fort Lauderdale International Airport's private FBO, Sheltair, or the Miami Seaplane Base – centrally located between downtown Miami and South Beach on Watson Island. Upon arrival, the private Sail, Power, or all-inclusive Crewed Moorings yacht of choice will be prepped and ready for exploring the Abacos or Exumas.
The experience begins with a greeting from the Tropic Ocean Airways dedicated lounge staff, who assist with everything from valet parking to baggage handling, followed by a greeting from two personal pilots before taking flight on the private seaplane. Then, less than 90 minutes later, passengers arrive at one of two charter bases in the Bahamas – Nassau or Marsh Harbour – where they will be welcomed by The Moorings staff.
"The two best ways to see the full natural beauty of the Bahamas are from the air and from the water," said Rob Ceravolo, CEO of Tropic Ocean Airways. "With the 'Fly & Sail' service, guests have the opportunity to experience both."
All Tropic Ocean Airways' flights to and from the Bahamas feature premium seating for up to eight passengers aboard air-conditioned two-pilot crewed Cessna aircraft with luxury interiors. The "Fly & Sail" service can be booked by emailing reservations@flytropic.com or by calling 1-800-767-0897.
For more information about The Moorings' charter vacations, log onto themoorings.com.