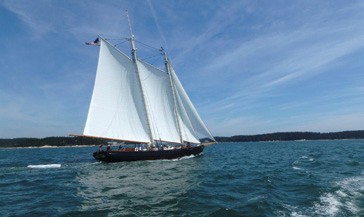 The Salty Dawg Sailing Association™ (SDSA), a non-profit organization based in Middletown, RI, invites all sailors to join a cruising rally from the Chesapeake to Maine and then, for the first time, a second rally from Maine to Nova Scotia. The Salty Dawg Rally to Maine will leave the Chesapeake Bay on July 8, 2018.
© SaltyDawgSailing.org
The Rally to Nova Scotia departs Rockland, ME August 8. Stops along the way to enjoy quaint villages, local cuisine and maritime lore are part of each rally
"We are excited about extending the reach of our rallies this summer, returning for the third year to Maine and then adding a new rally to Nova Scotia's Bras d'Or Lakes," said SDSA Director of Rally Management Rick Palm. "With Sailing CBI, Inc. as our host in Canada, the Rockland Yacht Club as our host in Maine and veteran Salty Dawgs volunteering to help along the way, we are confident that both rallies will provide unforgettable experiences for everyone who joins in the fun."
With an emphasis on safety, communication, education and camaraderie, over 650 boats and more than 2,500 sailors have participated in Salty Dawg rallies since the organization was founded in 2011. Membership in SDSA is open to anyone interested in blue water sailing. For more information and to join, visit SaltyDawgSailing.org.