By Joe Cooper
As a kid, when I was home from school with some illness, my favorite pastime was reading comics. I guess it was the fantasy land of another world that took me away from feeling crappy that did the trick. I was reminded of this escapist vein last week.
I have been off the pace this past week or so with some kind of chest cold and cough thing going on and was, as they say, working from home. In between times doing my Churchill imitation, propped up in bed with a pile of papers strewn around, my comic book of choice today is Yachtworld, drooling through all the boats one might have, were one inclined. This led me to one of my favorite boats, the Olson 30.
Long, lean and small (of volume), these pocket rockets are rare on the East Coast. They remain revered on the left coast as one of the best-built and avant garde production boats ever. These boats led me to another of my pastimes as a sick kid, reading about sailing, and, in the case of the Olson 30 connection, one Patrick Ellam. All of this was triggered by my discovering that Mr. Ellam had crossed the bar, 19 February, last at age 97.
I remember the three-month-old copies of Yachting my dad would get from the U.S., and, after reading every story I would arrive at the last couple of pages, with the little classified box ads: Patrick Ellam at the helm and some blurb about his yacht delivery business, established sometime after he arrived in the U.S. in the early 1950s. I was fascinated even then that one could make a living sailing boats.
Mr. Ellam was a Brit and like many of the founding generation of long distance offshore sailors, was a former warrior. Suffice to say he served for some time in the Special Operations Executive. He had been accepted to Oxford just before the war but joined up instead. He is quoted* as saying of the training in the black arts in the SOE that 'it was the most enjoyable school he had ever attended'. This remark will likely give the reader a brief flavor of the man. My introduction to Mr. Ellam was through a book, one of several he wrote, describing his adventures in a little boat he had built, named Sopranino.
Sopranino was a landmark in yacht design, especially when compared with the then standard of offshore sailing yacht design, and the book relates his theory and testing behind the idea that became Sopranino. 'Offshore yachts' of the day were big, heavy monsters with full keels; they needed a lot of wood and lead and so were expensive to build, and they did not scale down particularly well. Ellam grew up sailing by the simple expedient of his dad putting him in the family dinghy and letting him row around the harbor. He started 'sailing' when his dad put the sailing rig in the dinghy after he figured the young Patrick had sufficient nous to not get into too much trouble.
Ellam, thus raised in the world of light and small, thought there was merit in using the principles of dinghies for sailing offshore. His idea was that a light, lean, fast and simple boat would work offshore and he proposed that such a boat, albeit longer than the average dinghy size, although not by much, would simply bounce along on top of the waves. In order to test his theories, he had built a version of a sharpie, again a long and skinny boat, aboard which he made nine passages across the English Channel, each one successively longer than the former.
After a brisk description of one of the earlier trips, in an even brisker passage in a freshening southwester across the channel Ellam and pick up crew arrive at the breakwater guarding the entrance to Boulogne. Remarking on the throng gathered on the bulkhead, Ellam opines that '50% of the people there don't think we will make it'. Ellam's shipmate splutters, '50 % of the people here don't think so either'. An interesting comment uttered by a RAF fighter pilot. Once inside the bombed out, yet flourishing harbor, they find an English flag yacht whose owner invites them for dinner and gives them dry berths.
Reading Ellam's accounts of these passages, one is reminded of the days before GPS and the sketchiness with which one was able to fix the ship's position in broad daylight, never mind in rain, dark or fog. He developed a table using estimated speed, course and tidal interplay and committed it to paper wrapped in plastic which he used with a compass to figure the most likely town he would arrive at based on his departure point.
Adventures similar to this abound but are merely, almost literally, the practice race. Enter one John Illingworth, majordomo of the rebirth of British offshore ocean racing in the postwar years. Illingworth proposed that Ellam might get something a bit safer than Theta…you know, with an inside, berths, stove, chart table…just a few more creature comforts. Ellam took up the challenge and commissioned Laurent Giles to design a boat to Ellam's brief. Colin Mudie, a draftsman at Giles, actually designed the boat and became Ellam's shipmate in the succeeding adventures, the principal part of which is undertaking a passage across the Atlantic Ocean in Sopranino.
It is a lot more fun reading the book than reading me, reading the book. Get it and add it to the Ships Library. After reading, contemplate if you would the vast differences the 60 – almost 70 – years has made to the sport, activity, the life, that is, for so many of us, this thing called Sailing. Would you contemplate sailing from Provincetown to Marblehead in what amounts to a double kayak with sails, in a 25-knot southerly in rain and fog, with no anything, just some pre-departure calculations that might give you some indication of what part of the coast you might hit at some time in the future? Most would run as fast as possible to the TV on the binnacle and read one's position to five decimal places of a second of degree in the middle of Mass Bay.
Many in the U.S. are aghast at boats and races like the Mini Transat, 3,000 miles across the ocean in a 21-footer. The Minis have about three times the interior volume of Sopranino. They are orders of magnitude more robustly built, they have life rafts, GPS, EPIRBS, VHF radios, flares and the boats are built with sufficient flotation in them to stay afloat if holed. There are security boats that accompany the fleet, these days, thanks to the EU regulations for sailing boats that make the Minis illegal to sail where they do. The class and the race has a dispensation that requires the shadow boats following the race.
Sopranino was a lightly built clinker (what the Brits call lapstrake) hull, built in fact by a yard specializing in dinghies because the 'regular' yards did not have experience in building light boats like Sopranino. Let alone one with a seperate rudder and a bolt-on keel, not dissimilar in plan to a Star boat's keel and the whole boat arranged in a way that Ellam could tow her behind his sports car and park in his driveway.
One wonders where the Patrick Ellams of today are lurking? Is all that can be done in new sailing been done? Is it now down to the French soloists, blasting ever faster around The Blue Marble? Then perhaps it is not the sailing so much – the foils, wing masts, and the remarkable speeds of the boats are all there and would be regardless. But maybe it is the people…where have all the Patrick Ellams gone? What did he and his mates and contemporaries and those who came in his wake have, or see, or hunger after that pushed, or pulled them, to these adventures?
I came home last week from a high school regatta in Maine to find someone had sent me a link to a local news story, a video clip and a few paragraphs about high school sailors out on the Cape. They had, the headline blared, been 'rescued after a squall went through and their boats capsized. They were wearing dry suits and life jackets and are all safe, their coaches rescued them,' the report concluded. No sailing across the Atlantic in a 21-foot boat with no nutting, 'cept a sextant and compass for you, my buckos. Must have been a very slow news day. I wonder what Mr. Ellam would think of it all.
*The quote is from an obituary online from the JOG website. The Junior Offshore Group was an institution Ellam was a part of from the start. jog.org.uk/jog-news/8-blog/101-patrick-ellam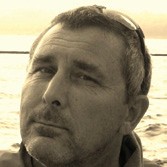 Australian born, Joe 'Coop' Cooper stayed in the U.S. after the 1980 America's Cup where he was the boat captain and sailed as Grinder/Sewer-man on Australia. His whole career has focused on sailing, especially the short-handed aspects of it. He lives in Middletown, RI where he coaches, consults and writes on his blog, joecoopersailing.com, when not paying attention to his wife, teenage son, dog, two cats and several, mainly small, boats.