The Power of Faith, Hope & Determination
By Meg Keeshan McGovern
Published by Morgan James Publishing   180 pages   paperback and eBook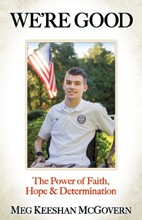 The 10th Annual Robie Pierce One-Design Regatta will be sailed June 1- 3, 2018 at Larchmont Yacht Club, and you'll find no competitor in this wonderful event for sailors with disabilities with greater determination to win than Chris O'Brien of Trumbull, CT.
An NCAA Division 1 swimmer at the College of Charleston, Chris was enjoying a day on Block Island after finishing his freshman year, beach hopping with friends. Diving into a wave for a final swim before catching the ferry back to New London, 18-year-old Chris struck a sandbar headfirst, breaking his neck and becoming a quadriplegic. Author Meg Keeshan McGovern, whose sons Billy and Peter grew up with Chris and his brother Matt, created this memoir in the words of Chris, Matt, parents Carrie & Paul, grandparents Nan & David, Aunt Lori, several friends and coaches, each recounting memories of the incident and sharing thoughts on Chris' ongoing rehabilitation.
A native of Darien, CT, the author grew up sailing and racing at Noroton Yacht Club. "When Chris began sailing, I was excited for him and loved hearing his stories," she says. "When I started writing the book, I kept telling Chris he needed to get back out on the water." As a teenager, Chris sailed the Vineyard Race as bowman on his friend and mentor Cliff Crowley's Swan 44 Moondance. Cliff, whose excellent 'On Watch' article about Chris can be found at windcheckmagazine.com, entered Chris as a skipper in last year's Robie (before actually telling him about the regatta!) and proudly serves as his able-bodied crew. "I will walk again in this lifetime," says Chris. Those who know this fiercely determined young man are equally confident that he will.
Meg Keeshan McGovern is a middle school Language Arts teacher whose favorite genre to teach is memoir and who loves writing with her students. We're Good is her first non-fiction memoir to be published, although she has other work in progress. She lives in Trumbull with her husband Brian and yellow lab Gia.
An inspiring story of perseverance, tenacity and the power of love, We're Good can be pre-ordered on Amazon. The eBook edition will be available at Amazon, Barnes & Noble and Books-A-Million on July 3. Paperback pre-orders are expected to ship in late August, with books arriving in stores October 9.