By Colin Rath
Editor's note: This is the seventh installment in a series of dispatches from the Rath family (Colin & Pam, daughters Breana, Meriel and Nerina, dog Aspen and cat Wasabi), who departed Stamford, CT last fall for a worldwide cruise aboard their Hanse 545 Persevere. You'll find previous articles linked below.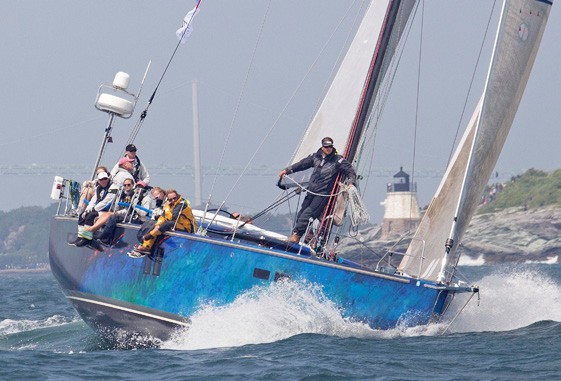 Persevere was back on a U.S. time schedule and had to be in New York City for the release of my book on May, 26 and then in Newport, RI on June 1 to prepare for the NYYC/RORC Transatlantic Race 2015, which we started on July 1. We had sailed directly from Havana, Cuba to Key West, FL, which you might think would be a problem because the Coast Guard, NSA, drones, etc. are all watching. Well, maybe they are and have too much else to worry about other than the yacht Persevere, or maybe not?
Persevere sailed the Transatlantic Race with a crew of 14. © Stephen Cloutier/photogroup.us
Regardless, that turned out to be not a problem. The biggest issue we had entering the country involved Mette, a young German who had joined us in the Dominican Republic. Mette's original travel plans did not include a visit to the USA, and she didn't have a visa. Passengers on airlines and cruise ships get a waiver for visas, but small private boats don't get that luxury. But, after a few hours of discussion and negotiations with the customs officers and with all the girls in tears, two very nice customs officers (who have daughters themselves and were very sympathetic) allowed us to get a visa for Mette and $560 later she was welcomed into America. She had to promise that she would fly home at the end of May when we would be in New York.
We then spent a few days in Key West. This allowed us all to get comfortable being back in America after seven months abroad. The kids loved hitting the supermarkets, Trader Joe's and local stores again, and of course the latest flick in the theatres.
We headed to Miami, FL from there. Where we were forced to stop when our jib halyard shackle snapped in the middle of the night…always a good time to lose a jib and have to fetch it out of the water in the dark. But, the stop gave me an excuse to see an old childhood friend and go out for Cinco de Mayo in Miami with him. Seemed like old times; friends like that last a lifetime. After a few days waiting for repair parts, we were off to Savannah, GA.
Savannah has a long commercial channel from the ocean to the city, where you have to spend most of your way outside the channel because two cargo ships – one inbound and the other outbound – pass often. The depth isn't a problem, although it can be edgy as two 600-foot ships pass within 20 feet of your boat, forcing you to deal with a double wake. The ships communicate well with you on VHF channel 13, however, so you know they know you are there.
We got a dock right on the waterfront and spent three days touring the city. Savannah is a beautiful and friendly city, full of Civil War history. The girls especially liked the Julliete Gordon Low Birthplace, a museum dedicated to the founder of the Girl Scouts. All three of our girls received another merit badge for their sashes. (side note: the Girls Scouts used to give merit badges for achievements, i.e. making fire from scratch, learning First Aid, or building a proper camp. Now, they get one for going to a museum? I understand the knowledge part, but are they not lowering the bar too far? Maybe doing a report on the museum to earn the badge would make more sense.)
We did the carriage tour and haunted house tour, and enjoyed a lot of the local music. Another interesting thing about Savannah is that it has several monuments to Haitian soldiers who fought for the South in the Civil War. A little odd, but the city has a lot of historic ties to Haiti. From Savannah we sailed to Beaufort, NC, and then on to NYC, our old home.
We relied on AIS and GPS all the way from Point Judith, RI to New York City, because we could not see a thing in the fog. It finally cleared up by Governors Island, and we pulled into our slip at Newport Marina. I met with my publisher and ironed out the details of the promotion and Bookcon. I was at my booth at Bookcon at the Jacob Javits Center from May 26 until the 30th. Book sales and signing went particularly well. We had a signing party for 100 at my condo. I did a few interviews for It Is What It Is*, including The New York Times and the New York Post, and various online and radio interviews.
The family had fun seeing old friends in the City and Connecticut. I got to celebrate my birthday with my father, whom I had not seen in seven months and saw the play "The Book of Mormon" with him and friends. He got a good chuckle out of that. The kids picked up over free 200 books at BookCon…nice to see them reading more and more these days aboard. Lastly, Mette departed out of our merry band and flew out to Germany to start school in September, with a lot of waterworks from my family members. We plan on meeting her in Munich in late September for OctoberFest.
Weather hampered our departure for Newport until June 2. We arrived in the early morning hours, and Persevere was hauled immediately at Newport Shipyard for two weeks of work in the shed. Her mast was pulled and re-greased, the bottom painted with yellow bulb, the vinyl wrap was removed and the boat rewrapped including the deck fiberglass, all engine services were performed, electronics updated, all the sails checked and repaired, life raft recertified, and the boat inspected from top to bottom so that she'd pass the Transatlantic Race safety inspection. Additionally, all family stuff was removed and packaged for the shipping container to Cowes, England, and we got all family members and animals certified for Europe.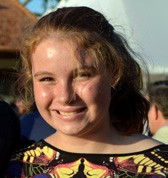 My oldest daughter, Breana, and our cat Wasabi would be racing to Cowes with me and a full crew, while my wife Pam, twins Meriel and Nerina, and our Alaskan Malamute Aspen flew to England ahead of us. After the race across the pond, we look forward to spending a year sailing in Europe.
The author's daughter, 14-year-old Breana Rath, was the youngest sailor in the Transatlantic Race 2015. "I'm mostly nervous about doing well with all these professional sailors and keeping my part up, because I know I just want to be equal with everyone else," said Breana before the start. Describing her job of handling the running backstays, she said, "I'm strong with upper body muscles, and no one else wants to do it."  © Jan Harley/Media Pro International
As this issue of WindCheck went to press, Persevere had just completed the Transatlantic Race 2015. Next up for the Raths are the Rolex Fastnet Race this month, the Rolex Middle Sea Race in October, and the RORC Transatlantic Race (Lanzarote, Canary Islands to Grenada, West Indies) in November. Look for updates on Persevere's journey in future issues of WindCheck, and track their progress on their Facebook page, "Persevere60545."
* Colin Rath's new book, It Is What It Is, is available at Barnes & Noble and Amazon. Connect with Colin on Twitter @Colin_Rath and visit colinrath.com.
Previous articles from the Persevere Family Journey:
March 2015 Persevere Cruise: Cuba Libra!