By Brandon Flack
Some kids from New England just could not wait three more years for the return of the Volvo Ocean Race. So, with inspiration from the Volvo Ocean Race Newport Stopover in May [See "MudRatz Do the Volvo", the idea of doublehanded dinghy racing beyond the dizzying buoys of the normal Club 420 scene was born.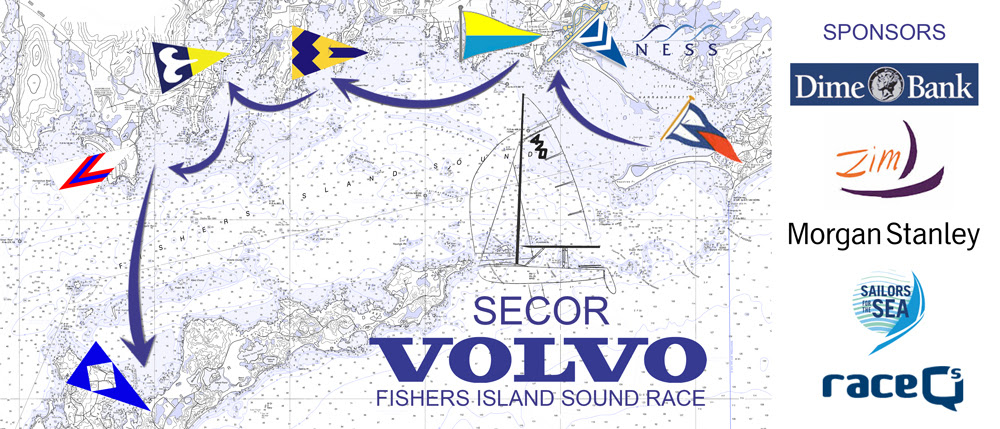 The Secor Volvo Fishers Island Sound Race, sponsored by Secor Volvo in New London, CT, featured a picturesque racetrack around Fishers Island Sound. The ten-mile, "mini-VOR" course was broken up into four legs, with "stopovers" at Mason's Island, Ram Island, Groton Long Point and Fishers Island Yacht Club.
Highlights included a kickoff party sponsored by Dime Bank, with grilling and DJs for the teams. Live online coverage, including the Sailors Parade at the Wadawanuck Club, the start at Green Can "6" in Stonington Harbor, the stopovers, and the finish at Red Nun "6" off Fishers Island, was provided by Periscope TV.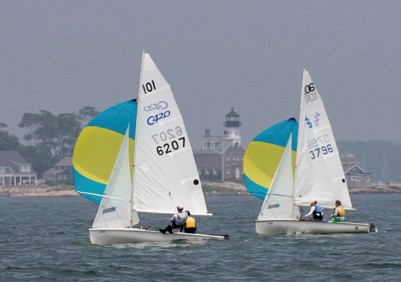 Each boat carried a GPS unit provided by RaceQs, who offered live race tracking for shoreside spectators and presented a max recorded speed trophy (7.3 knots on Leg 3) to Iain Jaeger and Sierra LaBonte.
Also inspired by the "big Volvo," the event featured an On Board Reporter competition that was judged by Sam Greenfield, the On Board Reporter (OBR) with Dongfeng Race Team in the Volvo Ocean Race 2014-15. Each of the 29 boats was equipped with a GoPro video camera and a "selfie-stick." In awarding the $100 grand prize to Banning Jones and Dan Hearn for the best coverage from inside a 420, Greenfield noted, "I definitely see the potential for some future VOR OBRs from this crowd."
Keeper trophies were awarded top the top three finishers, and Zim Sailing presented a new perpetual trophy was to the overall winners, Zach Champney and Peter Cronin. The inaugural Secor Volvo Fishers Island Sound Race was held in partnership with Sailors for the Sea to educate racers about the importance of implementing the organization's Clean Regattas program.
Additional event sponsorship was provided by Morgan Stanley. To see the results and reports by the sailors, check out MudRatz.com.