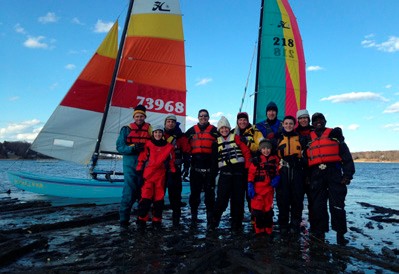 According to a briefing released last year by the U.S. Department of Veteran Affairs, at least 22 Armed Forces veterans commit suicide every day in America. Mental health professionals estimate that nearly one quarter of all veterans returning from Iraq and Afghanistan suffer symptoms of Post-Traumatic Stress Disorder or major depression. Furthermore, there are 76,577 veterans living in Suffolk County, the largest veteran population in New York.
SailAhead takes military vets sailing in all weather, in all seasons. © duclay.com
It is because of the above reality that the Long Island brothers Kilian Duclay (18) and Sean Duclay (16), with the enthusiastic support of their family, friends and Oakcliff Sailing in Oyster Bay, have dedicated themselves and their sailing expertise to providing effective sailing therapy for traumatized and wounded veterans. Having co-founded a not-for-profit organization called SailAhead, they have changed sailing from a hobby to a mission: Helping our veterans.
Kilian and Sean started sailing as infants with their parents, who always put them on a boat. At the ages of 8 and 6, Kilian and Sean started learning the competitive side of the sport and enjoyed it from the start. Having sailed with friends and family during the winter on Hobie 16s, the brothers wanted to invite the community into their "backyard" and suddenly thought about the veterans. "This is when sailing took on a new meaning," said SailAhead Skipper Kilian, an enthusiastic participant in Oakcliff''s Acorn training program for three years who recently completed an internship with the Eric Tabarly Foundation in France. "After the first couple of veterans taken sailing, it was clear by their reactions that sailing is more than just fun. It is therapeutic."
"The therapy of sailing is similar in concept to veterans going to work with horses or being exposed to different environments where they can feel a constructive stress," Kilian continued. "From comfortable day-long trips in the summer to intense racing in harsh, freezing cold conditions in the winter, sailing brings mental relief to our wounded veterans. There is definitively no doubt that sailing heals."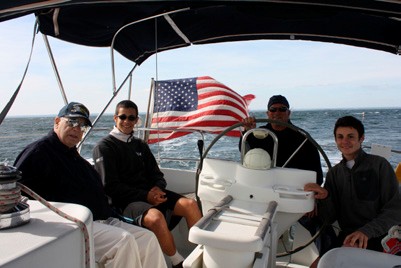 "The immersion into an environment where everybody's effort counts and teamwork is applied to either keep the boat afloat or keep the boat moving well and fast, has two effects: while it cleanses the mind, it also proves that some military skills are useful," explained Sean, SailAhead's Junior Skipper and Video Producer. "Especially in sailing, everyone needs to remain calm and effective."
(From left) SailAhead Advisor Frank Ostroff, Skipper Kilian Duclay, veteran Frank, and Junior Skipper Sean Duclay on a recent sail.   © duclay.com
"Even though at times it can be seen as extreme, this sailing activity is not dangerous!" Sean asserts. "Taking veterans sailing provides an often new and definitively liberating experience. Veterans are exposed to new sounds, new feelings, new or renewed social interaction and new types of challenges. Learning to sail and being supported by others while on a sailboat in the middle of the ocean exposes our veterans to positive and constructive stress. It forces each veteran to work with other unfamiliar veterans to make a team that gets the boat moving! The veterans returning from sailing trips are energized, eager to set sails again and relish the mental freedom sailing provides.
Other members of the SailAhead team include Skippers Pascal Blotiau and Thierry Duclay (Kilian and Sean's father); Advisor Frank Ostroff, a U.S. Navy vet who served aboard the USS Kenneth D. Bailey; Skipper in Training and Advisor Joshua Hartley, a U.S. Marine Corps Captain who served in Iraq and Afghanistan; Chief Financial Officer Jimmie Spears, a proud veteran of the U.S. Marine Corps; and Mentor Dawn Riley, Executive Director of Oakcliff.
Primarily sailing out of Oyster Bay, SailAhead currently has six Hobie Cats and three keelboats. Sail Ahead is looking for help in the form of volunteers and monetary or sailboat donations. "Our fleet is potentially every sailboat moored in every single bay around Long Island," said Kilian. "This is a work in progress!" To learn more, visit duclay.com and facebook.com/SailAhead.
August 22, 2015 – Take a Veteran Sailing Day

This August 22nd, SailAhead has chosen Centerport Yacht Club to be the starting point for Sail Ahead's event "Take a Veteran Sailing". Boats will be provided by Sail Ahead, Oakcliff Sailing Center, USMMA Sailing Foundation's Warrior Sailing Program, Oyster Bay Marine Center, Centerport Yacht Club and independent boat owners. We intend on taking 80 veterans from Hope For The Warriors, and the Greenlawn American Legion Post No. 1244 on a flotilla of at least 25 sailboats. The purpose of this event is threefold:
1)      Show appreciation of the sacrifice our veterans have endured for our country.
2)      Spread PTSD awareness throughout the community.
3)      Spread awareness of SailAhead's program so that more wounded veterans can be helped.
The sailing event will last 5 hours, the flotilla will sail together on the Long Island Sound.