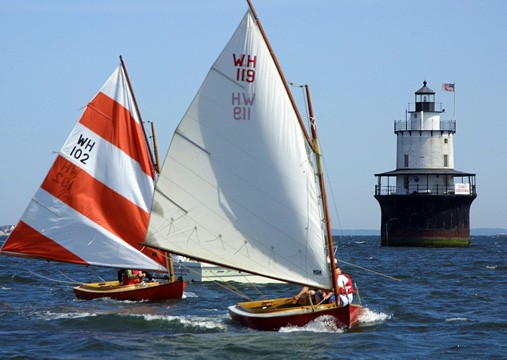 New Bedford, Massachusetts first made its mark in the history books as the Whaling Capital of the World. Innovation, teamwork, courage, creativity, persistence and skill. It's the lifeline that brought New Bedford fame and fortune in the 1800s and it's the legacy the city proudly maintains at the crest of the 21st century.
Catboats race in Buzzards Bay in front of New Bedford's Butler's Flats Lighthouse. © Spectrum Photo/Fran Grenon
New Bedford has come a long way since its waterfront landed tremendous riches and the city lit the world with its oil. Today, New Bedford's fishing port is the richest in America and its pristine coast, recreational marinas, short access transits to Buzzards Bay, clean water and protected harbor attracts competitive sailors and recreational boaters from around the world.
Some of the very best sailing in the world can be found on Buzzards Bay, where sailors find optimum wind conditions for both fun and competition. The strength and consistency of the sea breeze is second to none, blowing all day and diminishing prior to sunset, with local conditions on Buzzards Bay often 12-20 knots from the southwest. The shifts are 5-15 degrees, which is enough to be interesting, but not enough for a race to be judged as an unfair test of skill. In addition to the wind, the water is quite warm in the summer, particularly in August. The depth of the Bay is also optimal – not so shallow that race officials have to worry about competitors running aground, nor so deep as to make it difficult for them to set race marks. While these ocean conditions make for some great sailing, New Bedford's location, community amenities, and nautical infrastructure solidifies its attraction for both recreational boaters and competitive racers.
New Bedford is a city of roughly 100,000 located along the southern coastline of Massachusetts. Its rich maritime history as the Whaling Capital of the World in the 19th century gave rise to its development as a great seaport community that today includes the National Whaling Historic District, a vibrant downtown with shopping and restaurants rising up along the same streets where whalers once trod. This downtown sits between the sea and a residential neighborhood where the beautiful historic homes of the great ship captains still stand amidst lovely gardens and tranquil streets.
At its southernmost point, New Bedford juts out into Buzzards Bay at Fort Taber Park, a 40+ acre recreational peninsula with a Civil War era stone fort designed by then-Union Captain Robert E. Lee. A stroll along its miles of bike, walkway and jogging paths affords a 270˚ view of the bay.
One of the most prominent features of New Bedford Harbor is its hurricane barrier. Considered to be not only the largest stone structure on the East Coast but also the largest hurricane barrier in the world, New Bedford's barrier serves as a natural divider, with 193 moorings for recreational use located in the outer harbor to its south, and another 296 recreational moorings in the inner harbor to its north. Of the total 489 moorings located within ten mooring fields, 91 are set aside for transient boaters.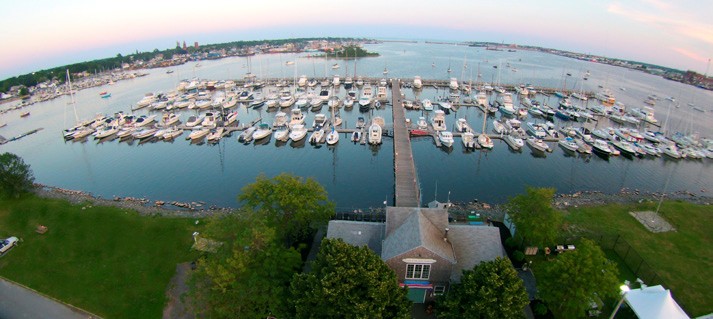 Long a haven for cruising sailors, Pope's Island Marina provides a full range of services.   © Antonio Braga
The inner harbor also features several small islands, among them, Pope's Island, easily accessed from downtown New Bedford and itself, traversed by State Highway Route 6 from east to west. Pope's Island provides important connectivity for recreational power boaters and sailors, alike, both on water and on land. Whether you're an elite athlete in training or a casual enthusiast, the Port of New Bedford ensures complete support services for recreational sailors and power boaters by offering launch services and water taxi, dinghy docks, showers and restrooms, laundry and vessel pump out. Details about New Bedford's recreational boating are available at portofnewbedford.org/recreational-boating.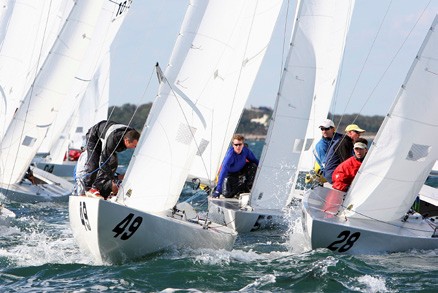 You'll want to make sure that if you're heading to New Bedford at the beginning of August this year, you have the chance to watch or participate in the 43rd Annual Buzzards Bay Regatta.
The Buzzards Bay Regatta is the largest multi-class regatta in the U.S. © Spectrum Photo/Fran Grenon
Over 400 boats and 1,200 sailors from across the U.S. and Canada annually converge on Buzzards Bay to participate in what has become one of the most widely respected regattas in the country and the largest multi-class regatta in the United States. The Buzzards Bay Regatta features over 12 classes of boats from Lasers to classic yachts and 50-foot+ racing machines, and Buzzards Bay Regatta 2015 promises to be one of the top sailing regattas in the U.S. in 2015.
It's been said that the best sailors know Buzzards Bay has the best sailing, and that New Bedford is the best way to access those waters. Now is the time to visit and see for yourself; to come sail upon the waters where whalers once set out for great fortune, and where sailors train and compete.
Working Waterfront Festival is September 26 & 27, 2015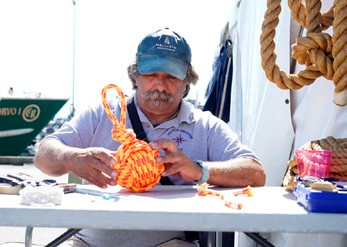 Every September, New Bedford hosts the Working Waterfront Festival, a celebration of the men and women who harvest the North Atlantic. Admission to this popular event is free, and your family can experience the workings of the industry that brings seafood from the ocean to your plate.
© workingwaterfrontfestival.org
Attractions include demonstrations and contests of industry skills, tours of workboats, documentary films and footage at sea, cooking demonstrations, author readings, children's activities, performances of sea music, dance and poetry, U.S. Coast Guard demonstrations, a tugboat muster, whaleboat races and more. This year's Working Waterfront Festival is September 26 & 27, 2015. Visit workingwaterfrontfestival.org.