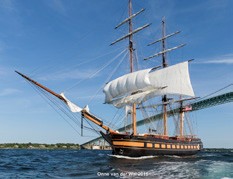 Rhode Island's 200-foot Official Sailing Education Vessel SSV Oliver Hazard Perry sailed for the first time on July 17 in Narragansett Bay after she left the Hinckley Boat Yard in Portsmouth, RI to begin a journey up the coast to join the Tall Ships Portland 2015 festival. Anyone on or near East Bay Passage between seven and eight a.m. saw a truly amazing spectacle when four of the ship's 20 sails were unfurled as crew members climbed aloft to set free the lines that secured them to the yards.
Rhode Island's Tall Ship will serve the youth from all states with its Education at Sea programs.   © Onne van der Wal
"This is a huge milestone," said Jess Wurzbacher, Executive Director of the non-profit Oliver Hazard Perry Rhode Island (OHPRI). "Over the past seven years all of her movements have been under the control of tugs. The wind was blowing 12-15 knots out of the north to make it a nice downwind run out of the Bay, so it was great to watch the sails harness some of that power – it is what we have all been waiting to see for years."
SSV Oliver Hazard Perry is the first ocean-going full-rigged ship built in America in over a century. She also is this country's largest privately-funded, actively sailing Tall Ship, one of only 75 Tall Ships in the world designated by Sail Training International as Class A.
On July 3, SSV Oliver Hazard Perry was dockside at the Newport Shipyard for the "Homeport Rhode Island" gala. The annual fundraising event celebrated the unprecedented $16 million economic development project, which has supported hundreds of jobs in the Rhode Island marine industry. It raised $122,000 while also honoring the non-profit organization's Board Chairman Bart Dunbar for his unfailing devotion to OHPRI's Education-at-Sea mission.
With orange being the color theme, most of the 450 guests were decked out in their orange best. The signature drink, the "Dunbar Fizz," also was orange, and wait staff from Blackstone Catering sported orange bow ties. Cocktail hour included tours of the ship, passed hors d'oeuvres and offerings from a fresh seafood bar, while dinner was served under a giant tent with orange globe lights.
At the event, Dunbar acknowledged all of OHPRI's supporters, and especially Admiral Tom Weschler, OHPRI's Chairman Emeritus, who was in attendance, with helping the organization realize its dreams. "We are far from finished with fundraising," said Dunbar, "but it is a huge milestone to have the ship completed and going through its final inspections and preparations for accommodating students of all ages."
Click here for more information about the Oliver Hazard Perry.
Barby MacGowan at Media Pro International contributed to this report.