Journals from a year spent oceans apart
By Sue Montana & Bob Bennett
Cover image by Dawn Daisley Designs
Published by Tepin, Inc.   297 pages   paperback   $22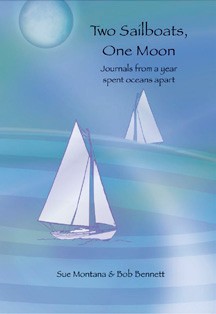 Sue Montana and Bob Bennett share an affinity for sailing that's surpassed only by their devotion to one another. In 2002, they had been together for 17 years, having successfully implemented a "five-year renewable contract" in their relationship that saw them become homeowners, build their respective careers, and buy a 32-foot sailboat. When Bob began experiencing what Sue calls the midlife blues, he left his job and signed on for a one-year circumnavigation of the world aboard the legendary Captain Eric Forsyth's Westsail 42 Fiona.
Before departing on the first leg of the voyage, from Weeks Yacht Yard in Patchogue, NY to Cape Town, South Africa, Bob and Sue promised they'd think of each other every time they saw the moon. During Bob's absence, Sue maintained the house they'd bought together, launched a new business, and learned to sail their boat singlehanded. Sue and Bob each kept journals during those 12 months. Comprising their journal entries, this remarkable book is a story of adventure, enduring hardships, overcoming self-doubt, and abiding love, and it's highly recommended.
The authors have sailed Long Island's Great South Bay together for many years. Having started with a Grampian 23 that Sue's mother owned, they now own a Sabre 32 named Habanero. They've sailed Habanero from Portland, ME to Oxford, MD, and they're looking forward to retirement and taking her from Nova Scotia to Florida.
To order a copy of Two Sailboats, One Moon (or a signed copy), log onto twosailboatsonemoon.com. It's also available from Amazon, and you'll find Sue and Bob on Facebook at "Two Sailboats, One Moon."