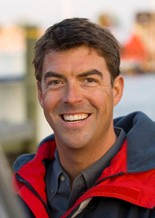 For the next two years, Tucker Thompson, co-founder of T2P.TV in Annapolis, MD, will host all public delivery of the 35th America's Cup, which will be sailed in Bermuda in 2017. Thompson's coverage will include live TV, press conferences, public events and video features. He will also host the AC Tour, delivering live multi-media presentations at yacht clubs and other venues around the world.
A champion sailor, Thompson got into international match racing while still competing in college sailing. After graduating he raced professionally and was picked up to sail with America True in the 2000 America's Cup trials. From there a career in sailing shifted to one covering the sport. He and then partner, Bruce Nairn, started T2P.TV and after almost 15 years and two more America's Cups as an announcer with longtime friend Andy Green, Thompson now sits in the lead role. "These are very interesting and exciting times for the America's Cup," said Thompson. "The America's Cup has always been at the forefront of technology and design in yacht racing, and pushing the envelope of what's possible is nothing new. It's what the America's Cup is all about!"
Worldwide TV coverage of the first Louis Vuitton America's Cup World Series event began last month. The AC Tour is underway and will visit major sailing venues worldwide, often with the America's Cup trophy itself. A replica of the yacht America, the schooner that started it all back in 1851, will embark on its own tour, making stops along the western and eastern seaboards of the U.S. and throughout the Caribbean before traveling to Bermuda with Thompson aboard. "I am a lifelong fan of both the America's Cup and the yacht America," said Thompson. "I can't imagine a more perfect complement to the Tour than for sailing fans to have the ability to sail aboard the yacht by day and celebrate the event at night."
For more on the America's Cup or the America's Cup Tour visit americascup.com or contact official.tour@americascup.com.