By Abby Buckley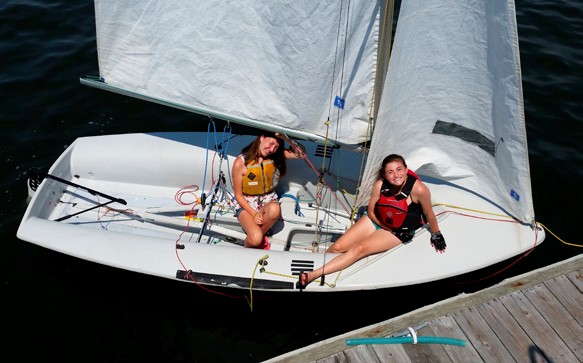 Four years have gone by since I started to sail, and wrote the article "First-Time Sailor" for WindCheck. Since then I have learned so much about sailing, and I love it more and more each time I get on the water.
Abby (right) and Grace are all smiles as they get ready to head out for a sail. "The racing aspect is fun, too, but for me sailing is about making new friends and having  a blast."
I started with Optis, moved on to Pixels last year, and I am currently sailing a 420. I have absolutely loved each boat for various reasons. The Opti was the boat I learned on, so of course I liked it, but once I got to the bigger Pixel I was able to sail with a partner and I could move around more.
Although both of these boats are great, 420s are my favorite because they have a trapeze. I am so glad I stuck with sailing. I was so scared when I started with Optis and I was out there all alone, but with the challenges came great rewards.
In Optis I was afraid of capsizing, which inhibited me from trying harder. But then there was Grace McGonagle. She was scared as well. We would beg our instructors to let us sail together. After about a month of begging, they finally let us sail together. It allowed us to get more comfortable with the boat, the water and the wind. It was the start of the best friendship I have ever had. Since then we have become inseparable.  Moving through Pixels and now 420s together, we are constantly laughing. Without sailing, our friendship would never have been, and we both might not be sailing to this day. That's why I love sailing!
I'm a social sailor; that is to say I am not competitive.  I was scared to participate in regattas, the realm of more serious sailors. Grace and I did our first regatta last year in the Pixel at Pequot Yacht Club in Southport, CT. It wasn't so bad, and we actually got second place! This year we did a regatta in Noroton Yacht Club, which is where Grace and I met some awesome people we would later get to see at other races. We have just come back from Larchmont Race Week, and although we did not do remotely well we had fun at such a huge regatta. Suffice it to say, we are not winning any awards – and that's okay. However, what I love about sailing can be found at regattas: the people. The racing aspect is fun, too, but for me sailing is about making new friends and having a blast.
Now Grace and I are junior instructors for beginner Opti sailors at our club. It's the coolest thing! I'd have to say that meeting and helping new people is one of the best aspects of sailing. In the Junior Instructor program at Black Rock Yacht Club, I get to help young sailors and witness friendships being made.
Sailing is my favorite thing to do now. Not just because it's fun, but also because you meet amazing people that help you grow as a sailor and, more importantly, as a person. To anyone thinking about trying sailing, I say, "Do it!" It's not as scary as you might think, and the people around you will be some of the best people you will ever meet.
Special thanks to all the lovely people who have taught me how to overcome my fears and be a better sailor – Chris Gill, Dan Lent, Mom & Dad, Grace, and all the instructors I have had (it was not easy to put up with me, I'm sure).
With Love,
Abby
Abby Buckley looks forward to sailing a high performance doublehander. Whether it's a skiff or a cat, if it has a trapeze you can bet she'll be having a blast.