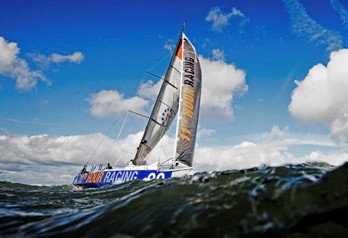 11th Hour Racing, a Newport, RI-based program of The Schmidt Family Foundation created to establish a dynamic new platform for public engagement through an emphasis responsible use of energy and resources in the context of sailing, has launched its 2015 Ambassador Program. The program includes 14 global athletes aiming to positively influence the sailing industry and promote marine stewardship.
© 11thhourracing.org
11th Hour Racing Ambassadors serve as on-the-ground resources that listen, learn and raise awareness on ocean health issues. These high-profile athletes, who embrace sustainable practices in their daily lives, are all leaders in their respective fields and promote the 11th Hour Racing message at regattas, among the classes they represent, and with community outreach.
"Our Ambassadors help drive change within our sport by starting a dialogue on ocean health, leading by example, and educating and inspiring youth sailors to protect and care for our oceans," said Jeremy Pochman, 11th Hour Racing Advisor and Co-Founder. "We are pleased to welcome these gifted athletes to our family as we continue to raise awareness on sustainable practices within the worldwide sailing community."
11th Hour Racing 2015 Ambassadors
Cameron Appleton (TP52/RC44/Melges 32), NZL
Thomas Burnham (TP52/RC44/Farr 40), USA & ITA
Brock Callen (Kiteboard/Extreme Sailing Series), USA
Charlie Enright (Team Alvimedica/Volvo Ocean Race), USA
Andy Green (Inshore/TV commentator), GBR
Jamie Haines (TP52), USA
Erika Heineken (Kiteboard), USA
Peter Henderson (Maxi 72), USA
Andy Horton (Moth/RC44/TP52), USA
Anthony Kouton (Moth/Melges 32), USVI
John Mollicone (J/70/J/24/College Sailing), USA
Dave Rearick (Offshore), USA
Anderson Reggio (Race Management/Volvo Ocean Race), USA
Stephanie Roble (Women's match racing/J/70), USA
"Sailing around the earth puts you in a unique group," said Charlie Enright, Skipper of Team Alvimedica in the Volvo Ocean Race 2014-15. "It gives you perspective on what's actually going on out there, but none of that matters if you don't spread the word. I look forward to helping do just that. Sure, we keep all our rubbish onboard the boat and recycle it when we get to port and drink desalinated water to save on plastics and weight, but we can all do better." To learn more about 11th Hour Racing and its Sponsorship, Grant and Ambassadors Programs, visit 11thhourracing.org.