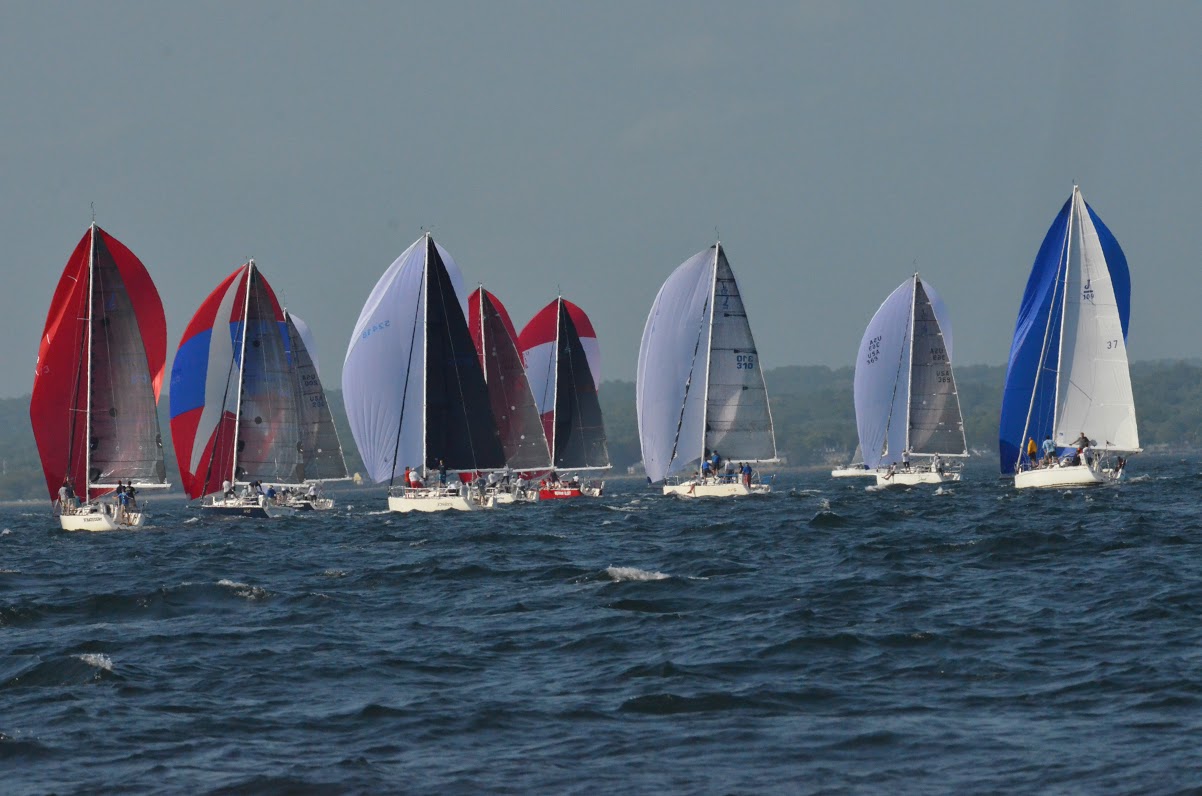 Cedar Point Yacht Club in Westport, CT completed its 2015 OneDesign Regatta this weekend.  Forty boats, in the J/109, J/105, Beneteau First 36.7 and Soverel 33 classes, sailed four races on Saturday afternoon in southerly winds that built from 5 to 14 knots; fickle winds and an approaching storm precluded racing on Sunday. Two weeks earlier, CPYC's annual One Design event began with three races for 25 J/70s and Lightnings on May 16-17.
© Richard Gordon
This weekend, Bill Sweetser, skipper of the J/109 Rush, sailing from Annapolis, MD, won in the 16-boat J/109 class and was awarded the Rex Marine Trophy for Best Overall Performance in the regatta.  Cedar Point's Rick Lyall finished second in Storm and Carl Olsson's Morning Glory from Larchmont was third in this class.  Next up for those boats and 10 other J/109s that raced here is their North American Championships, June 21-26th at Block Island.
One dozen J/105s competed in the hardest-fought class.  Conundrum, a Larchmont boat raced by Harald Edegran and Jeremy Henderson, won a three-way tiebreak, just edging Revelation, sailed by Cedar Point members George, Ann, and Alex Wilbanks of Westport and Paul Beaudin's lou lou from City Island.
The seven Beneteau First 36.7s were led by Lou Melillo's Surface Tension, from Atlantic Highlands, N.J.  One point back was Whirlwind, skippered by William Purdy from City Island, who was only one point ahead of Alistair Duke's Frequent Flyer, from Westport's Saugatuck Harbor Yacht Club.
The five-boat Soverel 33 class, racing in its National Championship, was won by G. Mark McCarthy's Slainte, from Westbrook, CT; second, third and fifth in that class were boats entered by the United States Merchant Marine Academy at Kings Point, skippered by Midshipmen Jake Andrew, Ethan Neubelt, and Connor Sexton.
The regatta, one of the largest on Long Island Sound, is a joint effort by Cedar Point's Cruising Class, Lightning and J/70 racing fleets, and has become a national showcase for Westport sailboat racing.  In the first part of the regatta, on May 16-17, Joel Ronning of Minneapolis led the 19-boat J/70 fleet, in a light-wind series, followed by Tim Healy of Jamestown, RI and Scott and Alex Furnary, sailing from Rye, NY.  Many J/70's raced with professionals in the crew; the top three Corinthian competitors were Noel Clinard of Nantucket in Loonitictu, Ed Austin of New Jersey, and Cedar Point YC members Bill Walker and Allen Stern.  In the five-boat Lightning class, Stewart Nickerson of Falmouth, Maine was the winner, followed by Cedar Point members Ched Proctor of Southport, CT, and Tim Millhiser of Madison, CT
Dozens of CPYC member volunteers afloat and ashore hosted the nearly 400 competitors. The 2015 ONEDesign regatta was presented by Quantum Sail Design, Fairfield County Bank, and McMichael Yacht Brokers.
For more information and full results: http://www.yachtscoring.com.
Watch video clip from 2015 directed by CPYC member Marek Mirota.