Adventure Kitesurfers Team Up with Rozalia Project for Cleanup & Education
By Brock Callen & Rozalia Project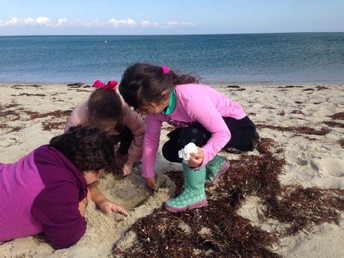 Last September, as part of a trip that was half ocean sprint and half environmental mission, adventurers Jeff Brock and Brock Callen kiteboarded 67 miles from Martha's Vineyard to Block Island and back. The trip was the first in a series of kiteboarding missions and environmental presentations launched with Rachael Z. Miller, Founder & Executive Director of Rozalia Project for a Clean Ocean, designed to inspire children to protect our fragile ocean waters.
In addition to marathon kitesurfing, Northbound Kite Mission includes environmental education and action, such as this beach cleanup.   © rozaliaproject.org
In this inaugural effort, the sailors, known as Brock2, stopped on two separate beaches to collect plastic debris. Over the next few weeks, the sailors and Miller visited Martha's Vineyard schools and recounted the trip, educated kids on the importance of a healthy ocean, and organized a local beach cleanup.
"Rozalia Project is so important in terms of educating kids and leading efforts to clean up our oceans," said Callen. "They're out working surface to seafloor, taking trash out of the ocean in our backyard, but they're also doing an amazing job showing kids how they can be a part of the effort. It's not just awareness. It's passion, and we're proud to be a part of that."
The two sailors and their support team departed from Menemsha Beach on the west end of Martha's Vineyard. Brock2 set off in 24 knots of wind and a five-foot wind swell. Both riders were equipped with three boards for the mission, including a foil board supplied by Delta Hydrofoils, course boards and surfboards. They began on course boards, but with the strong easterly current fighting the wind off Devil's Bridge both riders opted for surfboards. They quickly raced across to Cuttyhunk, stopped for a cleanup, then headed west past the Buzzards Bay Tower. By the time they reached Point Judith the wind had lightened but the seas were still up, so they turned to Block Island.
Upon arrival at Block, Brock2 wrapped up their kites and completed the second beach cleanup of the day. "In a matter of ten minutes on the beach we picked up fifty pieces of plastic trash, enough to fill a locker on our support boat," said Jeff. "The single-use plastic water bottle was the most common item. We found so many of those, along with balloons, bottle caps, and more."
After the cleanup, Brock2 jumped back in the support boat and returned to Martha's Vineyard. In the end, the duo covered 67 miles over a period of five hours on kiteboards.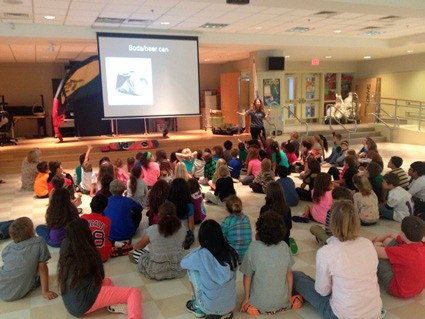 The kite-transit and cleanup was not the only element to this project. Brock2 and Miller presented interactive, educational and inspiring programs to more than 350 students in schools throughout Martha's Vineyard and the Northeast. The presentations incorporated geography, meteorology, marine science, marine ecology, conservation and more.
Brock Callen, Jeff Brock and Rozalia Project's Rachael Z. Miller gave presentations on geography, meteorology, marine science, marine ecology and conservation at schools throughout the Northeast.   © rozaliaproject.org
"This was a really successful pilot mission," said Jeff. "We plan to spread this message even further by organizing more missions, cleanups, and educational visits along both coasts. We hope that sharing our passion for the ocean, in partnership with Rozalia, will make a real difference."
In December, Brock2 completed their second kite mission, this time in the Caribbean. This event kicked off with a beach cleanup and afternoon of interactive presentations to second, fourth and seventh graders at the Island Academy School in Antigua. Then, Brock and Callen kitesurfed an incredible 106 miles from Antigua to St. Martin, leaving from the same beach they cleaned with the Antiguan students three days before. This trip, which established a kitesurfing record between Antigua and St. Martin, was made possible by partners Sunsail Yacht Charters, The LIFT Project, Best Kiteboarding and Janeiro Digital.
The team of Jeff Brock, Brock Callen and Rozalia Project is looking forward to more Northbound Kite Missions that raise awareness about the problem of marine debris, but more importantly, take action to restore the environment and inspire people to be part of the solution.
Brock Callen is a professional sailor, ocean guide, BEST Kiteboarding Team Rider, and a U.S.C.G. licensed Master Captain. Brock's resumé includes several ocean racing victories including the 2007 Transpac Race and the 2002 Newport Bermuda Race. Brock has also been active in speed sailing for the last three years, and finished fourth in the 2012 North American Speed Sailing Championships (kitesurfing). Brock currently sails with Team Moneypenny in the TP52 Super Series and a number of other prominent events throughout the US, Europe and the Caribbean. When not traveling, he can usually be found on the ocean, often teaching his kids about enjoying and respecting the environment. Learn more at brockcallen.com.
Jeff Brock is a professional sailor with over 200,000 ocean miles and numerous wins in offshore, inshore, one-design, match racing and superyacht events. There isn't much Jeff has not done in yacht racing, including a Volvo Ocean Race in which he placed third onboard Amer Sports One. His current passion is offshore kiteboarding, and he has completed several unassisted solo passages. An avid environmentalist, Jeff is the founder of Northbound Kite Mission, which you'll find on Facebook.
Rozalia Project is a 501c3 nonprofit whose mission is to protect the ocean with three goals: a protected ocean, a thriving ocean and a clean ocean. During the summer, they operate from the 60-foot sailing research vessel American Promise throughout the Gulf of Maine and operate from dockside locations throughout North America for the remainder of the year. Rozalia Project believes we can clean the ocean and is addressing the problems facing our seas with a focus on urban and coastal waters, surface to seafloor and from multiple angles of restoration, prevention through education and solution-based research. For more information about Brock2 or Rozalia Project or to become a partner, visit rozaliaproject.org.