One Woman's Search for Happiness and Meaning Alone on the Pacific
By Roz Savage
Published by Hay House, Inc.   201 pages   paperback   $15.95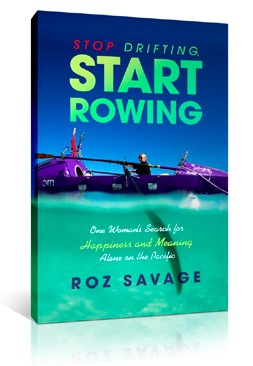 Although she had the comfort and luxuries of what she calls "the classic materialistic Western lifestyle," Roz Savage felt unfulfilled and unhappy. After parting ways with her husband, leaving a well-paid job and selling her possessions, she chose the iconoclastic pursuit of long distance solo ocean rowing to find meaning in her life.
It's difficult to even think about the challenges and dangers of rowing a small boat across an ocean alone, yet in 2005 Roz became the first woman to complete (or even enter) the Atlantic Rowing Race, setting out from the Canary Islands and spending over 103 days alone at sea before making landfall in Antigua. Her first book, Rowing the Atlantic: Lessons Learned on the Open Ocean, recounts that 2,935-mile journey.
Roz then set her sights on rowing across the largest ocean on Earth, a distance of 8,000 miles. After an abortive attempt in 2007 when her 23-foot boat capsized three times in 24 hours, she set out from under the Golden Gate Bridge on May 25, 2008. "…this water world was my home," she writes, "as I inched my way, oar stroke by oar stroke, from California to Papua New Guinea to become officially the first woman to row solo across the Pacific. My stated goal was to use my adventure to wage a campaign of awareness and action on the most important environmental issues facing our world today."
A well-told tale of a stunning achievement, Stop Drifting, Start Rowing offers a unique perspective on how the steepest trail is often the one leading to the greatest reward. This exceptional book would be a superb gift for a young person struggling to chart his or her own course.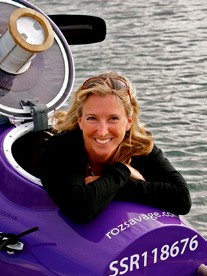 Roz Savage, Member of the Order of the British Empire, holds four world records for rowing, including first woman to row solo across the Atlantic, Pacific, and Indian Oceans. She has rowed over 15,000 miles, taken approximately five million oar strokes, and spent more than 500 days alone at sea in a 23-foot rowboat. A tireless environmental campaigner, speaker and coach, she uses her ocean rowing adventures to inspire action on ecological issues. She's a United Nations Climate Hero, a fellow of the Royal Geographical Society and the Explorers Club of New York, and an Athlete Ambassador for 350.org. To learn more about this amazing woman, visit rozsavage.com.
© abc.net.au