A Family Affair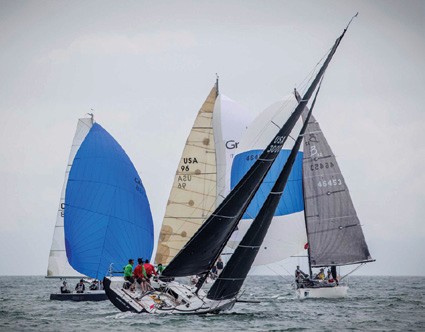 Overall victories and podium finishes were up for grabs throughout most of the fleet at the outset of the final day of Sperry Charleston Race Week 2015, sailed April 16 – 19 in Charleston, SC. For family and friend crews, it this 20th Anniversary edition of Race Week was a perfect opportunity to enjoy time together on and off the water and also bring home some silver.
Angus Davis' C&C 30 One Design Nyabinghi (Bristol, RI) heads upwind.   © Sperry Charleston Race Week/Sander van der Borch
"Being able to sail with people you enjoy spending time with off the water always makes the time on the water that much better," said John Streicker, owner of Defiant, a NY 40 from Milford, CT. "We had a number of crew gatherings during the cold winter months to keep the camaraderie strong and to work on the many tasks that needed to be accomplished to get a 40-foot yacht to Charleston, race it and get it back home."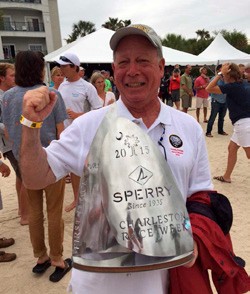 Streicker had Defiant refitted at Port Milford in Milford, CT over the winter prior to hauling her to Charleston. "It's no exaggeration to say that when the team at Port Milford had finished, it was hard to tell Defiant was not a new boat, said Streicker of the workmanship of Port Milford's craftsmen. "That was a sentiment shared not just by those onboard, but by many people walking the docks at Race Week.
John Streicker and the crew of Defiant took first place in the Spinnaker division of the Pursuit class.
Although Defiant's crew comprised good friends and family, everyone took their role seriously in an effort to put forth the best performance in what is known to be a highly competitive environment. "Good planning and prep work meant that we were able to have a lot of fun racing," said Streicker. "The core group made a commitment to improve their skills, and we spent a number of fall days on boat handling and working together as a team. Some of us even went to the gym together. The improvement was dramatic. By the end of Race Week, you could feel the confidence exuding from everyone and we were working together like a machine."
Also sailing in the Pursuit class was Charlestonian Jay Cook, who raced with his sons Adam and Travis aboard the Beneteau 423 Tohidu for the first time in more than five years, something Cook said "was one of the best surprises I've ever had." A second surprise was accompanied by thunderous cheers when Cook was called up to receive the Jubilee Award for Sportsmanship. Cook's volunteerism and never-ending generosity in support of the Charleston sailing community are legendary.
After top-secret calculations to determine the winners in the most competitive classes in the regatta, event chair Randy Draftz announced that Robin Team and his family-crewed J/122 Teamwork (Lexington, NC) had won the historic and beautiful Palmetto Cup for the top PHRF performance of the regatta. It marks an incredible third overall win in Charleston, and the Teams say they would like to try to add their name to the perpetual trophy again next year.
Sperry Charleston Race Week is the largest gathering of modern sportboats in the world. In the ultra-competitive, 22-boat Audi Melges 20 fleet – competing for their National Championship – Long Island City, NY's Jason Michas and the crew of Midnight Blue took home the Charleston Race Week Cup and Michas was crowned US National Champion.
Streicker summed up why Sperry Charleston Race Week is such a worthwhile endeavor: "We started out as a diverse group of individuals; 40 years difference between the youngest and the oldest, a wide range of sailing experience, athleticism, strength, and eyesight. We trained, practiced, and prepared together for the better part of a year. At the end we had become a team where everyone knew their job and, as importantly, everyone knew that everyone else could handle their role and responsibilities. The satisfaction and pride we got by building the trust that you could count on each member of the crew to get it right was a lot of what made the time, effort, and commitment all worthwhile."
Next year's Sperry Charleston Race Week is April 14-17. For more information, scores and images, go to charlestonraceweek.com.