An interview with Patrick Shaughnessy of Farr Yacht Design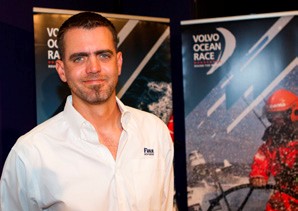 The decision to adopt a one-design rule for the Volvo Ocean Race 2014-15 has produced the closest racing in the event's history. In addition to creating parity and reducing costs, the Volvo Ocean 65, designed by Farr Yacht Design in Annapolis, MD, has proven to be as rugged as it is fast.
Pat Shaughnessy, President of Farr Yacht Design, is pleased with his company's Volvo Ocean 65.  © Ian Roman/Volvo Ocean Race
Founded by Bruce Farr and Russell Bowler in 1981 as Bruce Farr & Associates, the company now known as Farr Yacht Design has created designs that have won 40 world championships and a multitude of grand prix events including the Volvo Ocean Race, America's Cup, Vendée Globe, Rolex Sydney-Hobart, Barcelona World Race, Transat Jacques Vabre, Copa del Rey and many others.
We spoke with company President Patrick Shaughnessy about the Volvo Ocean 65.
WindCheck: Having watched this race transpire since last October, what are your impressions of the new one-design rule?
Pat Shaughnessy: To be honest I'm really pleased with the way the project turned out. The design brief for the boat was so broad, and so often conflicting, that the project as a whole was one of the most demanding jobs I think we have ever worked on. There are of course many things that we could have done differently or better, but on the whole I think the VO65 has been an enormous success. Everyone involved in the project should be really proud of what we achieved.

The one-design VO65 has provided the tightest competition in Volvo Ocean Race history.  © Stephen Cloutier/PhotoGroup.us
WC: As the designers of the boat, what have you been looking at most closely during the first eight months of the race?
PS: It would be really hard to pick anything out and say that it was our primary focus. We spend so much time during the race second guessing solutions, reviewing engineering work, helping teams with performance review, being onsite and talking with the sailors, that we still feel quite immersed in the now. I don't think we've really given ourselves an opportunity for a good review just yet.
WC: Are you happy with how the boats have held up, specifically on Leg 5 (the Southern Ocean), when five of six VO70s had to come in for repairs during the last edition of the race in 2011-12?
PS: We are very happy, so far. There is still plenty of racing to do, but the boats have been very reliable. All of the failures to date have been either self-inflicted or explainable. Certainly your biggest fear in a project like this would be a large-scale systematic failure. That's what keeps us up at night. Fingers crossed still, but we are getting closer to the champagne at the end of this thing.
WC: What would you do differently if you started from scratch all over again?
PS: We really suffered during the initial stage of the project from too much of the wrong kind of input, and too little of the right kind of input. If we had started a bit earlier, and had good focused input we would have had a better product at the end. I also think we were poorly set up to handle the multiple layers of third party review for our work. That sort of review inevitably leads to changes, and the project schedule really didn't have space to make those changes in a good way. It all really comes back to time. We needed more time.
WC: Farr Yacht Design has such a rich tradition in the Volvo Ocean Race. How much of that heritage translated into your designs for the Volvo Ocean 65?
PS: As a team, we certainly have an enormous amount of Whitbread and Volvo Ocean Race design experience. Our design team all works together on every project, so we have a really cohesive approach to our work. I think we are good at learning from all the projects to make whatever we work on better. Certainly the VO65 is no different.
WC: Is it possible we could see any of the aspects of this class be used in other ocean racing yachts?
PS: The things we learned in the VO65 benefit everyone in every project. Certainly our new Farr 280 One Design was a great beneficiary of the VO65 experience. We've created so many one-design classes that you would think we know the process inside and out, but we still have plenty to learn. The VO65 One Design really is a ground breaking OD class. I don't think the public will ever really understand how complicated it is to achieve really equal boats at this sort of scale.
WC: Although the VO65 will be used again for the Volvo Ocean Race 2017-18, can you see any alterations or slight adjustments being made for the 13th edition of the race?
PS: We're starting to work on that process now. We've had a few good sessions with the teams, and we are combining that input with maintenance records and sponsor goals to figure a path through all that. I think that changes will be relatively minor because they need to be completed in a budget that can be managed for both existing owned boats and potential new builds. Right now we have a pretty open mind, but pretty soon as a group we will have to start being a little selective and focused on what can actually be accomplished relative to some set goals.
Visit our Volvo Ocean Race 2014-15 Latest News Page for leg and race updates.