By Colin Rath
Editor's note: This is the fifth installment in a series of dispatches from the Rath family (Colin & Pam, daughters Breana, Meriel and Nerina, dog Aspen and cat Wasabi), who departed Stamford, CT last fall for a worldwide cruise aboard their Hanse 545 Persevere. You'll find previous articles archived below.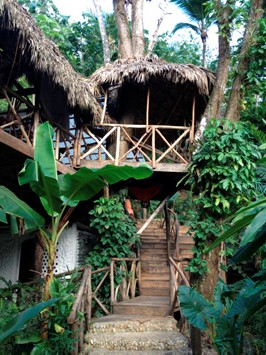 After recuperating from the Kelly celebration in Puerto Rico, our travels led us to the Dominican Republic. A change of pace, time to soak up some local culture and enjoy our 19th wedding anniversary. We set sail for La Romana, DR, another nice overnight reach with the trade winds, and we got there by early morning. I enjoy sailing at night better, quiet, nice and cool and the stars are yours alone.
The Dominican Tree House Village was the perfect spot for Pam & Colin's 19th anniversary.   ©persevere60545.com

Persevere got a slip at Casa de Campo (a few miles east of the La Romana), a 7,000 acre private resort and development community. Guarded like Stalag 13 however, it took us over an hour to get a pass in a rental car to exit, forget about returning after a few days. Pam liked it because it included Altos de Chavon, a local artist community. It is a re-creation of a 16th century Mediterranean village made of coral stone that overlooks the Rio Chavon. It was beautiful and had potential, but the artist community was limited and in the end it was a mall hidden in medieval architecture. Great lunch, not too expensive, but the views were great. Casa de Campo allowed us a safe place for our boat and staging area to tour the country.
The surfers in Puerto Rico told us a lot about Punta Cana as one of the places to visit. What you have to realize is that Dominican Republic is a completely two-tiered society and the tourist resorts are behind barbwire walls and security gates. All the resorts in Punta Cana turned out like that, and frankly that was not the country we were there to visit. I can go to a Sandals anywhere for that or kill myself and take a cruise to nowhere in seven days. But after an hour driving down the coast, we found a local – or as close as local a place in Punta Cana can get – outside the fortified walls of each resort. The Jelly Fish Restaurant was down a dirt road to the beach.
So, I had stopped in the road and was turning right turn onto a street with my blinker on. A young man on a motorcycle came screaming by on the right, tagging the front passenger quarter panel of our rental KIA. Down he went, skidding across the street into the far side curb, where he lay motionless. I immediately stopped and ran to him, thinking 'He's dead and I'm going to spend the rest of my days in a Dominican jail. Luckily, he, Carlos Rodriguez, started to move and stood up. Thank God he was wearing a helmet (a rarity in DR). We had drawn a crowd, and Pam was translating.
The police stopped and Carlos waved them off (he has no insurance and was in the wrong). This was the first accident I'd ever had with an injury. Sure, I'd had a few small fender-benders or late night contact with stationary objects when I was young. This was different and in a foreign land. My rental was fully covered, so I was set.  With the police out of the equation, once Carlos got his bearings it came back to the basics of an accident – what needs to be repaired on the bike?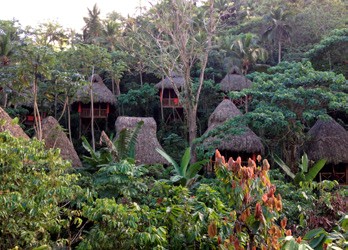 It was strictly pesos now. Carlos started at 20,000 pesos, and after I said we needed a police report, it quickly dropped to 4,000 pesos and considered ourselves very lucky. When I told the Avis agent the story, she agreed and covered our damage with no further questions. We had a nice lunch at the Jelly Fish Restaurant and enjoyed the beach for the afternoon, but I would not go back there. We wanted to do something different for our 19th wedding anniversary on the 13th. We found it in the Dominican Tree House Village.
Idyllic and miles from the cyberworld, the Dominican Tree House Village was worth the long drive. ©persevere60545.com

It took close to four hours to drive to the other side of the country to Samana Bay and then up and down dirt roads to the village. After driving up an empty riverbed we arrived at a village of huts along a ridge and in the trees. Alexander Nunez greeted us and checked us in with a complementary cocktail or natural juice. We immediately felt at home, the kids disappeared to the pool and quickly met friends from London that joined us for dinner. There is no WiFi or cell service – you can drive 20 km to a cyber café – but that is not the point of the village. Now, you could be asking, "Why do you need to relax on a sail around the world?" Well, same as anyone, I am still closing up businesses, orchestrating a major foreign racing campaign, publishing a book at the end of May and let us not forget, sailing with three kids 24/7. This was perfect for our wedding anniversary.
Pam and I have both been readers of the Game of Life and Celestine Prophecies. So going to a village in the middle of a jungle spiritually appealed to us, and a 12-station zipline 700 feet over the jungle valley sold the kids. Serendipity and spontaneity rarely exist in the same place, but once we arrived we could feel the energy.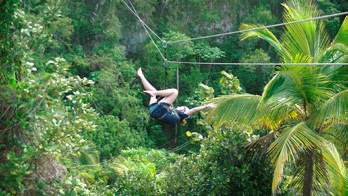 The Dominican Tree House Village provided two cabins with comfortable beds with mosquito screens (amazingly enough, there was no bug problem since the valley was full of bats that took care of the pests). Each cabin had a ceiling fan and the sounds of a tropical jungle to lull you to sleep.
The Rath girls loved zipping hundreds of feet above the Dominican jungle.  ©persevere60545.com
Dinner and breakfast was cooked in an open-air kitchen adjacent to the main dining floor with fresh fruit, organic locally farmed produce, poultry and fresh fish. We came for one night and stayed three.
We did a day trip to Los Haitises National Park, which featured a series of small islands in Samana Bay with great caves that you climb through with pictographs of the indigenous people thousands of years ago. And of course we did the zipline. The kids enjoyed zipping 1,500 feet upside down, back and forth across the raven. Too much fun.
But, the reason for the third night was that we happened across Mette Schlimermann, a 19-year-old free spirit from Germany who was a month away from the end of her internship at the Dominican Tree House Village. Now, Pam and I had been discussing picking up someone to help with the home schooling for a while. Pam needed free time for herself and the kids could have a teacher outside the family. We'd found our kids, especially the twins, were not as cooperative with us teaching and wanted to try another approach.
Once Breana made friends with Mette, and found out about our adventure, we started talking about her joining us at least until she goes back to school in the fall. We could drop her off in Germany. We talked throughout the day. With a couple calls back home she was aboard, albeit needing another day to get everything together and say goodbye to friends.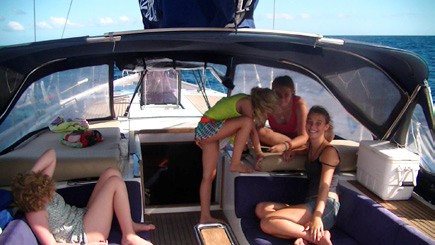 We packed up the car and all six of us jumped in, with Aspen in the back. We hit a supermarket, packed up the boat and set sail for Havana, Cuba, over 900 miles away. Mette would get a crash course in home schooling on the seven days at sea, but she was looking forward to dancing the salsa in Havana at her 20th birthday party.
Nineteen-year-old Mette Schlimermann is schooling Breana, Meriel and Nerina while hitching a ride back to her native Germany aboard Persevere. ©persevere60545.com
That tropical rain forest in the Dominican Republic brought us renewed spirit as we slowly worked our way back to New York City to promote my book, and Newport, RI, to prepare for the Transatlantic Race 2015.
The Rath family's worldwide cruise includes an ambitious racing schedule, which continues with the Transatlantic Race 2015, followed by the Rolex Fastnet Race in August, the Rolex Middle Sea Race in October, and the RORC Transatlantic Race (Lanzarote, Canary Islands to Grenada, West Indies) in November. Look for updates on Persevere's journey in future issues of WindCheck, and track their progress on their Facebook page.

Previous articles from the Persevere Family Journey:
March 2015 Persevere Cruise: Cuba Libra!