'TI' Takes Founders Trophy for overall division win
'Mischievous' wins Blue Water Sailing Club Board of Governors Trophy for shortest elapsed time
'Spirit of Bermuda' takes Classic Division's Captain Ed Williams Trophy with stellar performance
By Talbot Wilson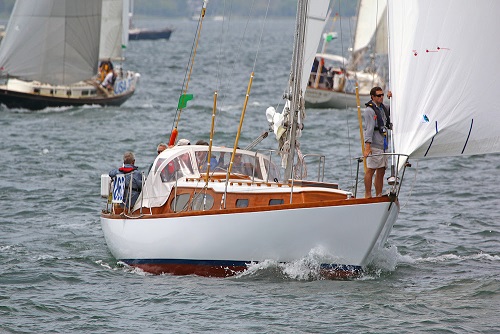 'TI' skippered by Greg Marston was overall winner of the 2015 Marion Bermuda Race Founders Division and was awarded the Goslings Rum Founders Trophy at the prize giving held Saturday evening at the Royal Hamilton Amateur Dinghy Club. 'TI', an Alden Mistral 36 sailed under Celestial Navigation by a family crew took the big prize and more.
'TI' at the start ©Fran Grenon Spectrum Photo
'TI' was first in Class D and won the Beverly Yacht Club 'Polaris' Trophy as the yacht with the best celestially navigated performance. Her navigators Andrew Howe and Chase Marston were awarded the Navigators Trophy for their winning effort.
The crew of 'TI' consisted of the skipper Greg Marston, navigators Andrew Howe and Chase Marston, Watch Captain Peter Stoops, and crewmembers John Omeara and Jake Marston. They are all related, and all are from Falmouth, Maine.
'Mischievous', sailing for the Massachusetts Maritime Academy and skippered by Charles Cahill grabbed line honors in the 645-mile race. She was awarded the Blue Water Sailing Club Board of Governors Trophy for shortest elapse time 'Mischievous' skippered by Charles Cahill crossed the finish line at St. David's Lighthouse Bermuda during the twilight Lighthouse Committee cocktail party at the finish tower on Monday evening at 6:42 EDT.
'Spirit of Bermuda', the Bermuda Sloop Foundation's sail training vessel chartered by Jim Butterfield for an employee team building adventure, had a strong fourth for line honors and first in the Classic Division. This is her best showing ever in a Bermuda Ocean Race by 'Spirit of Bermuda'.
His Excellency Mr. George Fergusson, the Governor of Bermuda, was one of 24 crew members aboard 'Spirit' for the race. Mr. Fergussen said, "I want to thank Jim Butterfield [charterer of 'Spirit'] for taking me aboard and also thank the crew of 'Spirit' for putting up with me for four days. To all of you sailors who raced to Bermuda in 2015, I invite you to come back again in 2017 and tell your mates to come so there will be even more."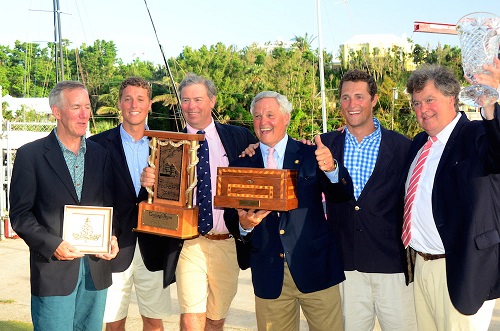 "Bermuda will really be buzzing," the governor noted, "with tall ships in the harbor and some guys on foils in the Great Sound, too." He was referencing the America's Cup 35 being sailed in Bermuda in foiling catamarans in late June or early July of 2017.
The crew of 'TI' consisted of Navigators Andrew Howe and Chase Marston, Watch Captain Peter Stoops, and crewmembers John Omeara and Jake Marston. They are all related, and all are from Falmouth Maine.  ©Talbot Wilson
The fleet from the fastest to slowest boats experienced many hours of gale force winds with sustained winds noted at 40-50kts. That was followed by a long beautiful sail in breezy reaching conditions. Some said it was the best offshore sailing they had ever experienced. In a post race survey 90% of the skippers said they would be back for the 2017 race set to start June 16, of that year.
Race Chairman David Patton led the sailors and guests in a moment of silence in memory and honor of Bill Fasnacht who died of natural causes aboard 'Legacy V' during the race.
In remarks before the prizes were awarded, Patton acknowledged the efforts and response of Captain Michael Wiseman of 'Legacy V' in their efforts to give care and comfort to Mr. Fasnacht.
Patton and the trustees also recognized the skipper and crew of 'Roust', Ian Gumprecht and Mark Swanson. Race Chairman Patton said, "Their response to and concern for the sailors and their seamanship in supporting 'Legacy V' following their distress calls is commendable. Thank you, 'Roust'."
Tragedy struck 'Legacy V', a Class B entry, when Mr. Fasnacht died the second night out. His crewmates could not revive. 'Legacy V' returned to Connecticut. One of the 'Legacy V' crew, Tim Dung, attended the prize giving on behalf of the entire crew.
All final results are posted at SCORING
SAVE THE DATE
Marion Bermuda Race • 40TH Anniversary
Starting on June 16, 2017