By John C. Smiley and Colleen Perry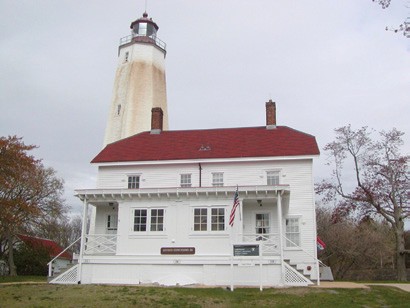 There's the spectacularly pretty area and town of Bolinas, just north of San Francisco, California. It sits high, prominent and overlooking the blue Pacific and Bolinas Bay.  Regularly, someone from town will remove the road sign that would otherwise direct travelers on Highway 1 toward Bolinas and its beautiful vistas. The residents simply don't want anyone else to enjoy their pretty area and town.
Built in 1764, Sandy Hook Lighthouse is the oldest working lighthouse in the United States.   © Colleen Perry
If you're a little put off by all that disappearing sign nonsense, go nearly due east some 3,000 miles and you'll find, and be graciously welcomed to, beautiful Atlantic Highlands, New Jersey. The town of Atlantic Highlands sits at the base of Mount Mitchill, which is higher than any other East Coast seaside point from Florida to the southern part of Maine, and overlooks the green water of Sandy Hook Bay, next door to our own Atlantic Ocean. It's only a short sail through Ambrose Channel across the Bay and into a quaint "Jersey" seaport with benefits and amenities, about a million miles distant.
Atlantic Highlands is a hidden seaside treasure offering an easier pace; often a solace or solitude; a playful excitement in, on and out of the water; and an easy friendliness. Removed from the hubbub of Manhattan and busy Monmouth County, this jewel borough across the Bay is sufficiently distanced, both by water and culture, to offer a pleasantly relaxing change of pace. There is a noticeable demeanor of friendly professionalism at the marina, hotel, restaurants and shops. Now, that is special!
Situated at the northeast corner of New Jersey, Atlantic Highlands sits at the top edge of the Jersey Shore and the bottom edge of Sandy Hook, a six-mile barrier spit that offers some protection from the ocean and the genuine opportunity to get some sand between your toes. There is a jetty protecting the north side of the mooring fields and municipal harbor. You'll want to be sure to approach and enter the harbor from the east, marked by Fl 4s 33ft 7M. Stay within the well-marked channel. The channel is fairly deep, with about 7 feet at low tide. Steer clear of the western cut even though you might see local boaters. There are pilings (remnants of 2012's Hurricane Sandy), which are submerged at high tide.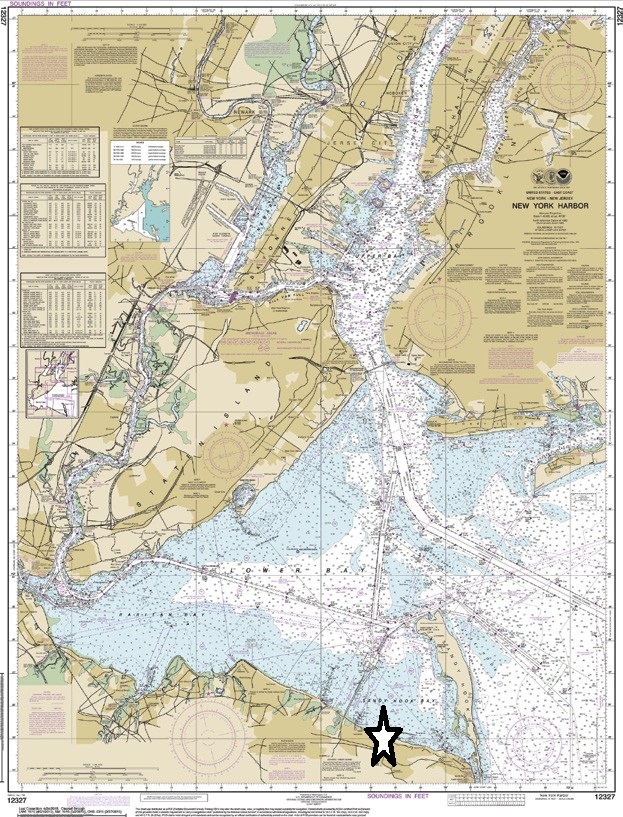 The floating docks can accommodate boats up to 42 feet. The fixed piers can accommodate yachts up to 100 feet. If you want to berth at a slip, call the harbormaster. The mooring rentals are handled through the Atlantic Highlands Yacht Club, which offers reciprocity for all members of other yacht clubs. The Harbor has 24/7 security that also serves as the marina "concierge" service. If you have questions about the town or need a shuttle ride into town, just go to the security gate and speak with the security officer on duty. For slips, contact the harbormaster at (732) 291-1670, VHF 9 or ahnj.com. For moorings, contact Atlantic Highlands YC at (732) 291-1118 or ahyc.net.
After tying off at the harbor, you'll discover an assortment of amenities that include showers, fuel, pump out and laundry facilities. The park across the way is a source for afternoon music concerts blended with children's laughter from the nearby playground. Bring your tennis racquets and walking shoes so you can work up a healthy sweat on the courts or enjoy a brisk walk (or bike ride) on the beautiful Bayshore Trail. Less than two-miles long, the trail follows the shore into the neighboring town of Highlands (not to be confused with Atlantic Highlands) and continues on to Sandy Hook. Leave the bike at home? No worry. There are two cycle shops in town that'll fix you right up!
If you don't have time, inclination or boat, don't be dissuaded! Avoid the traffic and treat yourself to a stress-free Atlantic Highlands adventure by taking the train into the City and going to the 11th Street Pier or the East 35th Street Terminal to catch the Seastreak ferry, which will get you there in less than an hour (800-262-8743; Seastreak.com). You'll need to make advance reservations at the lovely Blue Bay Inn, which is only about a block from the ferry dock. The Blue Bay Inn offers the only available lodging, and you'll not be disappointed with the spacious rooms and suites. The staff is top-notch and there to make sure every part of your stay in town is as absolutely perfect as you envisioned! (732-708-9600; bluebayinn.com)
In addition to luxury accommodations at Blue Bay Inn, you'll quickly discover the food served up in the local restaurants is above and beyond absolutely delicious! And the choices are eclectic, offering a savory experience for every palette! For starters, sunsets off The Deck on the marina wharf are as spectacular as the jovial camaraderie and good food. You'll not want to miss the Southwest cuisine or decor of Coppermine Canyon, where seared tuna is served to perfection, along with an array of exceptional culinary delights. The presentation is awesome, and so is the food! (732-291-8444) Across the street at Christine's (732-872-4790), you'll be welcomed and become part of the "family." This is Italian at its very, very best! Owner-Chef Ron Marino and his entire staff really don't know how to be anything but friendly. Read the reviews and book a table. You'll be glad you did!
Breakfast at the Town Surf Diner (732-872-7776) or Hudson Cafe (732-872-2300) are excellent choices to start the day, whether you're looking for cannoli-filled French toast or the best specialty omelette. Wanting a little exercise? Saunter up First Avenue, take a right on Center Street and go about three blocks down to Zoe's Vintage Kitchen. The name says it all. Decor is 1950s – you know, chrome tables and soda counter with those stools that swivel. You'll discover gourmet soups, sandwiches and more. Down-home good and southern friendly, it'll take you back to Leave it to Beaver (732-708-9637). You would have to spend a good two weeks in town to sample all the restaurants, but that's okay. Once you've been to Atlantic Highlands, you'll find a reason to come back again…and again!
Provisioning can be a real treat. If you've forgotten some common incidental, you can mosey up to the Mini Market. For serious replenishing, you'll want to hitch a ride from the harbor and head up the main highway to either Food Town or the A&P. But if you want something really special to cook on the boat or pack for a picnic, stop into Gianni's Italian Specialty Food, just up from the diner. With everything from a meat market to freshly prepared Italian specialties including rollatini, lasagna, sausages, cheeses, vinegars, bakery goods and hand-tossed pizza, Gianni's (732-291-5678) is the place to go if you're planning a day on the beach at nearby Sandy Hook.
Each year (this year the date is July 18), the Atlantic Highlands Arts Council (aharts.org) produces FilmOneFest, an acclaimed film festival. Held outdoors, seating is your lawn chair and it is absolutely free to attend. Robert O'Connor, festival founder and co-director, said, "Judges are all top television and movie professionals, including producers, editors, journalists and film reviewers, all donating their time and enthusiasm. Representatives from Sony Picture Classics have been a huge support." So much more is made possible by the truly dedicated Arts Council members and the many and very special volunteers. Last year there were nearly 100 independent film submissions for the Arts Council to review, from which they chose 47 films. Film subjects include the provocative and clever, thoughtful and wildly funny, insightful and dark, as well as childlike (and grown-up) innocence. Each film completely tells its creative story and cannot exceed 120 seconds – two minutes total. The Festival has grown in attendance from around 600 people that first year to well over 2,000 last year. Visit FilmOneFest's website (filmonefest.com) to view some of last year's winners, then find your lawn chair-spot early.
Rainy days can be a challenge when cruising, especially if there are children onboard. If inclement weather sets in, cheer up! All is not lost. Take the marina shuttle into town. A visit to the Strauss Mansion, home of the Atlantic Highlands Historical Society, is a great way to pass a rainy day. Built in 1893 by wealthy merchant Adolf Strauss, the lavishly decorated Victorian home has been refurbished by the Historical Society. Another pastime would be to check out what's playing at the Atlantic Highlands Cinema. Believe me, this is not the usual little, outdated downtown cinema one finds in most small towns. The theater has been open for more than 50 years and it's been renovated to include five cinema screens – all of which are state-of-the-art with digital technology. The theater is proud to offer first-run movies. Atlantic Highlands Cinema also works closely with the Arts Council as it presents six classic films each year, provided by Sony Picture Classics. The Cinema collaborates with several community fundraising projects as well as birthday parties and other special events. Of course, the Atlantic Highlands Public Library always offers an escape for a rainy day as well as a hot summer afternoon. No matter the age of your crew, there's always an escape from cabin fever!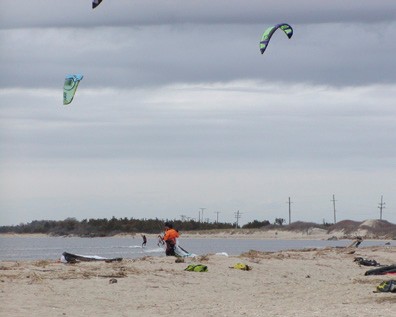 Folks here like to think of Atlantic Highlands as "a place where dreams come true" – for good reason. Shop owners and entrepreneurs have made their way to this little seaport from all corners of the globe. They've arrived with a dream. And, through a shared resilience that overcomes tragedies, they've not only made their own dreams come true, but with creativity and inventiveness, hard work and positive, genial attitudes, they've built a thriving community. Honestly, you won't believe how well they've done to make their homeport an enjoyable visit and stay for you.
Kitesurfing off Sandy Hook on a blustery day   © Colleen Perry
Though you may find it difficult to steal away from the lovely harbor, do yourself a huge favor and mosey up the hill onto First Avenue and enjoy a half-mile stroll through the heart of town. If you're not in the mood for a full meal, at least stop and "graze" along the way. Pop in for a glass of wine or your favorite beverage, or enjoy an appetizer or light snack at one of the many eateries. Take time to chat with the townspeople. Believe me when I say they are friendly and genuinely want to chat with visitors to their "boutique" city. Poke around the shops, discover the perfect treasure as a memento of your stay…and actually shop! Make new acquaintances…truly listen to the stories others have to tell. By all means make Atlantic Highlands your destination this year, and be prepared to be impressed with their treasures and hospitality. You'll have a wonderful time, and your smile will remain long after the last line is cast from the dock.