By Sandy Waters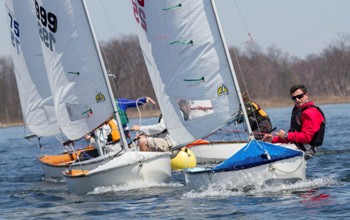 On Saturday, April 18, 2015 11 sailors representing five yacht clubs from Long Island, Westchester County and Connecticut sailed nine-foot Dyer Dhows in the annual Yacht Racing Association of Long Island Sound Frostbite Championship Regatta, which was first held in 1954. The perpetual W. J. H. Dyer Frostbite Trophy goes to the winner, and it was won that first year by Jack Sutphen.
Defending champion Fotis Boliakis leads the pack around a mark. © Andrea Watson
The Mamaroneck Frostbite Association again organized and ran this regatta, which took place at Beach Point Yacht Club in Mamaroneck, NY. The racecourse was in Mamaroneck's outer harbor on a beautiful warm and sunny day, more like July than what frostbiters normally saw this past winter.
Fotis Boliakis of Norwalk Yacht Club won the championship for the second year in a row, with four firsts in this 10-race series, although he was only two points ahead of the runner-up, Mike Calman of Indian Harbor Yacht Club. In third place was Fred Treffeisen of the host club, MFA. An award was given to the top female finisher, Eva Burpee of the MFA, who finished  in a three-way tie for fourth.
The wind ranged from 5 to 12 mph, coming from the southwest most of the time, but the sailors faced a major 60% westerly shift late in the day. Boliakis showed his expertise in anticipating several shifts, twice starting next to the committee boat when the majority of his competitors were near the leeward or pin end. Both times the champion prevailed with a first or second place finish.
The Race Committee, led by Chairman Bahar Gidwani, was kept busy resetting marks on the windward-leeward course, with two windward marks often being changed to design the best course. No members of the home MFA Fleet sailed their own boats, as the Dyers were exchanged every three races at a swap dock.
The awards party was again held in an attractive dining area at Beach Point YC, where food and beverages were served. The MFA has sailed out of Beach Point YC since 2003, and their membership has doubled to the current 55 active sailors, with racing taking place in two divisions. Using two sizes of sails has benefited the fleet, as they are able to race in a variety of conditions.