By Colin Rath
Editor's note: This is the fourth installment in a series of dispatches from the Rath family (Colin & Pam, daughters Breana, Meriel and Nerina, dog Aspen and cat Wasabi), who departed Stamford, CT last fall for a worldwide cruise aboard their Hanse 545 Persevere. You'll find previous articles at www.windcheckmagazine.com (search Persevere).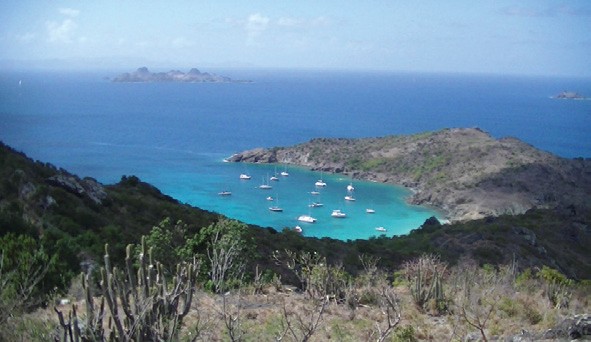 Our friendship started in the '70s, when another good friend told me about this kid from a large family that lived up on Shippan Avenue in Stamford, CT who had over 10 GI Joes, including the astronaut and scuba diver. Which was nirvana to any kid back then. Today, a video game room and flat screen TV might mean the same. How times have changed. This kid is Kirk Kelly and we have been best friends since.
A peaceful Puerto Rican anchorage.  © persevere60545.com
So, when Kirk couldn't make it to the St. Maarten Heineken Regatta this year, his brother Jed and nephew Ryan told me the family was giving Kirk a surprise 50th birthday party in Rincón, Puerto Rico on March, 28. My family was aboard right away. All my kids love Kirk and his family since they had been doing the New York Yacht Club Cruise with us on Persevere for the past several years. So it was just a matter of logistics and finding a marina close by Rincón, which turned out to be an hour's drive away in Port Real.
After St. Maarten, we went to St. Barths for the Bucket Regatta. We were invited aboard the Sea Hawk for a NYYC cocktail party. Sea Hawk is a 197-foot Perini Navi ketch. That seemed reason enough, plus the beaches and restaurants, and as my girls soon found out about the fashion it became a "must" destination. We rented a car and beach-hopped for a week and partied with the 1% at night. Our beach favorites were Shell Beach, Grand Fond and Grand Colombier. We had to leave after 10 days. We could not afford the island any longer – especially with the girls shopping! – and we had to sail to Puerto Rico for the party. We sailed to St. Thomas and cleared customs, then sailed to Isla de Culebra, PR and stayed overnight, then straight to Port Real, getting there in total a little more than three days on a nice 15-knot beam reach.
Kirk had no idea about the party. His family had been coming to Rincón for the last five years for surfing with several friends from their neighborhood for spring break. So they were already there with several other families and children. Kirk's sister had set this all up. His brothers and sisters had rented condos, all over Rincón away from Kirk's house, but, when you have a large group this size the inevitable happens. Kirk was walking down the beach and came upon a bunch of his brothers and nephews swimming. His initial reaction was, "It's an intervention," then he calmed down and realized it was a birthday celebration. That left my family, hiding out at Jed's condo, to be the real surprise. That leaked also, but it didn't matter. The celebration was the surprise, and to have all of Kirk's friends and family with him to celebrate his 50th year was the real surprise.
The celebration now comprised a group of over 50 from the states, including my family. We rented a car for the week and all started doing road trips in caravans of two to seven cars all over Puerto Rico. Puerto Rico has few major highways. It's mostly winding, 1 ½-car width roads winding up and down over the hills. So it's two hours to get anywhere. You tend to stop a lot when you have a large group of cars with kids. The caravan we took to Tanama River to tube through a 1,200-foot long river tunnel had seven cars and 34 people. First stop; gas, then Walgreens for $3 floating tubes, then lunch and then the final destination.
Once we parked, we had an hour hike up a small mountain through a tropical forest to where you enter the river tunnel entrance. It was a colorful hike with everyone carrying bright pink, green or blue floating tubes. The girls had a blast being part of a large group and we ended up having several sleepovers with children from other families. The tunnel was fantastic and worth the journey for sure. We had a local guide, Tito from Tropical Horizon Custom Tours, who gave us a lot of information on local Indians and living in a tropical forest. He was quite informative and I suggest checking him out.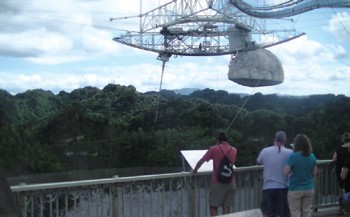 The next day, a smaller group of us went to see the Arecibo Observatory. The world's largest radar-radio telescope, it was built in 1963 by Cornell University. The thing is massive, and amazing because it was built over 50 years ago. Makes you wonder where all our world vision went. The kids loved it because it's in the James Bond movie Goldeneye and also the movie Contact, starring Jodie Foster.
The author's daughters loved Arecibo Observatory. © persevere60545.com
We also took a group of 15 out for a sail and scuba dive. It was fun to hear the old stories of growing up together, especially since all of Kirk's brothers were there to elaborate. My kids got to see how lifelong friends can pick up where they left off, no matter how long they have been apart. The girls got to make a lot of new friends. The kids enjoying playing Wii dance below while we sailed.
All in all, it was like the old days when all the kids in the neighborhood played outside, entertained themselves, and came home at the end of the day for dinner. All the kids and parents had a blast in Rincón with the Kellys. I fondly remember days like that growing up. It gave us our independence and resourcefulness that we always enjoyed in our lives, which is how Kirk and I grew up and continue to live. Hopefully, Kirk will join me on the Rolex Middle Sea Race in Europe in October.
All the best, Kirk Out.
Colin Rath doesn't believe in doing anything halfway and fears no challenge. From running several successful businesses, to designing and developing real estate and writing, Colin gives 100%. As a competitive sailor, Colin has owned and captained several racing yachts, and frequently places in top positions in numerous prestigious races. His new book, It Is What It Is, will be released this month and he will be at Bookcon in New York City. Connect with Colin on Twitter @Colin_Rath. For more information, visit www.colinrath.com. Please follow us on our website, Persevere60545.com and follow us on Facebook.