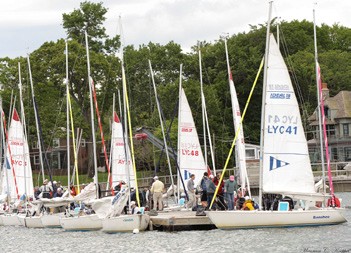 This year the American and Larchmont Yacht Clubs will be hosting the seventh Robie Pierce Regattas for sailors with disabilities. This amazing event keeps getting better year after year. Since the two clubs began the "Robie," over two hundred sailors have raced on Long Island Sound in the clubs' especially adapted Ideal 18s. This could not have been possible without the assistance of scores of club and area volunteers.
"The Robie" is sailed at American and Larchmont Yacht Clubs in alternating years. © Maureen Koeppel Photography
This year's Robie Pierce Women's Invitational, still the world's only all-women's adaptive regatta, will be sailed from American Yacht Club on Thursday, May 28. The Robie Pierce One-Design Regatta will run from Friday, May 29 through Sunday, May 31.
Since its beginning, the Robie has been jointly chaired by a trio dedicated to advancing adaptive sailing in western Long Island Sound. Siobhan Reilly and Bill Sandberg from American Yacht Club in Rye, NY and Buttons Padin from Larchmont Yacht Club in Larchmont, NY have maintained a standing committee of core volunteers from both clubs. Over the years, the Robie has evolved significantly, incorporating a broader base of people with disabilities (as inclusive as possible), attracting more disabled veterans, and refining the adaptations fitted into the Ideals. And while the Robie clearly isn't plug-and-play, the committee's ability to recreate the Robie regattas every year is a testament to their dedication and enthusiasm.
The world of adaptive sailing programs in the U.S. is very limited, with only a handful of major regattas and introductory programs. Those individuals who participate in this aspect of sailing will make the effort to travel to the Robie and the other majors for the competition and the support of the adaptive sailing community. As such, the Robie attracts disabled sailors from across the U.S. and Canada.
At last year's Robie, sailed at Larchmont Yacht Club, six boats raced in Thursday's Robie Pierce Women's Invitational—not a remarkable statistic except that five crew were Burke Rehabilitation Center outpatients who had never sailed before. Once properly "geared-up," those women had the time of their lives when matched with an experienced disabled sailor and an able-bodied (AB) sailor. After four races, the team of Judy Kowaleski (San Diego, CA) and Karrell Reginer (Gatineau, QC), sailing with AB Ginny Worcester (Southport, CT), took the day with three first places and one second.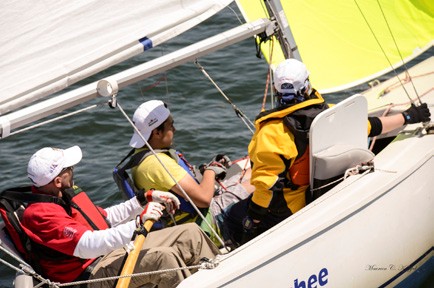 Over the three-day One-Design Regatta, 19 boats sailed as LYC's PRO Cynthia Parthemos had her hands full because the weekend's winds did not always cooperate. In the end, Hyannis Yacht Club's Mike Hersey, sailing with 2008 Paralympic Gold Medalist Maureen McKinnon (Marblehead, MA) and Mike's son Matt as AB, won a tie-breaker for the title. They beat the U.S. Paralympic Team member Gerry Tiernan (Falmouth, ME) and Dennis Moran (Framingham, MA).
The Robie Pierce Regattas are sailed in specially adapted Ideal 18s. © Maureen Koeppel Photography
This year it will be more of the same, and the sailors and volunteers can't wait. You'll probably agree that one of the best things about going to regattas is seeing old friends. The same holds true for the Robie. While there are new sailors competing every year, participants arrive wearing past Robie hats and shirts, and they greet other adaptive sailors who have become dear friends through the Robie. They also love coming back to the American and Larchmont Yacht Clubs that open their doors to these sailors extending the warmest of welcomes. Clearly, this is a very special event held for and run by equally special people. If you're interested in being part of the Robie, go to robiepierceonedesignregatta.com to learn more and register. If you'd just like to see what the Robie is all about, come to American Yacht Club any of those afternoons as the sailors return to shore.
Finally, the Robie Pierce Regattas would not be possible were it not for the ongoing support of the regatta sponsors: Heineken, Keurig Green Mountain, Subaru, Burke Rehabilitation Center, Lucerne Capital Management, Magnum Bars, Gill, and the Sailing Foundation of New York. If you have any questions, contact Buttons Padin at epadin@padesta.com.