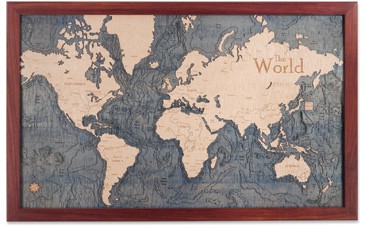 Fans of the Volvo Ocean Race can see the worldwide racecourse in one viewing thanks to the 3-dimensional wooden map of the world produced by Uniquely Nautical, a purveyor of distinctive nautical décor and gifts located in Redington Beach, FL.
Uniquely Nautical's "The World" Wall Chart is a laser-sculpted 3-D replica of a world map that shows the oceans' depths in detailed relief. Using a single sheet of solid wood, the chart is created by a powerful laser beam "whittling" away incrementally deeper depressions, resulting in a pattern of plateaus, canyons, shoals, reefs and undersea valleys such as the Mariana Trench in the Western Pacific Ocean. The oceanographic map shows the continental coastlines, inland seas and lakes and major islands.
"The World" is available in a variety of sizes from 20" X 34" to 40" X 50", and can be made either as a wall chart or table chart. Wood options include top quality Baltic Birch (standard), Birdseye Maple (premium upgrade) or Curly Maple (premium upgrade). There are also several optional woods for the frame. Pricing starts at $995 for wall charts and $2,700 for table charts.
Uniquely Nautical has a database of over 300 other locations that have been produced as Chart Art, including include Narragansett Bay, Long Island Sound and Cape Cod, including Nantucket and Martha's Vineyard. Each piece is custom produced, based on the customer's selection of size, wood, and water stain color, and can be personalized with a variety of icons for houses, boats, RVs, and various points of interest. Custom text can be impinted on the chart, as well as digitized photographs, line drawings, boat names and corporate logos. For more information, contact Uniquely Nautical at 727-394-8978 or info@uniquelynautical.com, or log onto UniquelyNautical.com.