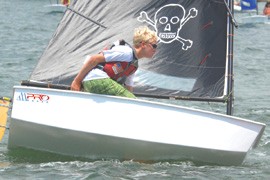 McLaughlin Boat Works in Chattanooga, TN is celebrating a quarter century of Optimist dinghy production with its 25th Anniversary PRO Racer Giveaway.
McLaughlin has been building and supporting the Optimist for 25 years, and have pioneered improvements in speed, strength, and durability. The McLaughlin PRO Racer is the end result of over 75 years of combined experience.
© optistuff.com
The PRO Racer Giveaway is open to sailors ages 8-15, and runs through the end of the 2015 calendar year. Entry forms can be found online at optistuff.com.