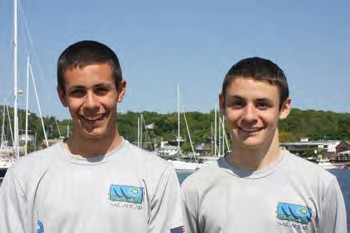 As the co-founders of SailAhead, brothers Kilian and Sean Duclay of Huntington Station, New York use sailing as a therapeutic platform to help U.S. Armed Forces veterans heal the scars of war.
Kilian and Sean Duclay © Jennifer Duclay
"Our parents, Veronica and Thierry, always had a boat and currently own a Beneteau 411," says Sean, 17 (at right in the photo), who attends Walt Whitman High School. "Our parents sailed Hobie Cats for a long time, and we started sailing them around 2012," adds Kilian, 19, a freshman at Stony Brook University.
"SailAhead's mission is to give veterans a purpose on the water," says Kilian, explaining that sailing Hobie Cats on Oyster Bay during the winter was the inspiration for SailAhead. "We like very extreme forms of sailing. It's much more fun when the weather is extreme, and we like to push ourselves to the limit. We invited friends to come with us, and they got hooked. They bought their own drysuits and came back week after week. When we heard that 22 veterans commit suicide daily in America and that there are 75,000 veterans in Suffolk County alone, we immediately thought, 'Sailing is fun and it boosts our morale, so we have to find a way to get veterans involved in this way of life.'"
Since its inception in 2013, SailAhead has formed partnerships around Long Island. These include American Legion Greenlawn Post 1244 in Greenlawn; the Northport Veterans Affairs Medical Center in Northport; Centerport Yacht Club in Centerport; The WaterFront Center, Oakcliff Sailing, and Oyster Bay Marine Center in Oyster Bay; the USMMA Sailing Foundation in Kings Point; the Long Island Maritime Museum in West Sayville; Snapper-Inn in Oakdale; pilot/photographer David Windmiller; and photographer Laurent Apollon. "In addition to our parents, our sailing mentor is Dawn Riley, the Executive Director of Oakcliff Sailing," Sean explains. "Thanks to Dawn, SailAhead is where it is today."
"We have a wide network," says Kilian. "We have boats that are ours, and we borrow boats from our partners. The Hobie Cats are predominantly our winter fleet, for high-adrenaline sailing, and we have bigger boats for the summer including our family's Beneteau 411. Oakclff made Sean and I the boat captains of an Olson 30, we sail on The WaterFront Center's J/105s, and the U.S. Merchant Marine Academy recently donated a Hunter 38 to us.
"SailAhead has five core teams," says Kilian. "One of them is our Safety Team. We are partners with the Transat bakerly, and last month I led the Safety Team at that event in Brooklyn. These men and women are first responders; they're certified in CPR and some are nurses or combat medics. They're trained in a specific job, and we give them a job on the water."
"We helped deliver powerboats to New York City for the Transat and the Louis Vuitton America's Cup World Series," says Sean. "At the World Series, SailAhead worked with the AC Endeavour Program to promote youth sailing and Kilian and I taught kids to sail on Hobie Waves. Next month, we're leading the Safety Team at the Clagett/Oakcliff Match Race in Oyster Bay, and we're also hoping to work with the South Bay Cruising Club."
"Our other teams include the Offshore Racing Team, which was created to organize crews for the Block Island Race, the Vineyard Race, and hopefully the 2018 Bermuda Race," says Sean. "Our Priscilla Team is based at the Long Island Maritime Museum on the South Shore, where they have a 100-year-old oyster sloop called the Priscilla. The veterans are working to become crewmembers, and they will lead tours. The Keelboat Certification Team is learning to sail at The WaterFront Center, who is graciously giving certification courses to 16 veterans free of charge. They'll become skippers and will bring fellow veterans out sailing. Our Nurse Team will certify the Safety Team, and they'll be out on the water with the other teams."
"Centerport Yacht Club hosts our annual event, Let's Take a Veteran Sailing," says Kilian. "Last year, we took 80 veterans sailing on 31 different boats in a single day. Participating boats came from as far as Nyack, New York and Mystic, Connecticut, and we had veterans from privates to a general and from World War II up to the present."
"Centerport Yacht Club is hosting Let's Take a Veteran Sailing on July 30, and this year's goal is 130 veterans on 45 boats," says Sean. "This event introduces veterans to SailAhead, and shows that there are ways to get better other than taking medicine and drugs. Healing only works if it's recurring."
"We've met many veterans who are now very close friends," says Sean, "and some have told us that we are their family. In the military, especially in combat, you form a brotherhood with the people around you. Sailing, to a lesser extent, provides the same thing. You have to work together to get to where you want to go. Being in harsh conditions, such as on a Hobie Cat in the winter, creates a sense of brotherhood very quickly."
"We have taken 1,000 veterans sailing, and we're expanding our horizon so we can reach out to many more," says Sean. "SailAhead is a non-profit organization and we're ready to receive donations of money, boats, and volunteer time." "It's very therapeutic for veterans to go sailing, but giving them a mission is much more valuable than just a day on the water," says Kilian. "Our ultimate goal is to heal." To learn more about how you can support SailAhead, visit sailahead.org.