Let your lust for life lead the way.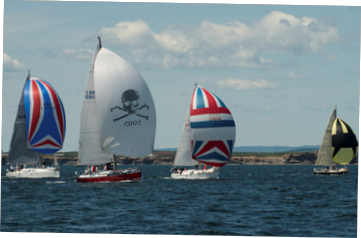 Immerse yourself in the heart of the action this July in a sailor's paradise known as Cape Breton Island. Race the Cape is back for its third year – now even longer – with a course of 175 nautical miles and a brand new leg stretching "down north" into Ingonish in the island's majestic Highlands. For those who have already experienced this epic nautical challenge during its first two years, good on ya! For the rest, read on and get on board or you'll be left just hearing about the time you missed.
Join the Heart of the Action in the Third Annual Race the Cape. © racethecape.ca
This year's Race the Cape, July 12 – 18, features seven days of superb sailing flanked by wondrous awe-inspiring sights, rounded off each evening with exhilarating entertainment and warm hospitality. Condé Nast named Cape Breton Island one of the world's top islands. Travel and Leisure Magazine voted it the #1 Island Destination in North America and #3 in the world, and the opportunity to race through the challenging Bras d'Or Lakes and along Cape Breton's rugged ocean coastline is too tantalizing to miss.
Race the Cape comprises five point-to-point races, new waters each day, professionally organized, high caliber competition, and relaxing into a new community of fine folks each evening. Every leg is its own race, with the top three winners awarded in each division and each class during the evening's festivities. Then, when all is said and done, there's an overall winner. Last year's top accolades went to Wandrian, a Taylor 41 skipped by Bill Tucker of Lunenburg, Nova Scotia.
The last two years were a major success, with 40 vessels taking part. Many sailors were returnees, including Bruce Flinn of Halifax, Nova Scotia, who skippers a Nonsuch 30 named Patience in the non-spinnaker division. "Race the Cape's type of racing is attractive," said Flinn. "Sailing from place to place is great because you get to see new terrain each day, figure out the wind in new spots and different waters. It makes for a good challenge."
Flinn added that the positive energy of the entire race is a huge draw. "The upbeat environment was terrific," he enthused. "The whole things is great. You race for a week, but each evening enjoy a nice meal on shore, greeted by friendly people, fantastic entertainment, rest up a bit and do it again the next day." For more information, visit racethecape.ca.