Shallow Waters and Shifting Sands on Long Island's South Shore
By Rick Mannoia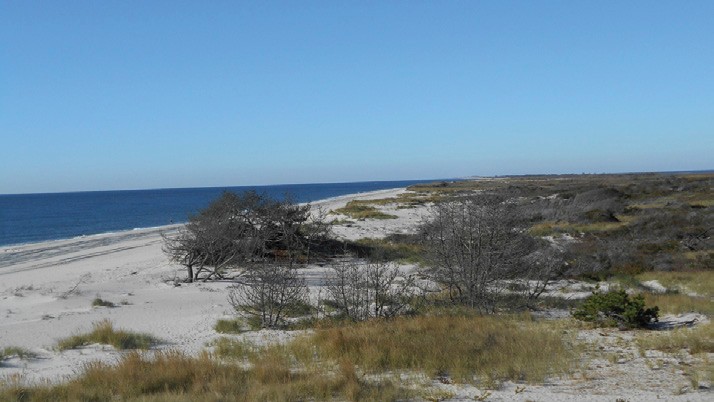 © Rick Mannoia
New York's Long Island extends east, from Brooklyn to Montauk Point, for nearly 120 miles. (Never tell anyone from Brooklyn they are from Long Island. Trust me, unless you're from Brooklyn you just wouldn't understand – it's a Brooklyn thing.) Along Long Island's scenic south shore are a number of narrow barrier beaches protecting Long Island from the ravages of the Atlantic Ocean. These barrier beaches, often little more than narrow, grassy sand dunes, form a series of large, shallow, saltwater bays ideal for sailing.
It is often said that Long Island's north shore has all the deep water, while the south shore gets the winds. It's true. Though quite shallow, some of the best Long Island sailing can be had on Great South Bay. I should know; I've sailed these waters for over 50 years. These are centerboard waters, and groundings are commonplace. Keelboaters beware.
Great South Bay is formed by world famous Fire Island to the south and is bordered by the Robert Moses Causeway to the west and Smiths Point, site of the TWA Flight 800 disaster, at the east end. Just 60 miles out of Manhattan, Fire Island an exotic fantasy island, summer home to the rich and famous, movie stars and writers. The only island access to Fire Island (unless you have one of the very few emergency vehicle passes) is by ferry or private boat. Diverse, small beach towns dot the island and are separated by thick brush, sand and thorns. No cars here; red wagons and bicycles are the favored modes of transportation. Otherwise, you have to walk on raised wooden paths or take a water taxi to get to anywhere.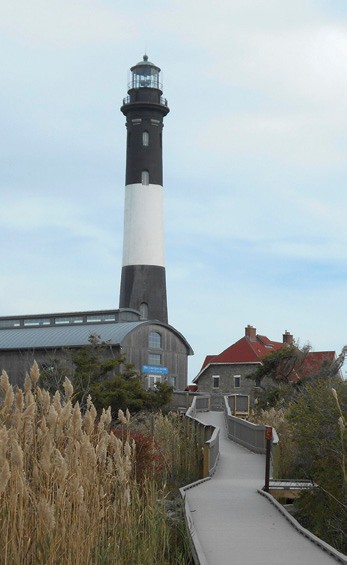 Great South Bay is constantly changing. The Fire Island Lighthouse, now located nearly six miles from the island's west end at Democrat Point, once stood at the entrance to the bay, allowing ships from the Atlantic safe passage through the narrow passage of the Fire Island Inlet. Drifting sands continue to move the inlet further west, bringing Fire Island with them.
Originally built in 1826, the Fire Island Lighthouse was replaced in 1858. Standing a massive 180 feet tall, its beacon can be seen for nearly 20 miles out to sea. Its lamp was fueled by whale oil harvested by local whaling ships sailing from Long Island towns like Oyster Bay and Sag Harbor. The abundance of bunker (baitfish that run in the spring, summer and fall) was so great that huge gill nets were erected near the inlet, capturing tons of the oily fish. They were processed right there into industrial and lamp oil. The stench of boiling, rotting fish must have been unbearable. Sadly, both whales and bunker are nowadays few and far between.
Standing 180 feet tall, Fire Island Lighthouse is visible from nearly 20 miles at sea.   © Rick Mannoia
Fire Island is only a quarter-mile wide and, depending upon the storm breaches, about 30 miles long. It is a gorgeous place with some of the most magnificent beaches I've ever seen. Here the Atlantic is relentless with her never ending, pounding wind, surf and tide. Without Fire Island as ocean protection, Long Island as we know it wouldn't exist.
Great South Bay was home to America's oyster industry in the late 1800s and early 1900s, producing enough oysters to feed America's hunger for the odd-shaped mollusk. Towns like Sayville, Blue Point and Patchogue thrived on the oyster.  Hardworking Baymen harvested her shallow waters year-round. Processing plants dotted the shoreline and oystering became a livelihood for a great many families on Long Island's south shore. More oysters were harvested in Great South Bay than anywhere else in the U.S. Their shells were used for paving many of Long Island's early roads. Large, flat-bottomed oyster boats plied her waters daily. Using their one large canvas mainsail, oystermen would drag huge iron cages behind their boats, scraping the bay's bottom, then hauling these cages onboard to claim their catch. Not environmentally sound, but effective in harvesting oysters.
Then the hurricane hit. On September 21, 1938, Long Island was hit by a Category 5 cyclone remembered variously as the New England Hurricane of 1938, the Great New England Hurricane, the Yankee Clipper, the Long Island Express, or simply the Great Hurricane of 1938. It was bad.
More powerful and proportionally more damaging even than recent Hurricane Sandy, the Hurricane of '38 changed the geography of Fire Island and the very nature of Great South Bay. Her winds reached up to 150 mph with waves surging 25 to 35 feet, pounding the shoreline and cutting breach after breach into Fire Island. If that barrier beach had been lost, the Atlantic could have swept across Long Island with devastating results.
The storm closed a passageway to the Atlantic now referred to as Old Inlet. It filled in as the sands were swept by the hurricane and a new inlet was formed by a breach out east at Moriches. That changed everything. Like a light being switched off, oysters couldn't adapt to the sudden change in the bay's salinity, and the great oyster crop was gone. The environmental and economic impact was tremendous. As went the dinosaur, so went the oyster; there was a mass extinction.
We learned in science class that nature abhors a vacuum, and Great South Bay, as a testament to her fortitude, thrived again. Finding a new home, hard shell clams moved into the vacant water bottom and flourished. The clam industry was born. Once again Baymen worked the waters, this time pulling long-handled clam rakes behind their boats or using long, two-handled tongs. Clam rakes were broad-headed and toothy, with an iron basket at the business end to filter sand and silt, leaving only clams. Tongs were a two-handled affair with a double basket and used like a post-hole digger. Hard work both.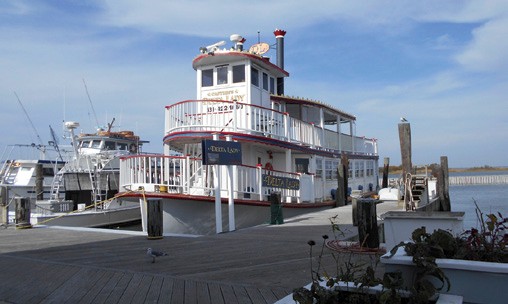 With the invention of the outboard engine, new clam boats were built to replace the old oyster sailing-dregs. Often a one-man operation, these smaller, flat boats have a tiny cabin for shelter in foul weather. Clam boats can still be seen on Great South Bay, working all year long.
The paddlewheeler Delta Lady offers Sunday sightseeing cruises out of Captree State Park and is available for charter.   © Rick Mannoia
Because Great South Bay is so shallow, you can anchor your boat and tread for clams. With burlap sack in hand or a bushel basket in an inflated tire tube, clammers could jump off their boats and dig clams with their feet. Depending on your technique, you were known as a Treader, Tonger or Raker. My kid brother Michael and I would clam off the mudflats, the very shallow waters that surround East and West Fire Island between the mainland and Fire Island. We would tread a bushel or two, then I'd let the jib fly and use the southwesterlies to sail our 22-foot Rhodes Continental, Queen Mamie, back to the East Islip Marina. I'd sail the boat as Michael culled the clams according to size. We were one of the few sailboats clamming the bay.
My dad and I also found patches of mussels and scallops beds. These were rare in the bay, but somehow my dad knew where to look. No one bought mussels back then, so we'd have some great dinners. Digging for clams one day, I even caught a seahorse. It was very tiny and astonishingly beautiful. In 50 years, that remains the only seahorse I ever captured in the bay. I let it go.
Clamming flourished in the 1960s and clam boats were so common you could almost walk from boat to boat. Wholesale clam buyers were stationed at the marinas, waiting for clammers to come in at day's end. Prices would vary, but the choice clam was the prized, sweet tasting littleneck, no more than an inch or two wide at the hinge. Cherrystones and chowder clams were worth less, but made for tasty eating. Back then it was easy money.
Due in part to overharvesting and pollution, the clam industry is now gone. Unlike the oysters that disappeared, clams still exist but they are few and far between. It's tough to make a living as a clammer. An aggressive clam farm and seeding program, instituted by the Town of Islip, sought to re-grow the clam industry, but after more than 20 years and an untold millions of dollars, the program proved unsuccessful.
Interestingly, Hurricane Sandy ripped through Long Island in 2012, again pounding Fire Island. She re-breached at Old Inlet where a harbor, marina and bathhouse once stood. After nearly 80 years, Old Inlet is new again. What's left of the dock now stands a half-mile north in Great South Bay. How this new breach will affect the salinity of the bay is anyone's guess. Certainly with the additional inlet, the bay will flush out more quickly and water quality has since improved. Though not navigable at this time, the millions of gallons of bay and ocean water filtering through this additional inlet will certainly change the bay once again. Whether this brings a return of the oyster and improves the clamming is anyone's guess. One thing is certain; the bay water is cleaner than it has been in years.
The oysters are gone, the clams are gone and even the fish are gone. Hopefully as the new breach brings in clean, fresh ocean water, the sea life that helped make Long Island's Great South Bay will make a comeback. Till then, you can always sail.
Rick Mannoia sails Long Island's Great South Bay in the summer and Florida's St. John's River in the winter. His articles have also appeared in Southwinds.