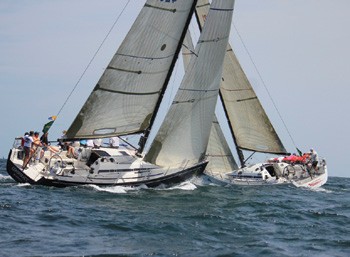 A significant influx of performance cruising designs has enabled the organizers of the Annapolis to Newport Race to introduce a new competition – the Manufacturer's Trophy – to promote friendly rivalry between production boat types such as Beneteau, DuFour, J/Boats, Jeanneau, C&C-Tartan and Swan.
The Manufacturer's Trophy will be presented to the manufacturer with at least five boats completing the race and whose top five boats score the lowest number of points using the low point scoring system, irrespective of what class they enter. The manufacturer will be presented a perpetual trophy while each boat will receive an award.
"From the outset of planning for the 2015 Annapolis to Newport Race, our goal was to increase participation," said Garth Hichens, a key member of the organizing committee. "With that in mind, we created the Performance Cruising class and the response has been very positive. This class is not for the custom racing yachts, but rather for the production boat builders that specialize in performance cruiser-racers. We already have four manufacturers that have met the five-boat threshold to be eligible, so we know we will have an exciting competition."
Ken Comerford, owner of North Point Yacht Sales in Annapolis, MD, is encouraging many of his clients to compete in the race and challenging other yacht brokers and manufacturing companies to get involved. "I think it is a phenomenal way to encourage participation within particular makes of boats," Comerford said. "I applaud the Annapolis Yacht Club for establishing the Manufacturer's Award. It's good for the industry and we are strongly encouraging our local clients to participate."
The 35th edition of the biennial Annapolis to Newport Race, which begins June 5, is the third and final leg of the new East Coast Ocean Series. Competitors are being offered discounted entry fees for the 161st New York Yacht Club Annual Regatta presented by Rolex (June 12-14 in Newport, RI) and the 50th Anniversary of the Storm Trysail Club's Block Island Race Week (June 21- 26 in Block Island, RI). For more information, visit annapolisnewportrace.com.