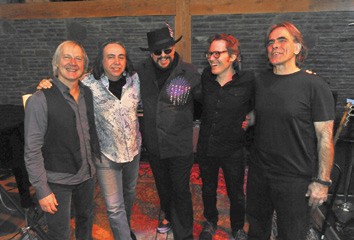 The Third Annual Mystic Blues Festival will be held June 26 -28 at Mystic Shipyard, located at 100 Essex Street in Mystic, CT. The festival showcases an array of Blues legends including Grammy winners, Rock and Roll Hall of Fame inductees and Blues Artist of the Year award winners.
The Weight will be playing songs of The Band.   © theweightband.com
The event begins with a Kickoff Jam on Friday, June 26 from 6 to 10 pm, and continues on Saturday and Sunday with music starting at noon each day.Transient moorings will be available at Mystic Shipyard and other nearby marinas.
The powerhouse lineup is too extensive to list here, although highlights include performances by Paul Gabriel, the Greg Sherrod Blues Band, Neal Vitullo and the Vipers with Dave Howard, Jay Stollman with special guest Debbie Davies, and The Weight: Playing Songs of The Band.
The festival proudly supports working musicians as well as students who will follow in their footsteps, and students and teachers will perform between all main stage acts on a side stage sponsored by String Theory School of Music.  The Art Miles Mural Project, a UNESCO-endorsed peace project, is back for 2015, featuring live painting of twelve-foot long murals for the "Music Mile" that will be displayed online and in exhibits worldwide.
Performances are held under a massive Sperry tent at Mystic Shipyard, with a variety of food and beverages available on-site. An after-party will continue at several Mystic bars and restaurants, with Blues artists performing throughout the weekend in conjunction with the festival.
The festival benefits the Center For Hospice Care (CFHC). CFHC works with patients on controlling pain and symptoms, addressing emotional and spiritual needs, enhancing the quality of life for all involved, and comprehensively meeting the needs surrounding end of life. Visit www.mysticbluesfestival.com for complete information and to purchase tickets.