By William Adler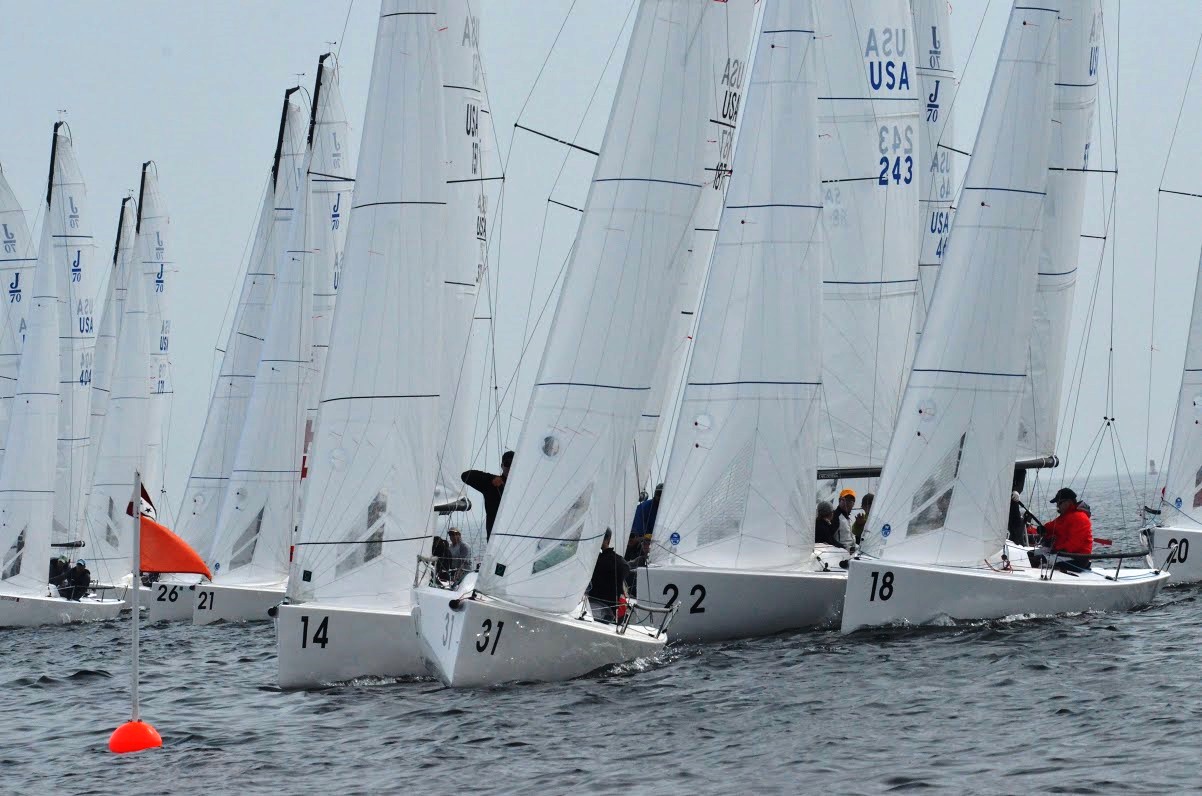 Sailors from Maine to Minnesota trekked to Westport, CT in May for Part 1 of the 2015 OneDesign Regatta at Cedar Point Yacht Club featuring J/70s and Lightning classes. Joel Ronning of Minneapolis was first among the fast-growing J/70s, claiming the class's first Long Island Sound Championship. Stuart Nickerson of Falmouth, Maine, was first in the Lightning Class in what was billed as their Early Bird Regatta.
Photo Courtesy of Cedar Point Yacht Club
CPYC's OneDesign event has grown so popular that in 2015, for the first time, the regatta is being presented in two parts. This weekend featured races for sport boats under 26 feet. On May 30 and 31, the club will host a larger assemblage of boats 26 feet and over.
For Part 1, conditions were challenging at best. As dawn came up on Saturday, a steady light rain pierced swirling fog, yet somehow the day was breezeless and Long Island Sound looked like glass. "Light and fickle winds made it difficult to run sailing races," said Halsey Bullen, CPYC OneDesign Race Chairman. "But principal race officer Dick Thackaberry found a way to conduct three good races over two days, completing the Long Island Sound Championships for the hugely popular J/70 class sailboats."
As morning wore on, some 170 sailors mingled and exchanged stories, and they maintained good spirits. The rain stopped and the fog began to burn off, but the wind would not cooperate. "I have dinner ordered for all of these guests," said Steve Longo, one of the club's governors. "I certainly hope we'll have a day of racing to celebrate by tonight."
They did. And by Sunday afternoon there was a full slate of results, announced against the backdrop of a cookout and the cheerful hospitality for which the club is known.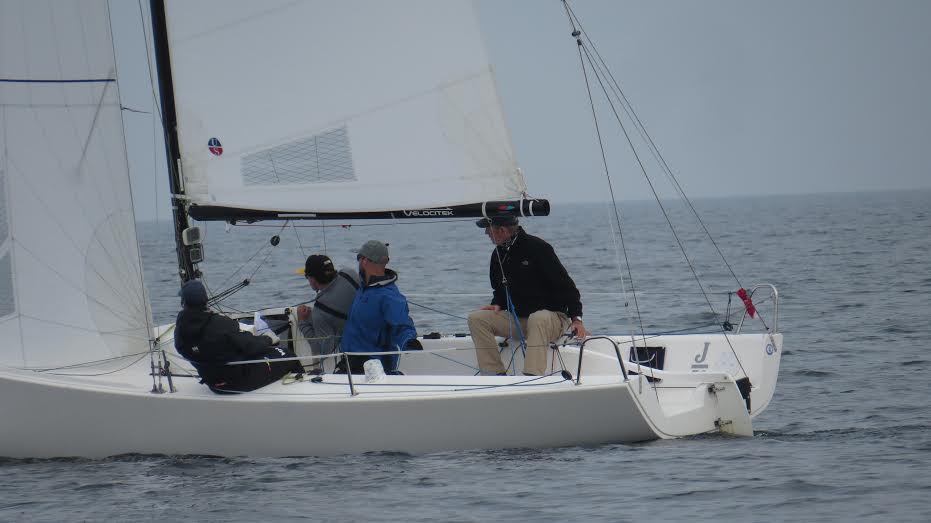 The J/70s winner, Joel Ronning, was one of several skippers sailing with professional crews who traveled to participate in what has become a premier regional, even national, sailing event.
The J/70s winner, Joel Ronning and crew. © Hank Sykes
Among local sailors competing from CPYC, Kerry Klingler of Norwalk was fifth, Richard and Stephanie Swann of Westport were 10th, Bill Walker and Allan Stern of Westport were 12th, and the all-family team of Charlie and Sarah Neagoy and their daughters Grace and Evelyn of Simsbury finished 18th.
Ched Proctor of Southport, who races from Westport's CPYC, came in second in the Lightning class competition.
The regatta, one of the largest on Long Island Sound, is a joint effort by Cedar Point's Cruising Class, Lightning, and J/70 racing fleets, and has become a national showcase for Westport sailboat racing.
The 2015 regatta is presented by Quantum Sail Design, Fairfield County Bank, and McMichael Yacht Brokers.
For more information, full results, and IDs of the competitors: http://www.yachtscoring.com
About the 2015 CPYC One-Design Regatta
Throughout its history, Westport's Cedar Point Yacht Club has held regattas in which sailors race against other boats of the same design and size. This encourages high-level sailboat racing among sailors as they are competing in almost identical boats, conditions, and courses — the best sailors win. This year's CPYC One-Design Regatta will host more than 70 sailboats and hundreds of sailors in a series of races that take place simultaneously. A third of the registrants are from Connecticut, and other sailors and their boats are traveling from as far away as Canada and Texas to participate in the two-day sailing event. The Regatta is being supported by the work of nearly one hundred volunteer Club members.
About Cedar Point Yacht Club
Cedar Point Yacht Club was organized in 1887 by a group of prominent Fairfield County sportsmen with a simply stated and clear purpose: to "promote interest in the sport of sailing." This spirit of competition, on which CPYC was founded, remains its focus today.
Currently, CPYC hosts active fleets of Atlantics, Stars, Thistles, Lightnings, Flying Scots, Vanguard-15s, Lasers, and larger boats racing under PHRF.  Recently, CPYC has opened its membership to owners of sport boats, including J/70s and Viper 640s.  CPYC continues its 50-year tradition of hosting annual regattas for each of the classes with fleets here, and is regularly selected to host major championships. Over the years, the Club has developed a reputation for running outstanding regattas.