The Extraordinary and Distressing Memoir That Inspired Herman Melville's Moby-Dick
By Owen Chase
Introduction by Gilbert King, winner of the Pulitzer Prize
Published by Zenith Press   224 pages   printed laminated cover   $35
Reviewed by Larry Kelly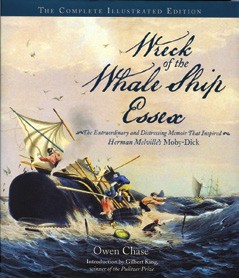 Many will be familiar with this account of a whale attacking and sinking the whaleship Essex. One of my favorite books is the bestseller In the Heart of the Sea by Nathaniel Philbrick, an account of the wreck of the Essex. So there was no question about reading Wreck of the Whale Ship Essex.
This is the first-person account by Owen Chase, age 23, the first mate on the Essex. The voyage began on August 12, 1819, from Nantucket. In the middle of the Pacific Ocean on November 20, 1820, while many of the crew had answered the call, "There she blows," and were in pursuit of whales in their small whaleboats, Mr. Chase's boat took a hit from a whale's tale and returned to the ship. While repairing the boat, he saw a sperm whale swimming toward the ship at about three knots and the whale struck before they could take action to avoid the collision.
"The ship brought up as suddenly and violently as if she had struck a rock."
After a second strike, the ship was done for and started sinking. Having obtained what provisions and tools could be taken from the doomed ship, 20 men were divided amongst three whaleboats, more than 1,500 miles from the nearest land.
Owen Chase speaks to what happened while in the whaleboats with minimal food and water for three months, with one stop on an island. I am moved by his telling of the suffering these men endured. Only eight men, who resorted to cannibalism, survived the heat, hunger, and dehydration.
What makes this book special is that it is more than just Chase's incredible tale. Interspersed in the gripping narrative are more than 200 illustrations, as well as informative historical and novel excerpts. There are impressive paintings of whale ships and whaling, photos of whales, charts of the Pacific Ocean, and accounts of other ships lost to the whales they hunted. Writings from Thomas Nickerson (another Essex survivor), Richard Henry Dana, Frank T. Bullen, Captain William Scoresby, Alexander Starbuck, Herman Melville, and Jack London add historical and cultural context.
Wreck of the Whale Ship Essex will be a very nice addition to have prior to seeing In the Heart of Sea, the movie, a Ron Howard production scheduled for release in December. In fact, Howard visited Mystic Seaport and spent time on the Museum's whaleship, Charles W. Morgan. One more note about the impact of this experience. The entire text of In the Heart of the Sea is etched in glass at the Massachusetts Maritime Academy. The art, photographs, and period accounts in Wreck of the Whale Ship Essex greatly add to the impact of Chase's account and further transport the reader to that long ago time.
Larry Kelly is the manager of the Maritime Bookstore at Mystic Seaport in Mystic, CT. Wreck of the Whale Ship Essex is available at the bookstore and online..