By Joe Berkeley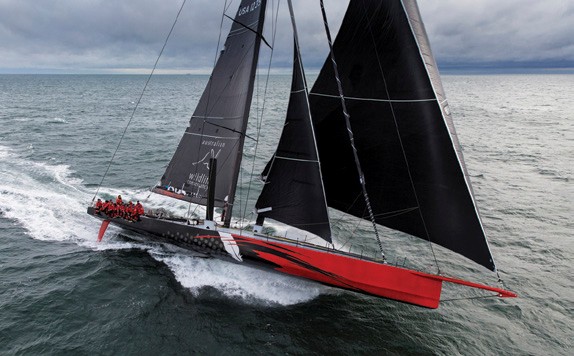 If sailing fans in Newport, RI are depressed by the departure of the Volvo Ocean Race boats, the presence of Comanche should cure what ails them. The 100-foot sailboat, built to be first to finish in every race she enters and break records when the weather cooperates, is preparing for the Transatlantic Race 2015, which starts in Newport on July 5 (for the fleet's fastest boats in the IRC 1 and Open classes).
Comanche's crew hopes to break the record of 6 days, 22 hours, 8 minutes and 2 seconds for the 2,975 nautical mile course from Newport, RI to Lizard Point, set by Rambler 100 in 2011.   © Onne Van der Wal/North Sails
To steer Comanche in breeze is to understand what it feels like to be a king. When I took the helm, I stood upon a canting platform that flattened out her sharp angle of heel. I had several digital readouts to provide me with information like velocity, heading, and degrees off the wind I was steering. A push button control changes the angle of the canting keel.
For such a big yacht, Comanche has a light helm and I could change her course with very little effort. It would be possible to steer her with two fingers, but as the newcomer, I kept both hands upon the wheel, as I did not want to embarrass myself in front of her world-class crew.
Casey Smith, the Aussie boat captain who relocated to Portsmouth, RI with his wife and kids, ducked below to grab a spray top, as the wind chill of going upwind at 13 knots is significant. Upon his return, Casey gently admonished me for pushing the bow down. "I know you want to go fast," he said, "but keep her closer to the wind."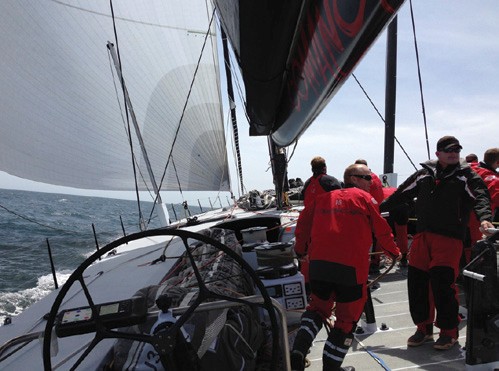 Behind me, Stan Honey fed data into his iPad and kept an eye on the depth of the water. Comanche draws 22 feet and no one wants to conduct a geological survey with her massive canting keel. One of the premier navigators in the world, Honey was the Director of Technology for the America's Cup and the Chief Technology Officer of Sportvision, where he was responsible for the yellow down line on NFL games. His accomplishments are enough to fill a book, let alone a magazine.
To steer Comanche in breeze is to understand what it feels like to be a king.   © Joe Berkeley
He is not alone. Everyone on this crew has sailed in the America's Cup or the Volvo Ocean Race. They are the best of the best and they do their work with a cheery, businesslike demeanor. There are three bowmen suited up in harnesses that are not for show. Even something as simple as hoisting the mainsail requires Juggy Clougher to go aloft and guide it up the mast.
When sheets need to be trimmed, the crew does more grinding than a Dunkin' Donuts on Monday morning. Twelve crewmembers grab the double handles at six grinding stations. One of them is Keats Keeley, a Newport resident who chose his words as carefully as he rigged Comanche's 4,850 meters –three miles – of cordage.
Keats, whose title is Rigging Manager, explained that he had no room for error when he created Comanche's rigging. He said, "With the Volvo 70, you have a baseline. You can go back and check and cross-check against other colleagues. With a boat like Comanche, some theoretical numbers have been presented. You have to build in the safety margin. You're going at it first-time, fresh out of the box. You don't have a second chance."
John von Schwarz is a grinder who also crews on Star boats and finished second at the Worlds in 2013. He is responsible for the maintenance of the winches, and he is pleased with the performance of the ceramic coating on the drums, which he said, "makes the winches grip the sheets better."
His favorite part of sailing on Comanche is "when we get the boat rumbling, you just look up after grinding for a minute and you're cruising along at 20-plus knots, and you go, 'Wow!' Also the crew…being able to experience these world-class sailors, hear about their ideas, their vision, and just learning."
Everyone takes their turn grinding, but no one spins the handles with more speed or strength than Joe Fanelli, a powerhouse of a man who is light on his feet and quick to bust the chops of Westy Barlow, the Nipper, or young guy on the boat. When his teammates give him a ribbing, Barlow, who is from Narragansett, just smiles, for being low man on the Comanche totem pole is still a lofty perch. Westy was recently featured in a glossy spread in Sailing World and he is grateful to be surrounded by the best sailors in the world.
Kenny Read is the skipper of Comanche, and when he steps aboard he is not so much a sailor as he is a rock star of an internationally famous band. He chose the designer, Guillaume Verdie, and the project manager, Tim Hacket. An Australian who is now based in Portsmouth, Hacket is a wizard with carbon fiber who is responsible for turning the designer's vision into a boat that can be pushed to the limits while remaining in one piece. Having supervised the build with Brandon Linton at Hodgdon Yachts, Hacket is pleased with Comanche's performance. "The boat really lights up in the right conditions, that's for sure," he enthused. "It certainly shows potential for what it was originally built and designed for, transatlantic and 24-hour attempts."
Aside from being the skipper of Comanche, Read is also the President of North Sails. The logo of the company is a royal blue circle, but it may as well be a royal crest. North is the most advanced sail making company in the world, with more world champions than any other. North has lofts in North America, Europe, China, Hong Kong, Japan, Africa, the Caribbean, South America, Australia, and New Zealand, so the sun never sets on her empire.
Once just a maker of sails, North has evolved into a technology company, intimately involved in collaborating with the boat designers and builders at every phase of development. JB Braun of North's Design Services played in huge role in placing Comanche's mast so far aft, a position Read says is more traditional on a multihull.
The sails North builds for Comanche, called North 3Di, are nothing short of spectacular, each shaped to be as fast and light as possible. But even with modern technology, each sail requires the full strength of several crewmembers to move them about on Comanche's sleek, smooth deck.
If Kenny Read is the frontman of this rock band, Kimo Worthington is the Keith Richards, the glue that holds the group together. He was the general manager of Read's Volvo Ocean Race PUMA campaign, and he is one of the few sailors who has worked on a winning America's Cup team and sailed on a winning Volvo Ocean Race team.
On this sail-testing day, Kimo is not on the boat because he broke a bone in his right foot, which is in a cast. Did this injury take place during a record-breaking crossing? Was he careening through speed barriers? Well, sort of. The incident involved a party aboard the 295-foot yacht Athena. Commander Kimo was enjoying the festivities when he attempted to surf down an inflatable slide while standing upon an inflatable mattress shaped like an alligator. He estimated his velocity at approximately 30 knots at the time of his wipeout.
Read, who knows a thing or two about boat speed, was unable to confirm or deny Kimo's velocity, as he was laughing so hard he had tears in his eyes. Despite the fact that Kimo has endured pain, emotional distress and the endless taunting of fellow crewmembers, he has not filed a lawsuit against the maker of the inflata-gator. With a broad grin, he said, "I have only my own stupidity to blame."
Kimo is excited about Comanche because "people follow the boat." He believes that the incredible speeds that Comanche achieves are trickling down to other boats. As he pointed toward Comanche tied up to a dock at Newport Shipyard, the record-setting trimaran phaedo3 bobbed in her berth, almost willing herself off the dock. Behind her, Elvis, the Peter Johnstone-created Gunboat, stood at the ready to spirit her owners around in high-speed luxury. With all due respect to the clipper ship era, perhaps this is the Golden Age of Sail.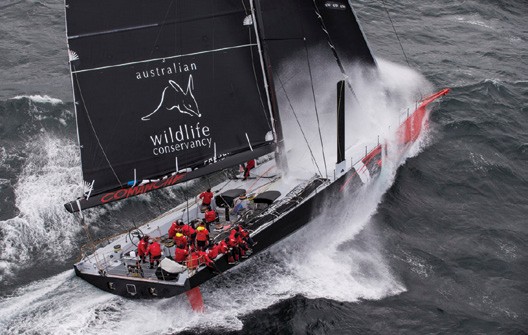 Kenny Read has called Comanche a "horse for a course" and Kimo believes that 20 knots of breeze is just right for her. When the breeze is less than 8 knots, Comanche drags her massive booty in the water and there is no pair of Spanx large enough to give it a lift.
Supergroup: Comanche's crew are the best of the best. © Onne Van der Wal/North Sails
But light air is not the stuff of big dreams or transatlantic crossing records or stories that are told and retold until the end of time. The heavy air potential of Comanche is what inspires this crew. He has seen it all and done it all, but Kenny Read is still blown away by the limitless possibilities of Comanche. "A boat like this tells such a big story," he said, "and hopefully that attracts more people to our sport."
Joe Berkeley is a professional writer and an amateur sailor. His work is at www.joeberkeley.com.
Reader Comments: 
A Little Levity
I was laughing while reading Joe Berkeley's Comanche article["Great Spirit of Comanche'' appeared in our July 2015 issue], especially the Kimo W. inflatable alligator section. Great to see some fun infused into the story!
I've become accustomed to relatively serious articles and race recaps in WindCheck. I had to stop and look at the cover again, thinking, 'Is this really an issue of WindCheck?' Yours was a breath of fresh air. Nicely done!
Tim, Fairfield, CT
________________________________________________________________________________________________
Comanche Breaks Block Island Race Record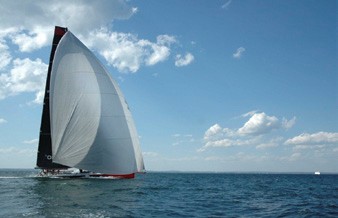 Jim Clark & Kristy Hinze-Clark's Verdier/VPLP Comanche was built to break records, and that's what she did in the Storm Trysail Club Block Island Race.
The event's 70th edition started on May 22, and the 100-foot maxi completed the 185-nautical mile course from Stamford, CT, around Block Island and back to Stamford with an elapsed time of 11 hours, 25 minutes and 1 second. "Each year I ask the fastest boat in the fleet to give me a call when they are abeam of New Haven on the return," said Event Chair Ray Redniss about Comanche's call, which came in at 0024 Saturday morning. "This was the earliest one yet!"
This year's race was one mile shorter than the 2013 edition, in which George David's 90-foot Rambler (Hartford, CT) set the old record of 13 hours, 15 minutes and 55 seconds. "After 15 years of being at the entrance to Stamford Harbor, the finish line was moved out to the The Cows (Red Bell "32") in order to allow enough water depth for Comanche to compete," Redniss explained. "With a draft of 22 feet, only a high tide would allow her to finish in the harbor."
Rambler completed the 186-mile course with an average time of four minutes, 17 seconds per mile. Comanche finished this year's 185-mile course with an average time of three minutes, 42 seconds per mile. "Speed-wise, this translates to Comanche averaging 16.2 knots and Rambler averaging 14 knots," said Redniss. With victory in her IRC 4 class, Comanche took home the Governors Race West Trophy for best elapsed time in the IRC fleet, the William Tripp, Jr. Memorial Trophy for best corrected time in IRC, and the Harvey Conover Memorial Overall Trophy.
Barby MacGowan at Media Pro International contributed to this report.