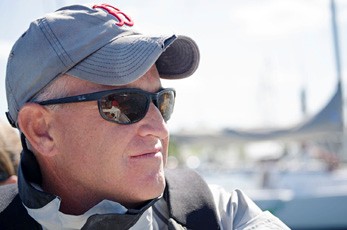 A talented writer and keen amateur sailor, Joe Berkeley penned the excellent Team Comanche story on page 53 of this issue, as well as some terrific Volvo Ocean Race stories in recent issues of Newport This Week.
© Jenny Villone Photography/jennyvillone.com
"I grew up in Hingham, Massachusetts and started sailing at the Lincoln Sailing Club when I was in 6th grade," says Joe, who lives in Hull. "I never would have learned to sail if it wasn't for the people at Lincoln. From there I went to the Hull Yacht Club and crewed in 420s. When I was 14 I bought my first boat, an International 110, with my paper route money. She was 110 #291, named Irish Mist. She was a cool-looking boat, and I knew I wanted her instead of a 420."
"My parents didn't know how to sail, which in some ways was a blessing," Joe recalls. "When other kids were getting yelled at for not starting at the pin or missing the first shift, they'd say, 'I'm glad you had a nice time.' In hindsight I didn't have the right boat, the right campaign or the right equipment, but I really loved it!"
Joe advanced his racing at St. George's School in Middletown, RI. "St. George's had a phenomenal team. I have a distinct memory of looking at the roster on the bulletin board and thinking, 'Oh, God, I hope I don't get cut.' In those days we had future Hall of Famers Peter Johnstone, Hannah Swett, Brad Swett and Bill Shoemaker on the Varsity squad, and it was great to make the JV team and sail with those amazing athletes. Coach Steve Leslie was very encouraging, and after I graduated from Tufts he got me a job as senior instructor at Wianno Yacht Club."
"I enjoyed being on that team, and it was a tremendous privilege to sail in Newport Harbor as the 12 Metres were coming in from practice. I was there when we lost the Cup, and it was a moment when Newport changed forever.
Many people thought it was the end of sailing in Newport, but in many ways it was a new beginning. What a great turnout at the Volvo Ocean Race – I don't think Brad Read and the Sail Newport team could have done a better job."
"I made the team at Tufts as a freshman, the year after Billy Lynn and his teammates had won Nationals, and to stand in that boathouse where so many legends had come before was like being in a dream. Coach Ken Legler was such a stern disciplinarian that you couldn't help but learn a lot. I was elected captain in my sophomore year, and it was one of the great honors of my life."
"I've had a long-term love affair with the International 110. When I was a kid there were a lot of great sailors in the class, but because of what I'd learned from Coach Leslie and Coach Legler I went from dead last to winning the 1992 Nationals in Boston Harbor with Dave McGrath. It was the fulfillment of a lifelong ambition. Eventually, I fell in live with bicycle riding and sold the boat. I did the Tour de France route as a fundraiser, and the Mt. Washington Hillclimb. My coach said I didn't have what it takes to get to the next level, so I bought my 110 back and restored her. My friend Will Craig, who originally rebuilt her, named her retread. When people asked, 'Is that a new boat?' he'd say, 'No, it's a retread.' Last year, Linda Epstein and I won the Nationals in Marblehead on the 75th anniversary of the class. Linda is amazing – she's a PhD who's looking for a cure for cancer, and as a sailor she's almost a pro."
Joe's company, Joe Berkeley Creative, specializes in creative direction, and his clients include Nike, Fox Film Studio, Goodyear, Liberty Mutual, Harvard Medical School and 30 others. "I received 'an invitation to become a freelancer' in 2013, so I decided to rebuild my life on my terms," he says. "I joined Laser Fleet 413 in Newport and started writing about regattas. There are some great sailors in the fleet including Scott Ferguson, Peter Shope, Mark Bear and Ed Baird. I wanted to document what was happening, and the stories were picked up by Newport This Week and Sailing World."
Joe created an advertising campaign for Courageous Sailing, a non-profit community sailing center in Boston. "I enjoyed working with Executive Director Dave DiLorenzo, and it was an honor to meet Paralympian Hugh Freund," he says. "I've done a couple videos for Sail Newport, and a fundraising brochure for the US Olympic Sailing Team that helped Executive Director Josh Adams procure a sponsor."
"I worked with Onne Van der Wal on the Sail Newport project, and he called recently and said, 'I have some video footage of Comanche. Do you want to work on a video including an interview with Ken Read?' I made that video with Onne and Ken, which led to a story idea: "Ken Read and Jerry Kirby: Longtime Friends, Part-Time Rivals." Jerry said, 'I'll take you sailing on Rambler and we can talk,' so I asked Ken about sailing on Comanche. Two days later, I was steering her upwind at 13 knots – and downwind at 23 – happier than a pig in mud!"
Joe competed in the Audi Laser Masters' World Championships in Hyeres, France last year. "My wife, Lisa Borden, had been there as a child and she came with me. We had a great time, and it was a thrill to return as a sailor to where I'd ridden the Tour de France route. The best thing about sailing is the stories that come from being with an amazing group of people: Sitting in the IYAC after Laser sailing and talking to Ted Hood while his dog sat on a barstool taking a sip of his Bass Ale, or Jerry Kirby jumping off the Newport Bridge to meet his boat when he was late for a start. You can't make this stuff up!" You'll find Joe's work at joeberkeley.com.