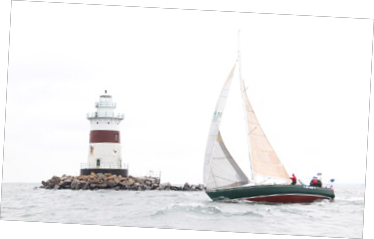 Shennecossett Yacht Club in Groton, CT is hosting the 2nd Annual Lighthouse Regatta on August 1, to benefit the New London Maritime Society's Lighthouse Fund. The Society is a non-profit organization showcasing maritime history and dedicated to the education about and preservation of local lighthouses.
Once again, a course will be set in Fishers Island Sound that encompasses three lighthouses with views of several more for an exciting navigator's race. The regatta is an Eastern Connecticut Sailing Association sanctioned circuit race, although all area sailors are encouraged to participate as there will be a fun cruising canvas class with PHRF ratings to be assigned by the race committee. A special perpetual trophy, the Bruce Lockwood Cup, will be awarded for the best corrected time in the spinnaker class.
SYC will donate profits from the regatta to support the New London Maritime Society's current lighthouse projects. Among others, these include interior work and the construction of a boat landing dock at New London Harbor Lighthouse, and repointing the bricks in the basement of Race Rock Lighthouse. The 2nd Annual Lighthouse Regatta will kick off a week of special events for the Society, culminating in National Lighthouse Day on Friday, August 7. Their website, nlmaritimesociety.org, has a complete list of activities.
Join SYC for a 14-mile romp up and down Fishers Island Sound and an after-race party with door prizes donated by local merchants. For information, contact Gene Fiese at fiese@sbcglobal.net or visit SYC-ct.com.