By Colin Rath
Editor's note: This is the sixth installment in a series of dispatches from the Rath family (Colin & Pam, daughters Breana, Meriel and Nerina, dog Aspen and cat Wasabi), who departed Stamford, CT last fall for a worldwide cruise aboard their Hanse 545 Persevere.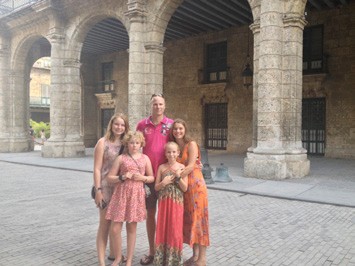 The sail from Dominican Republic to Havana was a long one. It was mostly motor sailing with the winds only picking up around 3 pm daily and lasting until 2 am. The rest was motoring. Since there was little or no wind, we hugged the Bahama island shelf and trolled at a depth less than 20 feet along the sea floor edge with our cedar plug. It turns out Barracuda loves cedar plugs and we caught a 4-foot one. That was dinner for three nights of our six-night journey.
Every building in Havana has a story.   ©persevere60545.com
We arrived in Hemingway Marina midday, which is not a good time to do Cuban customs. Because you have to wait until they finish their lunch hour. But, to our surprise they did get us through the six inspections and on our way to the docks within two hours. A vast improvement over Santiago de Cuba, where we stopped earlier on this cruise. Hemingway Marina is full service marina with a deep harbor, 15 miles outside Havana. Foreign pleasure boats are not allowed to sail into Havana Harbor at all, so Hemingway is the only real option. Now I know I didn't give a great recommendation of Cuba on our last visit, but…
Havana is from a different era than Santiago de Cuba. It is a modern city by comparison; a thriving city that is slowly being restored to showcase its architecture and history to the world. All the old casinos and mansions of the pre-revolution era have been restored to their grandeur and are used as foreign embassies or government buildings. The streets are well-kept and well patrolled. The main avenue to Havana (called Avenue of Americas, prior to the revolution) has a minimum speed limit. If you are not going faster than 60 km you get pulled over for causing traffic.
Old Havana is full of history. There are multiple forts and every building has a story. We got a great local guide to show us around for 20 cook ($23). A cannon is fired every night at 9 pm at Fortress de San Carlos de la Cabana to signal the closing of the city. Back in the 18th century, Havana would close its gates each evening and put a heavy chain across the harbor to keep pirates out and the populace in. They continue the ritual to this day.  Ernest Hemingway hangout.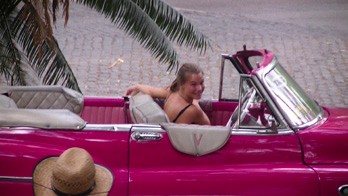 Ernest Hemingway, "Papa," is represented at every hotel and bar by a statue, plaque, or at minimum a picture. The story of how Hemingway ended up in Cuba is one every boater can understand. He had engine trouble aboard his cabin cruiser Pilar while fishing far out from Key West. He flagged down a Cuban freighter that towed him to Havana. He was not wealthy then and had to stay for several years. He eventually took residence outside town.
The girls loved the '54 Buick.   © persevere60545.com
We hired a 1954 Buick convertible, hot pink with white leather trim, for a few days to tour old Havana. The kids loved the car, and we were driven out to Hemingway's home. It is a modest house by today's standards, although it has a baseball field and swimming pool, and Pilar is displayed on the estate. There is a tower attached to the house where he wrote some of his best works, and a second bedroom for his mistress. He definitely lived a full life.
Along the coast of Havana is a huge six-lane avenue called the Malecon, which was built on land reclaimed from the sea. The interesting thing is that all the residents of Havana that live along that road come out and have parties and get-togethers on the sea side of the avenue every night. Most of the high-rise apartments in the area do not have air conditioning (electricity is extremely expensive), and are mostly walk-ups, so every evening they get together with friends for a dinner picnic, guitar playing and drinking until 1 am, when they go back to a cooler apartment. The Malecon is crowded with a couple thousand people just enjoying life with friends every night – amazing.
An interesting side note: Back in the '60s, the Russians came in and decided to help the Cuban people. They built a 17-story walk-up apartment building, but after much uproar from the public they didn't build any others. Imagine moving in to a 17th floor apartment without an elevator? Like I said, every building has a story in Havana.
In Cuba, music is everywhere. The older girls wanted to go salsa dancing in Havana, and I had promised to take my daughter Breana and Mette. (We met her in Dominican Republic and she's home schooling our daughters as we sail toward her native Germany). Although the only salsa dancing is in nightclubs, Breana is getting taller by the day and can pass for an 18-year-old when dressed up. Casa du Musica opens at 11pm and doesn't start to swing until 1 am, so the three of us went out dancing. Casa du Musica had a live band and later members of other bands went on stage and did a huge Cuban jam session. It was fun to see different music played at its best and musicians enjoying themselves.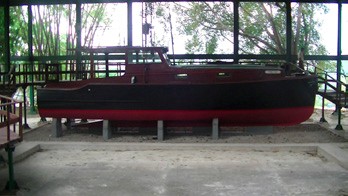 When the club was closing, we talked to the band members and learned about after-hours dance clubs. So, off we went to private house parties in the suburbs. It was too much fun – Mette and Breana danced the night away and before we knew it was morning and time to take it home. Great time, friendly people, a lot of great music. I would suggest to anybody to go to Havana and just befriend locals. You will have the time of your life.
Pilar was towed to Havana when Hemingway had engine trouble, and she's on display at his estate.   © persevere60545.com
As I said before, try to get there before the American businesses come. Andrew Cuomo has already brought representatives to Havana to invest, and Walmart, Piggly Wiggly, and CVS have bought land. The United States is transforming their cultural relations building into an embassy, so the clock is ticking.
Persevere had just started the Transatlantic Race 2015 as this issue of WindCheck hit the streets. Next up are the Rolex Fastnet Race in August, the Rolex Middle Sea Race in October, and the RORC Transatlantic Race (Lanzarote, Canary Islands to Grenada, West Indies) in November. Look for updates on Persevere's journey in future issues of WindCheck, and track their progress on their Facebook page.

Previous articles from the Persevere Family Journey:
March 2015 Persevere Cruise: Cuba Libra!
Colin Rath's new book, It Is What It Is, is available at Barnes & Noble and Amazon. Connect with Colin on Twitter @Colin_Rath and visit colinrath.com.