Report and photos by Cate Brown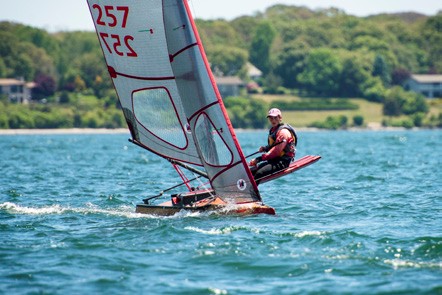 After reestablishment in 2009, the Wickford Regatta has been hosted annually by Wickford Yacht Club of North Kingstown, Rhode Island as a premier early season one-design event for the Northeast. Classes invited to this year's event, on June 6 & 7, included 5O5, F-18, International Canoe, I-420, Laser and Laser Radial. The largest fleets were Lasers with 21 boats, and F-18 catamarans with 14. The newest addition, the venerable yet exotic I-Canoe, had five boats competing on Sunday.
David Clark topped the 5-boat International Canoe class. ©Cate Brown 2015
Sailors came from across Rhode Island, Massachusetts and Connecticut, with a few venturing to little Wickford from New York, New Hampshire, Florida, and even Ireland and Switzerland. The majority of the International 420 fleet was from Team LISOT (Long Island Sound Youth Sailing Team), a year-round world-class training program for junior sailors.
Day one dawned with overcast skies and a strong Northeasterly that kicked up to a steady 20+ knots by 11am. Alpha Circle hosted the Lasers and 420s, while the F-18s, Five-Os and Canoes raced on Bravo Circle. The latter had the stiffer breeze and a 2-foot wind swell to contend with, and saw a few early equipment failures and capsizes as competitors adjusted to the conditions. Alpha Circle conditions were slightly gentler with light chop sailors raced around a trapezoid course, a popular course choice at this event. After a long day of racing in heavy, sailors enjoyed dinner and drinks at Wickford Yacht Club with BBQ chicken and homemade ice cream sandwiches.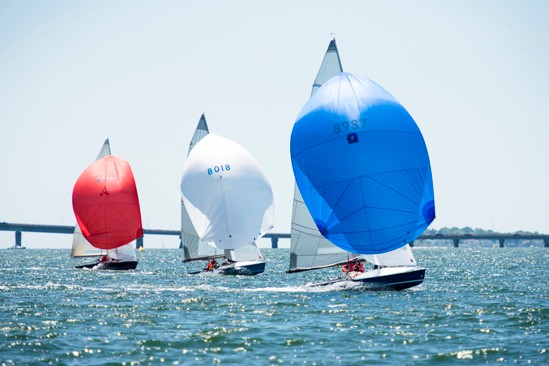 Day two began with an hour's postponement due to no breeze, but a gentle 5-knot easterly filled in by 11am, switching to a solid 12- to 15-knot southerly seabreeze by noon. Competition was fierce, as only a few points separated the top three sailors in just about every fleet.
A few of the 11 boats in the 5O5 class   © Cate Brown 2015
After a regatta total of about seven races per class, the scores were in. Peter Shope won the Lasers with bullets in almost every race for an 8-race total of 8 points, an improvement from his third place finish last year. One of the closest battles was in Laser Radials, but Christine Neville of Middletown prevailed with 11 points. Skipper Wiley Rogers and crew Jack Parkin (LISOT) posted a string of bullets in I-420s, their 7-point scoreline bettering their second place finish last year.
Andrew Buttner and Tracy Smith won the 5O5 class handily, also finishing with 7 points and bettering last year's third place. The F-18s saw a tiebreaker, with Ravi Parent and Sam Arrington finishing first with 10 points and Bob Merrick and Tyler Burd in second, moving up from fifth in 2014. In the ICs, David Clark won a 10-point tiebreaker over Will Clark. Complete results are posted at wickford.sailspace.net, and you'll find more photos at catebrownphoto.com.