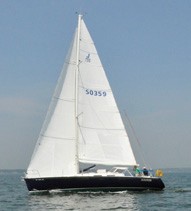 Peter Tilton, a resident of Groton Long Point, CT who has sailed Fishers Island Sound and beyond for over 25 years, has combined his love for sailing with his passion for photography to launch his new business, New England Boat Portraits. With an eye for the perfect light, be it sunrise or sunset, Tilton can get a shot of your boat under sail or power or at rest, during a race or reeling in a trophy-worthy fish.
© neboatportraits.com
An active member of the Mystic River Mudhead Sailing Association, Tilton's knowledge of racing gives him an edge in capturing the action. If you are thinking of selling your boat, he can help you stage it for a portrait to show potential buyers. To schedule a viewing of Tilton's extensive portfolio or commission a photo session, contact Tilton via email at neboatportraits@gmail.com.