By Jonathan Riley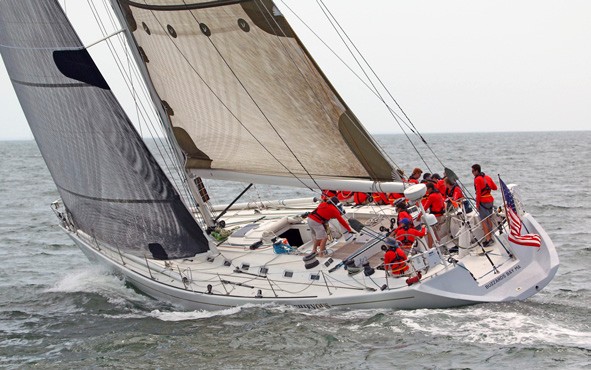 On June 18, I graduated from the 8th grade. On June 19, I left for Bermuda. For the next four days, I lived on a 65-foot sailboat with 15 other people. I was one of the youngest competitors in the Marion Bermuda Race, and it was my second time doing so with the Massachusetts Maritime Academy crew.
Mischievous heads out of Buzzards Bay. ©Spectrum Photo/Fran Grenon
On my first Marion Bermuda Race, in 2013, I sailed on an Andrews 68 that was described as a sled. Two years later, I was lucky enough to be asked to go aboard the Meriten 65 Mischievous, along with three coaches and 12 Cadets.
The week prior to the race, most of us were tracking the weather that would be coming our way. Looking on radar, we saw Tropical Storm Bill coming from the south, with a big low-pressure system ahead of it. Once our crew heard of the storm, we were concerned because we had never experienced that kind of weather before. We hoped to be in front of the storm, but in the low-pressure system because we would have more wind.
The day before the start was my last day of 8th grade. Chuck Fontaine, the MMA Program Director, the skipper Charles Cahill, my father (a volunteer coach with Mass Maritime) and I attended the Skippers meeting. They talked about Tropical Storm Bill and the different kind of winds we would see during the race. During the meeting I became a little nervous because I realized we needed to go as far south as fast as possible to miss the high winds of the storm. After the Skippers meeting, we had our last dinner as a crew with Mass Maritime and the Naval Academy before our departure the next morning. With 15 of these races under his belt, my dad looked over at me and said, "Eat while you can, because you know never know when you'll be stuck in a life raft." He told me that his old skipper, a veteran, had once said this to him. Great advice, because I didn't eat much the last time I did the race two years ago.
The morning of the race I woke up feeling excited for another journey to Bermuda. I got all my stuff together, said goodbye to my mom, my two older sisters and my dog for the next week and a half. Once the boat left the dock, the crew and I knew we were ready. At 1330, we crossed the starting line between the race committee boat and Centerboard Shoal. My previous sailing coach and I were working as a team on the main and communicating with my father. We came out of Buzzards Bay sailing at six knots upwind. This year was the first time the race had a special category called the Offshore Youth Challenge, and we were one of five boats competing for the trophy. The first night, we decided to have hot dogs for dinner. Our microwave had been fried at the dock and the only button that would work was the "6," so we put the hot dogs in for 6:66. Halfway through dinner someone said, "Does that make them devil dogs?"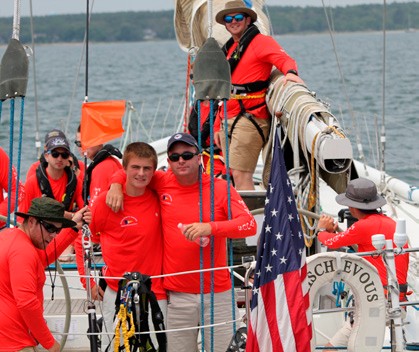 During the day, we did 6-hour watches, while at night we did four hours. As night fell, the temperature dropped so I put on a couple more layers of clothing. My first night watch was from 2200 to 0200. During that watch we were watching the AIS to see where the other boats were in comparison to us. We had plotted our waypoint for the Gulf Stream, which we had expected to hit Saturday night.
Jo (under the backstay pennant) and Mark Riley strike a pose before the start.
We were worried that we weren't going to get through the Gulf Stream's north wall before the rough weather arrived. You can always tell where the Gulf Stream starts. Cloud patterns in the sky sit just above the warm water. On Saturday night, the only clothing that I needed to put on to stay warm was a foul weather jacket and shorts. We were in the Gulf Stream and the air temperature was the same as the water temperature: 84 degrees.
Sunday was brutal in a couple different ways. This was the first full sunny day. You cannot forget your sunscreen…I did. The results weren't pretty. The "jokester" of the boat, Chuck, made sure to take the opportunity to laugh at the rookie, me. Until karma came back to him and he took a hard fall on the way down the companionway. As night came we could see the cold front coming behind us. We hit two major squalls that night. For our first squall, we decided to be safe and put the first reef in the main. This process took a lot longer than we expected. Twenty minutes later we were hit by a second squall with a top wind speed of 34 knots. We already had a reef in and a number 3 jib – the perfect combination for the conditions. Some people took the opportunity for a shower during the major downpour.
With the heavy winds still blowing, Chuck decided to have everybody stay on the rail for the whole night to keep the boat flat and fast. I never thought at 14 years old I would pull my first all-nighter on a boat with a bunch of college kids. No matter how tired you are, no spot is comfortable when there's 100 gallons of water coming over the rail every 10 minutes. At about 0200, somebody decided that it would be a smart idea to have a round of Klondike bars. With a little energy boost, Chuck decided to start singing. At around 0330, I knew morning was coming as it was getting brighter and brighter outside. By my side were my father and my sailing coach Cam Tougas.  We watched the sunrise with big bowls of Fruit Loops in our hands. As morning came, we officially hit less than 100 miles until our arrival in Bermuda.
At about 1800, we started seeing dots on the horizon, which was right after we worked as a team and put up the number 1 jib. We were traveling at a constant speed of about 9 to 10 knots. Heading past Kitchen Shoals, we headed up and broke our bottom main car. We all looked around at each other and said, "Wow, good thing this happened now, not two days earlier", because our speed slowed down by 1 to 2 knots.
As we were approaching the finish line, we saw the photo boat coming out to take pictures and celebrate our line honors victory. We crossed at 19:42:11 local time on Monday after 3 days 5 hours 12 minutes and 11 seconds of racing.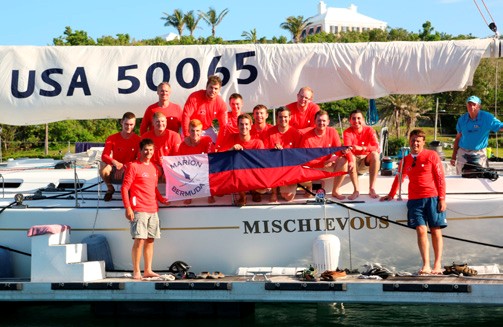 We were greeted by the race committee, the Commodore Ed Faries of the Royal Hamilton Amateur Dinghy Club, and several locals. After motoring for a couple of hours we arrived in Hamilton. At the dock, photographers and reporters interviewed Chuck and Charlie. For those of age, this was the beginning of a celebration with Dark 'n Stormys.
On the dock at the Royal Hamilton Amateur Dinghy Club © Spectrum Photo/Fran Grenon
In conclusion, although at times Mother Nature showed us who rules the world, I was wet, tired, wanting my own bed, and wanting to see land. A short six days later, we were back on the boat for the return sail to Marion, which was just as fun and exciting with the addition of some new crew members. I am looking forward to taking part in the Marion Bermuda Race Offshore Youth Challenge again in the 2017. I wouldn't trade these experiences for anything. Some would say my parents are crazy for letting me do this at 14, but I am proud to say I got to do it with my dad.
Fourteen-year-old Jonathan (Jo) Riley will be attending Old Rochester Regional High School as a freshman in September. His impressive racing resumé includes every Buzzards Bay Regatta and Figawi Race Weekend since 2008, the Ida Lewis Distance Race, the Edgartown Yacht Club Round-the-Island Race, Nantucket Race Week, and the Volvo Ocean Race 2014-15 Pro Am Race in Newport, RI. He and his parents, Sonia & Mark Riley, are members of Beverly Yacht Club in Marion, MA.