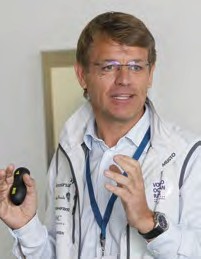 Knut Frostad, a native of Harstad, Norway, has served as CEO of the Volvo Ocean Race since 2008. He is also a four-time race veteran who skippered two Norwegian entries; Innovation Kvaerner in 1997-98 and D'Juiced in 2001-02. This is his third time overseeing a Volvo Ocean Race, and he spoke with us after the finish of first leg of the 38,739 nautical mile Volvo Ocean Race 2014-15.
WindCheck: You made a bold decision to go with the one-design boats for the next two editions of the race. Have they met your expectations?
Knut Frostad: When we looked at doing the one-design, we had two big challenges: one was to break with tradition and history, which is tough to do. And second was, 'How do we actually do it?' We had such a short timetable to get the development and production going for the Volvo Ocean 65, and no one had dealt with this kind of manufacturing output in the marine industry
Knut Frostad has done four Volvo Ocean Races, and he's had the event's helm since 2008.   © Ian Roman/Volvo Ocean Race
before. We wanted to make sure we built the best quality boat, with each one exactly the same so it was truly a one-design.
We needed incredible production quality control, and for that we had some help learning from our partners at Volvo Cars and Volvo Group on how to develop these processes. We had the decks built in one place, the hulls in another, hardware in a third country, and then 65 other suppliers before everything was put together in the UK. And if we didn't have the backing of our Volvo owners with that process, we might not have been able to take that risk of moving to the one-design. I'm not sure we'd be having this race if we hadn't moved to the one-design.
WC: What has been the early reaction to the one-design boats?
KF: It's no secret that we were criticized by some of the sailing world, while others welcomed the one-design. But in the end, we think this race is going to be about the sailors on board. I think this race has always been about the sailors, but in the past, if you had made a mistake in the boat build process and you had a slow boat, you basically had to sail around the whole world with a handicap. We no longer have that problem with the new one-design. Every boat is the same at the start line.
The biggest benefit of a one-design is, of course, lowering the cost for teams to enter the race. We have cut the cost in half – not including marketing budgets – for teams to compete in this race.
But it also has an impact on the competition by leveling the playing field with one-design boats. And it allowed for teams to join later in the process. We had a late entry with Team Vestas Wind. A lot of circumstances came together for this team to give us our fleet of seven – the fact that the boat was built and they knew it was going to be the same as everyone else's. I think in the old days we would have never have a team coming in just two months before the race. It's a great story. It's not everyday in our business that we share pure wind as a business.
WC: How has it looked from your view at the start of the race?
KF: I'm more optimistic then I have ever been for the race. I've seen a general attitude for this race that has been terrific. The one-design rule has been a game changer. No question. We took a lot of risk, and with the risk comes tremendous upside. So that's why I've been so excited for this edition. At the start, I had the feeling much like I did when I was sailing in the race myself – the excitement built-up inside of me. The Alicante stopover was a massive success. We had huge footfall numbers in the village and incredible feedback about our new stopover activities and experience.
Another aspect of the one-design was that we realized that sharing is the way to move forward in our event. Part of this one-design structure is that the race is providing a shared boatyard for all teams. This has led to more cooperation among teams. For example, every Friday [during stopovers] we sit down with the teams and vote on changes to the boat that someone might want. They are each suggesting changes to the boat that might make it better for all of them. Since it's a one-design, everyone has a vote, including Volvo, and then it gets implemented. So I actually see teams working together this way for the better.
WC: How did the Volvo Ocean 65s perform in Leg 1 to Cape Town?
KF: I've seen the work list of all the boats [when they arrived] and it's small, really small things. That's for me the best news. When we're racing offshore in the ocean, I think boats should be strong enough for the job. And so far it looks really good on that side. That's what I'm most happy about.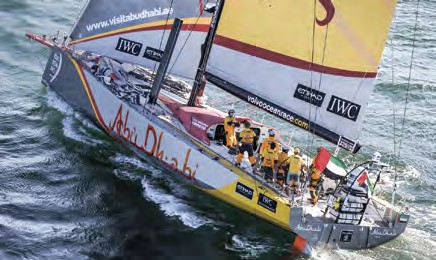 Then, of course, it has been close racing. There are no poor boats. Look at MAPFRE, which is had the worst result in Leg 1. They have probably the best French sailor in the world, they have the best Spanish sailor in the world, and they have winners of this race onboard. If you make one mistake, it doesn't matter how good you are. That tells me that the level of the fleet is really good and that this race about really making good decisions and sailing well. I'm super-happy with the first leg.
Abu Dhabi Ocean Racing crosses the finish line on November 5, winning Leg 1 from Alicante, Spain to Cape Town, South Africa after 25 days of sailing.   © Ainhoa Sanchez/Volvo Ocean Race
WC: It seems like a long way off, but can you share anything with us about the stopover in Newport, RI next May?
KF: The Newport stopover is shaping up to be the most popular U.S. stopover ever. [Newport is] very popular from our sponsors, with many hotels already booked full. There's a terrific organizing group led by Brad Read and Sail Newport. The people in the area are passionate about sailing and ocean racing,and it's a beautiful setting to watch the boats arrive and the in-port racing.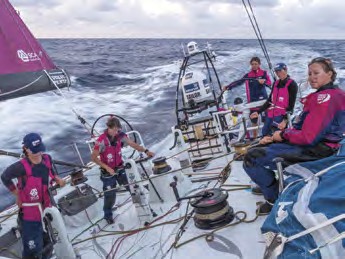 And of course we have several of the sailors from Team Alvimedica that are from that area, so it should be a great reception when they arrive. Team SCA also has a local connection with [On Board Reporter] Corinna Halloran of Newport. I'm really looking forward to being in Newport in May.
Team SCA, the first all-women team in the Volvo Ocean Race since 2002, send it south on Leg 1.  © Corinna Halloran/Team SCA
WC: Team Alvimedica, Rhode Island's home team, is the youngest crew in this race. Given their limited experience, how do you view their chances?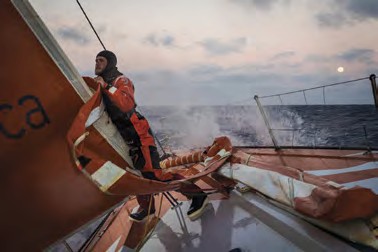 KF: The biggest thing with experience is that you have a base of reference from which to base your decisions. Charlie Enright, being a younger skipper, doesn't have that. But he and team manager Mark Towill have some incredible qualities as leaders to bring this campaign together. All along, they have understood what it takes to put a team at the start line. And they've assembled a very talented team, so I think they have every chance to be competitive in this race all the way around the world.
The final 100 miles of Leg 1 proved to be the hardest on the heavy-air sprint into Cape Town. Team Alvimedica's Nick Dana of Newport, RI guides the J2 into the air as the full moon rises behind him.  © Amory Ross/Team Alvimedica
Volvo Ocean Race Update December 8, 2014
Team Vestas Wind ran aground last week on an Indian Ocean reef. Their boat is totaled but the crew survived. Below is the video of the grounding.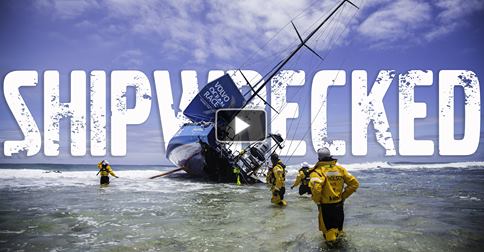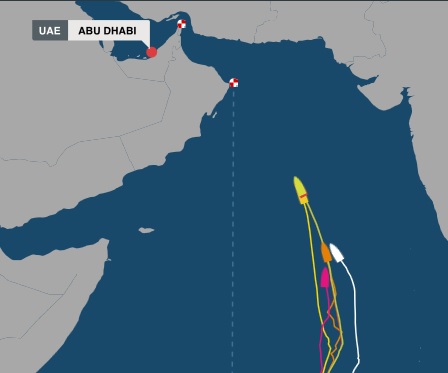 On December 8, the rest of the fleet is about 1000 nm away from the Abu Dhabi finish line. For positions, visit http://www.windcheckmagazine.com/link_to_the_race_dashboard
Positions as the fleet heads to Abu Dhabi on December 8th.
For articles, updates, TV schedule, twitter feeds, team info and Newport Stopover news, visit WindCheck's Volvo Ocean Race website at windcheckmagazine.com.