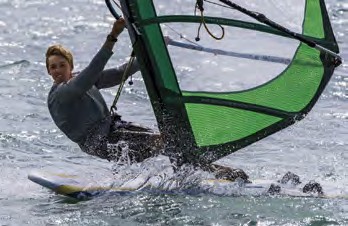 After five days of intense racing in Islamorada, FL in early November, Rasmus Sayre of Vineyard Haven, MA emerged as the new World Champion in the Kona One windsurfer class. A total of 106 sailors from 13 countries competed, and most of the regatta was sailed in good winds ranging from 12 to 30 knots. Sayre, 17, mastered the conditions and won six out of 12 races. "I am very happy," he said. "It's my first World Championship title and I value it
Rasmus Sayre won six of 12 races on his way to victory in the Kona One World Championship.   © Magi Foster
highly. It's been a challenging championship with a very high level of the competition. I managed to keep my racing on a steady level throughout the five days."
Sayre started windsurfing at an early age. His father, Nevin Sayre, is a multiple raceboard World Champion and his mother, Stina, is a former Swedish National Champion. His sister Solvig, who also competed in the regatta and finished 11th, hopes to represent the USA in the RS:X class at the 2016 Olympics in Rio de Janeiro.
"Raz" has a special bond with a fellow competitor from Mexico, Nicole Level. In 2011, he was sailing the Bic Techno 293 North American Championship in Cozumel, Mexico. Conditions were very rough, with large seas and high winds. While leading the final race, Raz saw an arm waving in the distance, signaling for help. It was Level, who was drifting into the open ocean after having broken and losing her equipment. Raz rescued Level and sailed both of them towards shore before a rescue boat found them. For his unselfish act, Raz was named "Guardian Angel" by the City of Cozumel.
Nevin Sayre, who finished third, previously won this year's Kona US Nationals. "Today I am a proud father," he said. "I am also grateful for the opportunity to compete in the same international championship as both my children. That is what makes Kona quite unique."
Kona One is one of the fastest growing windsurfing classes in the world. Founded on a one-board concept, the one-design Kona One Class was the first in the history of windsurfing to eliminate weight advantage and ensure fair, tactical racing for all. For more information, visit konaone.com and class.konaone.com.
Kona One media relations officer Daniel Nordlund contributed to this report.