Oakcliff Ocean Racing Team competing in RORC Transatlantic Race
By Dawn Riley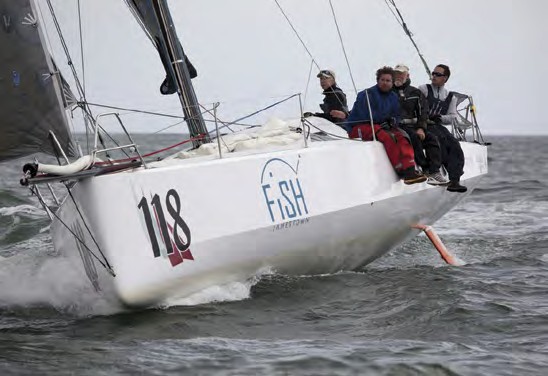 The Oakcliff Ocean Racing Team, based at Oakcliff Sailing in Oyster Bay, NY, is competing in the inaugural RORC Transatlantic Race, which started Saturday, November 29 in Lanzarote in the Spanish Canary Islands.
The 2,700 nautical mile race finishes at the Caribbean island of Grenada. With an impressive fleet of boats, the race will be an intense proving ground for the team.
The Oakcliff Ocean Racing Team is sailing the Class40 Bodacious Dream (pictured here in The Atlantic Cup) in the 2,700 nautical mile RORC Transatlantic Race.   © Billy Black/Atlantic Cup
The ability to compete in this race marks an incredible opportunity for the Oakcliff Ocean Racing Team, which was formed almost a year ago by Oakcliff grads Dan Flanigan (23), a native of Tiverton, RI who grew up sailing dinghies on Narraganset Bay and Hobie Ponting (23), who grew up racing catamarans in Wisconsin. The team started training in October, sailing the newly donated Class40 Bodacious Dream from England to Lanzarote.
The team's goal has always been to sail the Transatlantic Race 2015. That race, organized by the Royal Yacht Squadron and the New York Yacht Club in association with the Royal Ocean racing Club and the Storm Trysail Club, starts June 16, 2015 in Newport, RI and finishes at Lizard Point, UK. The 6,600 miles that will be sailed in the coming months aboard this Class40 will give the core team a huge bucket of experience to pull from going forward.
The generosity of Bodacious Dream, LLC has made this possible. Bodacious Dream has an excellent pedigree, placing second in The Atlantic Cup presented by 11th Hour Racing in 2012, and winning that event in 2013. She also safely carried skipper Dave Rearick around the world in a 2013-2014 solo voyage.
"We have worked hard over the past 12 months to make our Ocean Racing Team a reality," explained navigator Hobie Ponting. "Building your own team is difficult and it often seemed like it would never happen. And then all of the sudden we have a boat and a program and we are headed to Europe!"
Also on the Oakcliff Ocean Racing Team roster are Oakcliff grads Chris Kennedy (26), who first got his taste for sailing on scows and Melges 24s in Wisconsin, and Andrew "OD" O'Donnell (27), the Boat Captain and Program Manager for Oakcliff's Ker 50 Temptation. After completing the RORC Transatlantic Race, these intrepid sailors will go into full fundraising mode as they set their sights on the Transatlantic Race 2015.
We are grateful for our current sponsors Power Specialist Associates, Expedition Marine, and 
North U. Follow the team on Facebook at facebook.com/oakcliffoceanracingteam.
December 13 Update: Oakcliff Ocean Racing Team has finished 1st in class and 2nd overall in the RORC Transatlantic Race marking 3,100 miles raced in their epic 7,000 mile 'delivery' of Oakcliff's new Class 40. Full story in the January/February Magazine.
Oakcliff Sailing is the only complete training and coaching center in the world. Oakcliff's Sapling and Acorn programs create complete sailors who are capable of sailing in any position, fixing every aspect of a boat, and managing a small marine business. Oakcliff trains sailors in match and fleet racing, inshore and offshore, fully crewed and shorthanded, as well as providing access to historically significant classic yachts. Oakcliff is a non-profit organization open to all sailors of all ages and levels, and is also been named an official US Sailing Team Sperry Top-Sider Training Center, with eight each of NACRA 17, 49er and 49er FX Olympic classes. For more information, visit oakcliffsailing.org.
Dawn Riley is the Executive Director of Oakcliff Sailing.