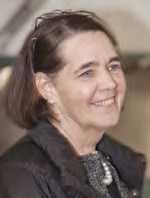 A new scholarship fund has been established for Rhode Island's Official Sailing Education Vessel, SSV Oliver Hazard Perry, by friends and family of Virginia Wagner of Newport. RI. Wagner, a charter consultant for Nicholson Yachts and highly respected tall ship and yacht captain (with a 3,000 ton license and over 400,000 miles at sea), is fighting a courageous battle with mesothelioma.
On Saturday, October 25 she was the guest of honor at a special gathering of more than 75 people aboard the 200-foot Perry to announce that the Captain Virginia Wagner Honorary Sail Training Scholarship Fund has been jump-started with donations already totaling over $50,000.
Captain Virginia Wagner   © Nonni Sansoucy
"I started out as a trainee on a tall ship," said Wagner, explaining that the scholarship fund will be used to help at-risk youths attend the education-at-sea programs offered by the non-profit organization Oliver Hazard Perry Rhode Island (OHPRI). "Through a series of circumstances, I became a captain of the tall ships Galaxy and Ocean Star and then eventually a captain of yachts. As a young adult trying to find my path through life, sailing on a tall ship gave me purpose and made me into who I am today. If we can help even one young person who was like me and could otherwise be 'lost,' it's worth it."
The idea for the scholarship fund was first presented to OHPRI by Wagner's dearest friend Karen Kelly Shea of Nicholson Yachts, whose son Emmet had raved about his experience this past summer as an OHPRI trainee aboard the schooner Mystic. Jim Van Winkle of Austin, TX, a charter yacht owner for whom Captain Wagner has worked over the past 10 years, launched the fund with a gracious donation.
To make a contribution, go to ohpri.worldsecuresystems.com/scholarship. Please select to direct your donation to the Captain Wagner Scholarship Fund. Or send a check payable to "Oliver Hazard Perry Rhode Island" to OHPRI, 29 Touro St., Newport, RI 02840. Please indicate that your donation is for the Captain Wagner Scholarship Fund. OHPRI is a 501(c)(3) organization and all donations are tax deductible. Details on how to apply for the scholarship will be announced at a later date. For more information, visit ohpri.org or contact Jess Wurzbacher at 401-841-0080 or info@ohpri.org.
Barby MacGowan at Media Pro International contributed to this report.