Sperry Top-Sider Charleston Race Week celebrating its 20th anniversary with world-class competition and family vacation opportunities
By Dan Dickison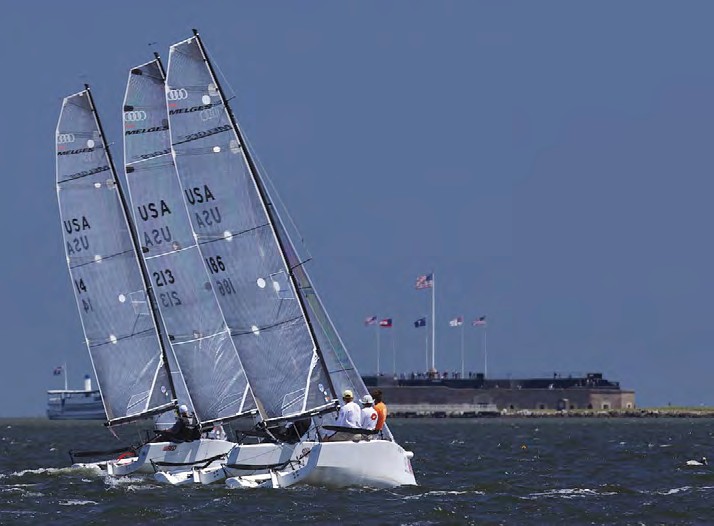 It's never been a secret – good regattas succeed with a simple formula. They combine fair yet heightened competition with fun and engaging social activity. And great regattas augment that combination by adding two essential elements – topnotch race management and a superb venue. So when does a great regatta become even better? When it takes place in the nation's Number 1 tourist destination – Charleston, SC.
In addition to the action at Race Week, Charleston has several recreational and educational sites for a family vacation. The first shots in the Civil War were fired at Fort Sumter, seen here behind these Audi Melges 20s. © Sperry Top-Sider Charleston Race Week/Meredith Block
For the past three years, the readers of Condé Nast Traveler magazine have deemed Charleston the Number 1 destination for tourists in the U.S. And for longer than that, racing sailors from across the U.S. and abroad have proclaimed Sperry Top-Sider Charleston Race Week the top multi-class regatta in the country. (US Sailing gave the event its One-Design Award for Regatta Excellence last year.) If ever there were an event prime for combining competitive action and a family vacation, it's this one.
Race Week (April 16-19, 2015) – as its organizers and participants refer to it – uses the marketing tagline "a regatta unlike any other," and for good reason. To begin with, it's not a week at all, but three days of high-caliber racing punctuated by four evenings of fun, beachfront parties. For at least five years, it has been the nation's largest gathering for sportboat classes such as the J/70, Audi Melges 20 and Viper 640. In recent years, Race Week has attracted some of the top racing talent in the country, including numerous world and national class champions, Olympic medalists and dozens of professionals and America's Cup veterans. But perhaps the regatta's most distinguishing characteristic is its phenomenal setting.
The Charleston Harbor Resort & Marina, the event venue, is a beautiful, 125-room beachfront resort coupled with a 300-slip marina. There are three restaurants on the property and the hotel sits adjacent to a gorgeous 18-hole golf course. In addition, this facility is just a 10-minute water taxi ride from historic downtown Charleston – renowned for top-tier restaurants, endless shopping, antebellum homes and an invigorating bar scene. If finding activities for the family to engage in while you're competing on the water is a concern, Charleston is ready to deliver.
Race Week includes nightly beach parties at the host venue, the Charleston Harbor Resort & Marina.   © Sperry Top-Sider Charleston Race Week/Meredith Block
And, for its 20th anniversary in 2015, Sperry Top-Sider Charleston Race Week will be offering participants a few new twists. The organizers have set up a feeder race from Ft. Lauderdale, FL to Charleston (which starts April 11) that will serve as the initial leg of a new three-stage competition called the East Coast Ocean Series. The second leg, from Charleston to Annapolis, MD, is being organized by Manuka Sports Event Management of Newport, the organizers of The Atlantic Cup presented by 11th Hour Racing. This new event, the Ocean Race North, starts May 2. The third leg, the Annapolis to Newport Race, starts June 5.
Also new for 2015 will be several additional one-design classes. The organizers have modified the length restrictions in order to accommodate the sporty VX One. While these diminutive speedsters will compete inshore, three new one-design classes – the J/88, the C&C 30 and the Farr 280 – will join the fray offshore: To ensure that all of these boats get back ashore in plenty of time to enjoy the post-race festivities, the organizers are giving race committees the option of finishing each day's last race inside the harbor.
"There's really a lot to like about this regatta," says Event Director Randy Draftz. "Since its inception, we've purposely maintained a competitor-centric outlook, so the modifications that we make every year as we fine-tune the event are done with the racers' interests in the forefront of our minds. Last year we put a big emphasis on educational offerings, and this year we're attempting to accommodate those participants who want to combine the regatta with a family vacation. Charleston really has a tremendous amount to offer including amazing restaurants, historic sites, and endless recreational amenities. We're encouraging racers to bring their families and come a few days early, or stay a few days afterward. You won't be disappointed."
For additional information about Sperry Top-Sider Charleston Race Week, log onto charlestonraceweek.com or follow it on Facebook, Twitter and Instagram.
Dan Dickison is the Sperry Top-Sider Charleston Race Week Media Director.
Editor's note: Registration for Sperry Top-Sider Charleston Race Week was going strong as this issue went to press, with over 60 entries as of late November. The organizers are also planning a Saturday night birthday bash to celebrate the event's 20th anniversary.