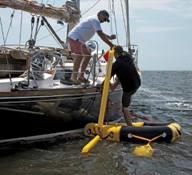 Landfall, the nation's leading marine outfitter and safety expert, is presenting a US Sailing certified Near Coastal Safety@ Sea seminar at Mystic Seaport in Mystic, CT on Saturday, February 7. This day-long, hands-on seminar provides both novice and experienced mariners with the skills and information needed to safely navigate coastal waters from Long Island Sound to Cape Cod and the Gulf of Maine.
The event will be moderated by renowned sailor and instructor Captain Henry Marx, the owner and President of Landfall. "Ninety-five percent of boating accidents happen less than three miles from shore," stated Marx. "This seminar is designed for local boaters, sailors and cruisers and conducted by sailors and experts in their fields and upon completion, all attendees will earn an Official Near Coastal Safety at Sea Certification from US Sailing." Seminar topics include:
Seamanship, presented by Ralph Naranjo, an Annapolis School of Seamanship instructor and Technical Editor of Practical Sailor and regular contributor to Cruising World.
Preventing and Managing Hypothermia, presented by Sarah Hudson, Professor of Shipboard Medicine at Maine Maritime Academy
Crew Overboard Procedures and Distress Signals, presented by Captain Mark Bolonga, Lead Marine Safety Equipment Specialist at Landfall
Modern Sails for Cruising and Racing, presented by Joe Cooper, President and owner of Joe Cooper Sailing
Damage Control, presented by Will Keene, President of Edson Marine
Gale Rider Emergency Steering, Michael Keyworth, Vice President & General Manager of Brewer Cove Haven Marina
Communications, presented by Captain Eric Knott, Safety Manager at Moran Towing
Modern Sailing Clothing, presented by Jerry Richards, National Sales Manager at Gill North America
Life Raft Demo, presented by Captain Henry Marx and Captain Mark Bolonga
"This was one of the best planned and executed seminars I have had the pleasure to attend," said one 2014 participant. "The speakers were top notch, erudite as well as interesting."
The seminar will be held from 8:30 am to 4:30 pm in The River Room at Latitude 41º Restaurant at Mystic Seaport. For more information, visit landfallnavigation.com/sasmystic.html.
To register, visit mysticseaport.org/event/safety-at-sea-seminar.   or call 860-572-5331.