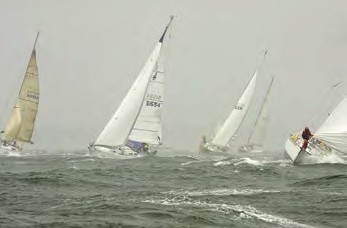 Registration for the 20th running of the Marion to Bermuda Cruising Yacht Race, which starts June 19, 2015, is now open. Supported by the Beverly Yacht Club of Marion, MA, the Royal Hamilton Amateur Dinghy Club of Paget, Bermuda, and the Blue Water Sailing Club of Boston, MA, the 645-nautical mile biennial race is open to seaworthy yachts appropriate for an offshore ocean race as defined in the US Safety Equipment Requirements (USSER).
© Spectrum Photo/Fran Grenon
"The Marion to Bermuda race offers a unique opportunity for sailors who truly love sailing," said Allan McLean, Executive Director of the Marion Bermuda Cruising Yacht Race Association. "While a competition, the race truly focuses on being fun – both on the open water and in both ports. Marion Bermuda is a highly accessible race, perfect for the novice or experienced ocean racer. We provide many resources to help newer yachts get ready to sail and a robust agenda to keep alumni boats returning race after race."
Supporting its commitment to provide sailors with resources both leading up to and during the race, the race committee has announced that Hinckley Yachts will serve as the Official Race Preparation Resource for the upcoming race. In an effort to support both accessibility to first-time racers and safety for all participants, the event now follows the guidelines of the US Safety Equipment Requirements (USSER), which places more responsibility on the skipper for the safety of the boat and crew. Under these requirements, preparation costs for first-time participants are reduced by up to $10,000.
The race's Offshore Youth Challenge Trophy is a first for a USSER offshore race. The youth class is open to sailors between 16 and 23 years of age under the guidance of an adult mentor. To qualify, a minimum of four youth sailors must be aboard and constitute at least two-thirds of the crew. Special pricing on accommodations and meals in Bermuda will be available for youth participants. For more information, visit marionbermuda.com.
The race's Crew Finder is also live. Find Skippers and Crew for both the race and the return. "In 2013 I picked up a crew member at the site," says skipper Rob McAlpine. "He ended up stepping in as skipper for the race when I was waylaid by business concerns. I also found return crew through the crew match." Click here to reach this service.